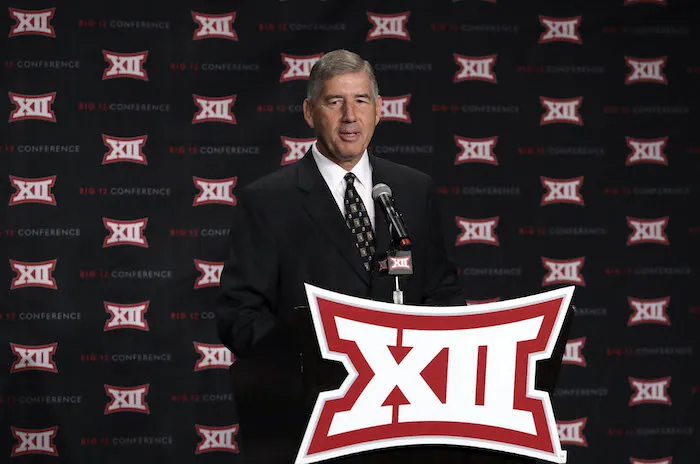 Big 12 commissioner Bob Bowlsby put it best at Big 12 media days last month, saying, "We came off last year with two Heisman Trophy finalists, neither of which won, but they were both in New York. We had a 4-2 Bowl record, and we played well in the postseason. We — led by Oklahoma in the Sugar Bowl, we got a pretty one-sided win there. We beat the representative from the Pac-12 by 30. We were 2-1 against the SEC in the postseason. I think that, by many measures, we had a really good postseason. And I mentioned that OU and Oklahoma State and K-State particularly delivered big victories. What you may not remember is that the Big 12 was first in scoring defense in the postseason last year, first among all conferences in scoring defense. For a league that is reported to be singularly interested in offense, that probably speaks volumes."
Well, now the Big 12 has a chance to back up Bowlsby's words.
Just like last bowl season, the Big 12 has a big-time opportunity to change the perception of their league, during out-of-conference play. The league's performance was one that silenced a few critics, but not enough, so continued success is an absolute must this September.
The league took another shot this offseason when the AAC, a Group of 5 conference, had more NFL Draft selections than the Big 12, which reinitiated the murmurs of the conference's demise. The College Football Playoff selection committee has shown significant bias against the Big 12 in recent seasons, mostly to validate their choice to leave both Baylor and TCU out of the playoff in 2014. The Big 12 threw a major wrench in the committee's bias by beating several quality opponents in last bowl season. The highlights were the two Oklahoma schools dominating performances over Auburn and Colorado. Colorado was a team the playoff committee had ranked in front of both Oklahoma and Oklahoma State going into championship weekend.
Oklahoma and Texas will both take on top 5 foes in the opening weeks of the season, in Ohio State and Southern Cal respectively. While eyeballs will be on those contests, the rest of the league has solid opponents lined up as well, and they must also contribute to prove the Big 12 has solid depth.
Iowa State plays Big Ten foe, and rival, Iowa in Ames. The Cyclones ended last year on a positive note, and with some key returning starters on offense they absolutely have a great chance to take the Cy-Hawk trophy home this year. Kansas has been one of the worst teams in the FBS over the last few seasons, but with a few solid transfers and key recruits KU may have a chance to move out of the basement in the Big 12. The Jayhawks don't play any Power 5 opponents in non-conference, but wins versus solid Group of 5 opponents in Ohio and Central Michigan could certain help them build some success, and at least pull them out of the conversation of being considered the worst team in the FBS.
Texas Tech plays one of the best FCS schools in Eastern Washington and they will also take on Houston and Arizona State. Kliff Kingsbury is on the hot seat, and while I struggle to see Tech going 3-0 in non-conference play, if they can come out 2-1 going into league play that would go a long way for a team projected near the bottom of the Big 12 standings. Of course we know Texas plays USC, but they also have another Power 5 opponent on their schedule in Maryland. The Terps have some expectations going into the season (by Maryland standards), and finished with a better record than the Longhorns last year. Texas doesn't have to beat USC, but the Longhorns absolutely cannot fall to the Terps.
Baylor plays Duke, unfortunately this isn't being played on the hardwood. The Blue Devils went 4-8 last season, but has had several solid recruiting classes in recent years, so Baylor and Coach Rhule will need to have their minds focused to go into Durham and come back to Waco with a win. TCU takes on Arkansas and SMU this non-conference. The Horned Frogs lost at home to Arkansas in double overtime last year which really set the tone for their mediocre season. The Frogs must bounce back from last year's defeat and go into Fayetteville and win. Beating the SEC is always a positive in public perception, but losing to them can be catastrophic, especially when it's a team many project to finish in the bottom half of the SEC West.
Oklahoma plays UTEP and Ohio State. The Sooners cannot be run off the field by the Buckeyes like they were in Norman a season ago. Sure, a win may be a stretch on the road in Columbus, but a good performance is a must. If OU gets blasted by the Buckeyes in 2017, it would be the biggest blow to the Big 12's national perception in 2017. Oklahoma State plays a good Tulsa team, as well as travel to Pittsburgh, both opponents should be wins for the Pokes, but neither are pushovers. Since Oklahoma State is picked near or at the top of the Big 12 preseason standings, a slip up to either would definitely hurt the league's perception.
West Virginia will be taking on the Virginia Tech Hokies in what should be one of the better games in the OOC this season. The Mountaineers have an opportunity show they, and transfer QB Will Grier, are for real and a legitimate threat in the conference title race. Beating an ACC contender in Tech would go a long way for both the 'Eers and the Big 12. Kansas State, in what many believe will be coach Snyder's last season in Manhattan, will be taking on Vanderbilt. Both teams will surely be physical and try to win at the line of scrimmage. Sure it's Vandy, but it's still an SEC foe that the Big 12 has to beat. In some ways there is even more pressure on the Wildcats than had they played one of the top teams in the SEC, because losing this game would be absolutely devastating.
Ultimately the Big 12's perception will first come down to Oklahoma and Texas. If both, or either, win that would go a very long way, but the rest of the league has to have a strong enough non-conference showing to not embarrass the Big 12 as a whole. The Big 12 certainly won't win each of these solid match ups in the non-conference schedule, but they must win their fair share. As always though, it will start with the Horns and the Sooners.
**If you want a chance to win FREE Big 12 gear from your favorite team, be sure to sign up for our weekly newsletter! **
Comments
You must be a registered user to view and leave comments. Sign Up now!