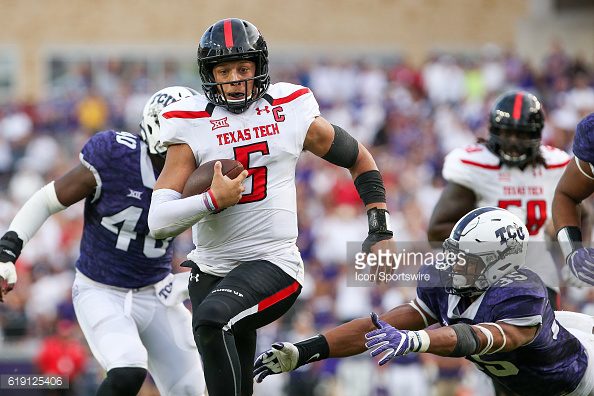 Texas Tech quarterback Patrick Mahomes' father, Pat Mahomes, was arrested on a public intoxication charge during the Red Raiders' game against TCU on Saturday.
On Saturday, Mahomes threw for 206 yards and two touchdowns and rushed for a touchdown in a Texas Tech overtime win against TCU. But it was his father who, unfortunately, stole some of the headlines.
According to a police report, Mahomes was taken into custody at Amon Carter Stadium at 5:45 p.m. It appears like the 46-year-old made his way into the TCU student section and got into it with another fan.
Patrick Mahomes dad came by us in the student section to watch and talk to Mahomes, and they kicked him out because a student made a scene.

— Claire Laging (@TClaireU19) October 29, 2016
Another man, Jonathan Gormly, 26, was also arrested on a public intoxication charge during the incident, according to the police report. At this point, it's not clear if Gormly is the man Mahomes got into an altercation with.
Both men had been released from jail by Sunday morning.
Mahomes pitched in the big leagues for 11 seasons, playing for the Twins, Red Sox, Mets, Rangers, Cubs and Pirates. Mahomes was a gentleman and a class act when we interviewed him last April. So, hopefully this was just a misunderstanding and a small bump in the road.
**If you want a chance to win FREE Big 12 gear from your favorite team, be sure to sign up for our weekly newsletter! **