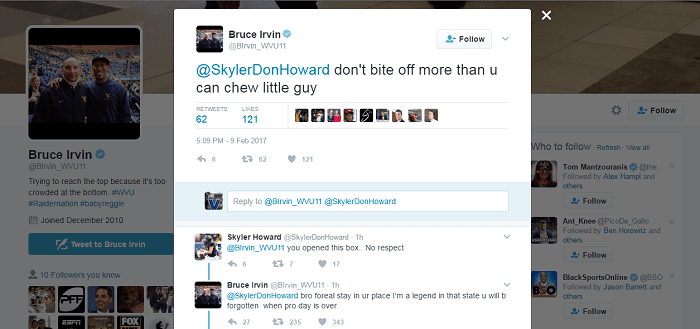 What could go wrong when you combine Bruce Irvin, Skyler Howard, and Twitter?
I'm not sure what took Skyler Howard so long, but he finally responded on Twitter to a couple shots from former WVU star Bruce Irvin.
Back when West Virginia was getting smoked by Miami in the Russell Athletic Bowl, Irvin was taking shots at Howard and the Mountaineers. So Howard either finally found out about them today or just had some down time to properly respond.
He started off by noting that Irvin's success came in the Big East, which Howard implied was a joke (which is basically was, in football).
@BIrvin_WVU11 ? pic.twitter.com/U38UcFe8Z8

— Skyler Howard (@SkylerDonHoward) February 9, 2017
From there: Irvin responded: "lol what's ur point" to which Howard came back with "we both know what I'm gettin at".
Irvin then pulled a page out of our President's book, using the adjective "little" to disrespect someone, saying, "don't bite off more than u can chew little guy".
Howard returned with, "you opened this box.. No respect".
That's when Irvin escalated things and Howard referred back to the specific shot Irvin took at Howard on Twitter during the Russell Athletic Bowl, calling him an NAIA quarterback.
@BIrvin_WVU11 Im not gonna sit back and act like I didn't see these.. Guess I'm just "built different" cause I'm the only one to call u out pic.twitter.com/45w7RVkV80

— Skyler Howard (@SkylerDonHoward) February 9, 2017
Irvin came back with, "lol I'm glad ya bum ass seen it I wasn't trying to b discreet about it. I say what I feel and that won't ever change."
Howard started retweeting guys who were supporting him, while Irvin went for one more kill shot.
I'll make sure I'm there for pro day to see him warm up in the bruce irvin speed and conditioning zone to run that slow ass 40 ????

— Bruce Irvin (@BIrvin_WVU11) February 9, 2017
The whole thing is pretty stupid. The two players are heading down different paths. Howard is hoping to hear his name in the late round of the NFL Draft, while Jack Del Rio named Irvin the starting strongside linebacker to begin the 2016 season with the Oakland Raiders.
SEE WHAT HAPPENS WHEN THERE IS NO FOOTBALL?!?! Even players go crazy!
Update: Howard went unsigned in the NFL Draft and signed with the Seattle Seahawks as a free agent, before he was cut three days later on May 15th.