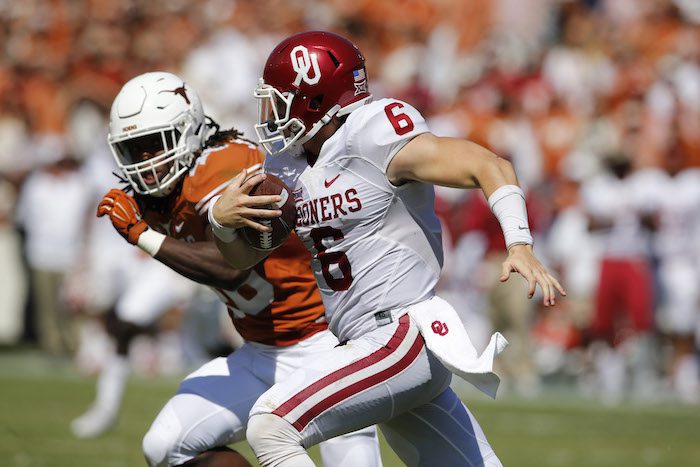 The last time the Oklahoma Sooners and Texas Longhorns both went into a season with a first year head coach was 1947. While the Longhorns are hitting the reset button with the program, Oklahoma is just looking to continue its dominance from the Bob Stoops era. But regardless, with two new faces at the helm, this could be the best thing to happen to the Red River Rivalry in decades.
It was 70 years ago that the Longhorns had hired Blair Cherry from Nebraska to replace the legendary Dana X. Bible. Meantime, Oklahoma elevated Bud Wilkinson to the top spot from assistant coach. Sound familiar? OU just promoted one of its assistants in Lincoln Riley, while Tom Herman was hired from the outside.
Cherry's career was cut short due to his health (although he went 32-10 during his stint), while Wilkinson went on to a legendary career in Norman.
As we skip ahead to the the late 90s, Mack Brown and Bob Stoops were hired just one year apart, 1998 and 1999, respectively. Both programs had become stale and looked to the Southeastern part of the country to find their new head coaches. Texas found Mack Brown in North Carolina, and Oklahoma found Bob Stoops in Florida. It began what would be a quality decade-long run for both programs (OU's obviously continued), and combined with the success of Nebraska, Texas Tech, Missouri and others, was the height of the Big 12 conference.
Lincoln Riley and Tom Herman can reset this Red River Rivalry and give it new meaning, while also bringing a fresh, youthful feel to the Shootout and the Big 12. When Mack Brown took over in 1998, he was 47 years old, while Bob Stoops was hired as Sooners head coach at 38 years old. That's similar to what the situation is now. Like Brown, Herman has head coaching experience and is the elder statesman, but still a young man by the profession's standards at only 42, while Riley is the hot-shot coordinator, and is the puppy at 33.
But expect one part of the script from the Brown-Stoops era to be flipped. Mack Brown was the politician-type, who could talk any booster or media member's ear off in a polite tone, and Stoops was viewed as the more surly and curt of the two. As the Red River Rivalry enters its next phase, I expect Herman will likely be the one with the killer sound bytes and shorter fuse, while Riley will come across as the more laid back and easy going of the pair.
On the field, while the past 3 years have been generally good games, all decided by a touchdown or less, the match up hasn't had both teams ranked in 5 years. That needs to change. Heck, last year Fox Sports demoted the game to Fox Sports 1. The network will say it's to boost their sports cable outlet's eyeballs and bring good content. That's fair. But let's be honest, if they felt it was the must-watch, premier college football game it has always been, it would've been on basic cable.
The Sooners have won 5 of the past 7 games by an average of 19.6 points per contest. Most of the games the past 10 years have been snoozers.
The peak of this rivalry, on the field, was from 1974-1977, when four straight games were decided by a touchdown or less. Oklahoma was ranked in the top 3 in every match up, Texas was never ranked lower than 17, and there was even a 6-6 tie in 1976. Barry Switzer vs. Darrel Royal (except for 1977), you just couldn't beat that.
In many ways, two fiery, short-tempered guys coaching against each other like Bob Stoops and Tom Herman would've been a heck of a good time. However, turning this rivalry to an entirely new page creates even more intrigue. And with Big 12 football, in the eyes of many around the country, becoming flat in recent seasons, this is a reason to watch.
The Red River Rivalry is the most important game on the Big 12 schedule every year. It's on the level of Ohio State-Michigan, Alabama-Auburn, and what Florida State-Clemson has become in recent years. The game has to get back to center stage. All those rivalries have had very memorable games in recent seasons. From the Kick 6 in 2013, to Clemson's comeback win vs. FSU last season,  to last year's legendary double-overtime game between Urban Meyer and Jim Harbaugh, Texas-Oklahoma hasn't had that kind of game since 2004, when both teams were ranked in the Top 5.
I guess you could argue Texas' upset of OU two years ago was memorable. But really, other than Longhorns fans, who cares? Texas went on to struggle the rest of the season, while Oklahoma still made the College Football Playoff. Really? Memorable? Legendary? Hardly.
But now in 2017: new coaches, new leaders, and hopefully a new and storied rivalry will get back to its roots. It's time.