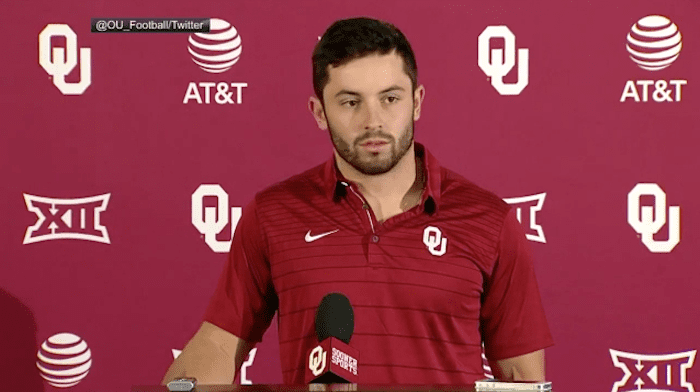 Sports are supposed to be fun. They're supposed to take our minds off our daily day-to-day grind, our problems in life, be it personal, professional, or social. Sports are supposed to block out all that is wrong with the world for 2-4 hours and give us a chance to smile.
If you're an Oklahoma fan, what you saw on Saturday night following the Sooners 31-16 win over Ohio State was pure joy. If you were an Ohio State fan, you probably thought Baker Mayfield "planting" the OU fan in the "O" at midfield of The Horseshoe was disrespectful. But regardless, it was fun, it was entertainment. It was what sports is really supposed to be about.
Sure, a little gloating and a little cocky. But no one got hurt. No crime was committed. It was useless, harmless fun.
Unfortunately, for some reason, Mayfield decided to apologize for his flag stunt.
.@baker_mayfield6 apologizes for planting the flag after the win. pic.twitter.com/GABar6zchJ

— Oklahoma Football (@OU_Football) September 11, 2017
Mayfield said, "I didn't mean for it to be disrespectful to any Ohio State people at all, especially the team or the players, because they're a great team and a great program," Mayfield said. "It was an emotional game. I knew that it was going to have a lot of implications on the playoffs. … I got caught up in an emotional win. Yeah, it should've been something I did in the locker room. So I apologize for doing it in the middle of the field."
What a sham.
Even worse, the Oklahoma football twitter account tweeted it out, telling me it was in some way, preplanned.
The whole thing is surprising because earlier in the day, Lincoln Riley downplayed the whole thing during his Big 12 teleconference, saying, "I think it was one of those things where he [Baker Mayfield] is an emotional guy and a competitor and got caught up int the moment a bit. I know him and our program and it was not meant to be disrespectful to Ohio State and the tradition and program they have. We know they are a great team. There's a lot of respect there. It was more just the heat of the moment than anything else." 
That was the right approach.
This is weak and you can tell Mayfield doesn't seem enthused by having to do this. Someone, or some folks, at OU clearly gave into unnecessary media and/or peer pressure.
Everyone needs to relax. Chill. Take a deep breath. It's just sports. Not even professional. It's college sports. The only growing up that needs to be done is by those overly offended by silly actions of a college athlete.