Baylor Bears
Zach Smith the right choice at the right time for Baylor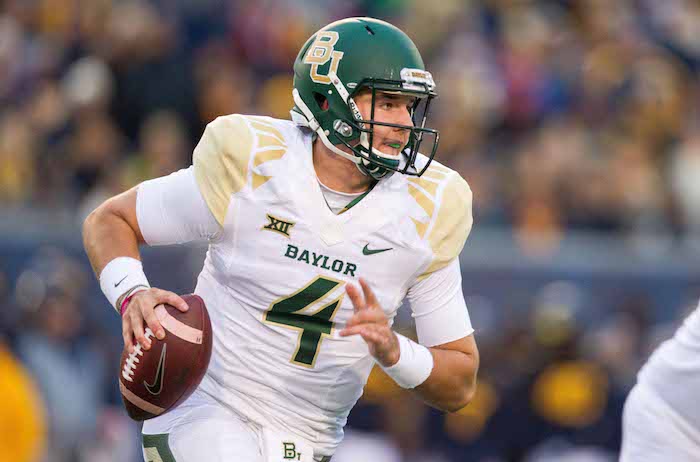 It was a close race through spring and fall camp, but the week of the season opener, Baylor head coach Matt Rhule made the decision to go with Anu Solomon as the starting quarteback. It made sense at the time. Solomon was a graduate transfer from Arizona with a ton of starting experience under his belt in Pac-12 play. The Bears were going to be young and inexperienced at several positions, so going with the senior quarterback for leadership alone was a good call. Also, Solomon had better mobility than Smith, another positive trait to have as he would be working behind a suspect and thin offensive line.

But two games in, with the Bears losing to an FCS team and a Group of 5 team, and sitting at 0-2 for the first time in 14 years, Rhule announced Monday he would start Zach Smith on Saturday against Duke.
Rhule admitted that he sees "almost a panicked state" and feels he has to calm down his team, adding, "These kids have been through a tough stretch … They've won one of the last nine games. They're looking for something good to happen."
We'll see if "something good" turns out to be Zach Smith under center. Smith battled admirably through a tough season in 2016 and finished off the year with a great bowl game against Boise State, throwing for 375 yards and three touchdowns.
Solomon had a good-enough opener against Liberty, throwing for nearly 300 yards and rushing for 100, but he struggled mightily against UTSA, with only 121 yards passing and 9 rushing yards. For the season, he has completed just 43.6 percent of his passes.
The reality in Waco is this: Anu Solomon is not the main reason Baylor is struggling, but the program would also be wise to look to the future. Solomon was always going to be a one-year stopgap. That makes sense if the team is a borderline bowl team. But considering Baylor already lost its first two games that were projected as easy wins, the likelihood of a bowl appearance is 2017 is slim to none. So look to the future and turn the reins over to Smith.
Listening to Smith talk after practice on Tuesday, there is a calmness and a confidence that is impressive for a true sophomore. He told reporters, "Even when we were competing and stuff, I always kind of saw myself as a starter. When [Rhule] announced Anu, I always though of myself as a starter and leader on this team. So I prepared like I was going to start each week because you never know when you're going to go in." 

If we're being honest, there is often pressure to giving a graduate transfer a slight edge to become a starter. In the intense recruiting landscape, a coach who brings in a graduate transfer with the 'wink-wink' promise of playing time has to follow through. After two games, coaches can't recruit against Rhule saying he didn't give Solomon the nod under center. He did, and the quarterback struggled enough to warrant turning the job over to Smith.
Charlie Brewer is the back up this week with Solomon listed in concussion protocol. But regardless of Solomon's health moving forward, I would be surprised to see him get any significant playing time the rest of the season. Even if Smith struggles as well, I would not be opposed to Matt Rhule giving the true freshman Brewer a shot. Get him some reps and see what he's got. It might not be pretty, but more playing time and adversity for both Smith and Brewer will benefit this program in 2018 and beyond. At this point, that's what Baylor's focus needs to be.
With 15 freshman seeing time last week, Matt Rhule seems to realize that as well. He has a rebuild on his hands. He's definitely the man to turn this around in Waco, but it's not going to happen overnight. With Smith under center and plenty of freshmen and sophomores seeing live bullets, the benefit for the Bears will come, it just won't be until next fall, at the earliest.