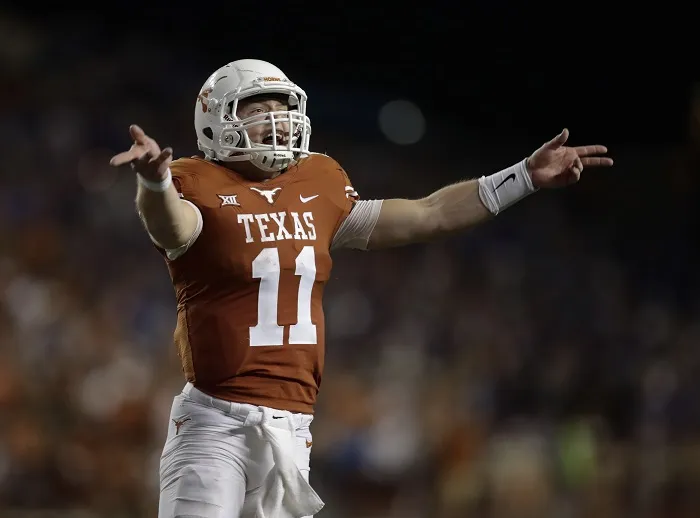 For the last seven years the Texas Longhorns have been waiting for their "savior" at quarterback to finally right the ship. Fans have been hoping and praying for years that somebody will finally grab this job by the horns (see what I did there?) and consistently win ballgames.
From 2010-2016 do you have any idea what the Longhorns Big 12 record was? 30-32, and no that is not a typo.
After you regain conciseness from reading that last sentence, you need to realize just who you have at quarterback now and for the next few seasons. Gone are the days of Garret Gilbert, Case McCoy and David Ash (who wasn't that bad when healthy). No more, "I think we can win with this guy" because now you should be saying "We can win with this guy."
Texas fans, your prayers to the football gods have been answered in the form of freshman quarterback Sam Ehlinger and here is why he must be the guy on the 40 Acres.
The Things You Can't Teach
I am sure you hear it all the time, "Those are things you just can't teach a player". Then it is probably followed by an eye roll saying "Yeah, whatever." Look, I get it. You're tired of hearing that old cliché but it turns out that it is much more than just a saying when it comes to playing the quarterback position. Just watch Ehlinger play and you will understand why it is so important. Here you have a true freshman quarterback at the University of Texas.
At what moment in his 3 starts did you say "Man, this moment is too much for him to handle?" That thought never even probably crossed your mind and that itself is impressive to think about. Watch that last drive in regulation against USC on the road and tell me this kid doesn't have ice in his veins. Heck, just look at his performance last week against K-State and what he was able to do against a very highly regarded defense.
In his first 3 starts, Ehlinger has showed me two things: His confidence and his toughness (mentally & physically). He has only seven less carries than Kyle Porter who leads the team with 53 carries. He has showed us that he is willingly to put his body on the line to win football games and grind it out for every yard. That earns respect in my book and I am sure his teammates feel the same way.
Fit 
You could see this coming from miles away dating back to spring ball. Everyone and their mother knows that Shane Buechele isn't the most mobile guy in the world and his fit in an offense that requires the quarterback to be mobile was going to be interesting to say the least. To simply put it, it would have been like trying to put a round peg into a square hole. Ehlinger's ability to run the football has opened up so many new things for offensive coordinator Tim Beck.
Instead of just trying to sling the ball all over the field and running a limited number of option plays with Buechele, Ehlinger is able to run the football in almost any sort of run play that the offense calls for. For example, Buechele isn't built to take a ton of hits so running him up the gut isn't the smartest idea in the world. However, with Ehlinger defenses are forced to cover all areas of the running attack whether it be inside or on the edge. When Ehlinger can carry the ball, it allows for an extra blocker to put even more pressure on opposing defenses. While Buechele probably has a better overall arm, Ehlinger's ability to be more versatile helps this offense reach new heights that we wouldn't be able to see with Shane.