Baylor Bears
Big 12 Football Week Six: The Good, the Bad and the Ugly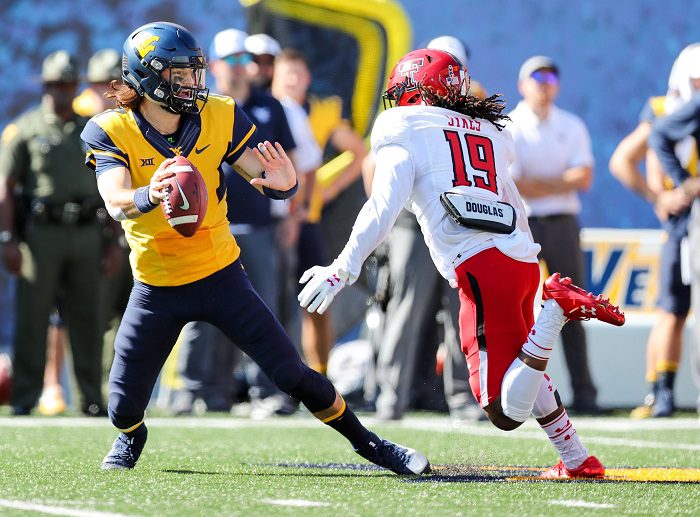 I hear it all the time, "Who has the best conference in college football?" SEC? Big 10? ACC? What about the Pac-12? Very rarely are you going to hear the words "Big 12" coming out of someone's mouth in that conversation. Whether you do it or not, there are plenty of folks out there who love to bash the Big 12 conference (cough, Paul Finebaum, cough). Week 7 had every Big 12 team in action even though there were only two-time slots for all the games. It was hard trying to watch all these games at once even though I probably shouldn't have. We saw three blowouts, a blown lead or a great comeback (depending on who you root for) and a Red River Showdown that came down to the wire. As always, there was the good, plenty of bad and some ugly.
The Good
Quarterback Play
It was hard to find too many positives this past weekend, however looking at the stat sheets after these games, one thing jumped out to me. The quarterback play on Saturday was absurd and I mean that in a good way. This was the best weekend performance wise for a lot of these quarterbacks and even though a few of them lost, they left the stat sheet filled with some excellent numbers. When people around the country were watching some of these games, they probably wished that they had your team's quarterback at some point on Saturday.
OU QB Baker Mayfield- 17/27 for 302 yards and 2 TDs (29-24 win over Texas)
OSU QB Mason Rudolph- 19/31 for 459 yards and 3 TDs (59-16 win over Baylor)
WVU QB Will Grier- 32/41 for 352 yards and 5 TDs (46-35 win over Texas Tech)
TCU QB Kenny Hill- 27/37 for 297 yards and 1 rushing TD. Pretty damn good for Kenny Hill Standards (26-6 win over KSU)
Texas QB Sam Ehlinger- 19/39 for 289 yards and 1 TD. Also rushed for 110 yards and a TD in a loss to OU.
TTU QB Nic Shimonek- 24/39 for 323 yards and 4 TDs in a loss to WVU.
Iowa State Defense (Shutout Kansas 45-0)
Look, I get it. It's just Kansas, right? Well, yes but anytime you can hold an opponent to 106 total yards of offense, I don't care if you are playing an FCS team because that is pretty damn impressive in my book. The Cyclone defense gave up 44, that's right 44 yards of passing on Saturday. They also only gave up 62 rushing yards to the Jayhawks as well. Overall, this was an excellent display of defense by the Cyclones and you have to tip your cap to them for their performance.
The Bad
Kansas State Offense (Lost 26-6 against TCU)
Backup quarterback Alex Delton got the start on Saturday and unfortunately for Wildcat fans, he didn't do much. I know he doesn't have the greatest arm in the world but he is more athletic than Jesse Ertz. Want to take a guess at Delton's QBR on Saturday? It was 5.7. Delton went 11/29 for 146 yards against TCU. That simply isn't going to get it done against TCU or really any Big 12 team for that matter except for Kansas. Delton did lead the team in rushing with 39 yards, but 36 of those came in one play. Overall the Kansas State offense rushed for 70 yards on 29 attempts for a measly 2.4 yards per carry. Talking about this offense isn't nearly as bad as having to watch it this past Saturday which I and many others probably did. Let's just stop talking about this offense and move on.
Texas Tech's Meltdown in Morgantown (Lost to WVU 46-35)
So, you're a Texas Tech fan, your Red Raiders are up 35-17 on the road with 9:11 left in the third quarter. At this point your probably wondering where or how you are going to celebrate this victory. In the words of Lee Corso "Not so fast my friend." When Tech went up 35-17, they had only punt the ball once up to that point. So, I really can't blame you if you thought that Texas Tech was going to cruise their way to victory after being ranked for the first time in nearly four years. For some reason or another the last five Red Raider drives went like this: Missed FG, punt, punt, punt and interception. You can't finish a game like that and expect to win from an offensive standpoint. By the way, missing three field goals doesn't help any at all. At this point you should have a damn open try out on campus to see if there is one kid on campus who can put the ball through the uprights within 30 yards.
As far as the defense goes, they too had a drastic meltdown in that second half. Four of the last six offense drives for the Mountaineers resulted in a touchdown and the last drive West Virginia basically killed the clock. The Mountaineers scored 29 unanswered points in that second half to go on and win 46-35. After a 3-0 start, the Red Raiders have lost their last 2 out of 3 games and the schedule doesn't get any easier for Kliff Kingsbury. They still have to play, OU, Texas, TCU and K-State. Next week, they welcome in a red-hot Iowa State team into town that defeated Oklahoma in Norman one week ago.
The Ugly
Baylor Defense
OK, this is starting to get old by now. The Baylor defense once again makes another appearance on this sh*t list. The Bears gave up 471 passing yards on Saturday. Was the run defense any better? No, they also gave up 276 rushing yards to the Cowboys in an embarrassing 59-16 loss. The defense looked helpless as Oklahoma State broke a school record for total yards of offense with 747. Depleted roster or not, the was one of the worst defensive performances I have ever witness in my young life. Baylor now falls to 0-6 and I am not sure how anyone can find a positive from this game from a Baylor standpoint. X's and O's aside, Baylor just flat out got beat badly.
Kansas Jayhawks (Lost 45-0 to ISU)
If you are a Jayhawk football fan I would like to say I'm sorry. I am sorry you have to watch this abomination of a team. Before the season, I thought that this could be a game that Kansas had a chance to win, but boy was I wrong. The offense had 106 total yards and watching it was like putting tabasco sauce in your eyes for four quarters. Defensively they gave up 312 total yards, which is an improvement, but still gave up 45 points to Iowa State. This team is now 1-5 and since the start of David Beaty's tenure is 3-27. Kansas has yet to play Baylor, but even then, I don't see how anyone thinks that Kansas will win another game this season. My suggestion? Before every game, drink a few beers that way you don't get your hopes up too much.