Oklahoma Sooners
OU-Texas is ESPN's highest-rated Saturday afternoon game of season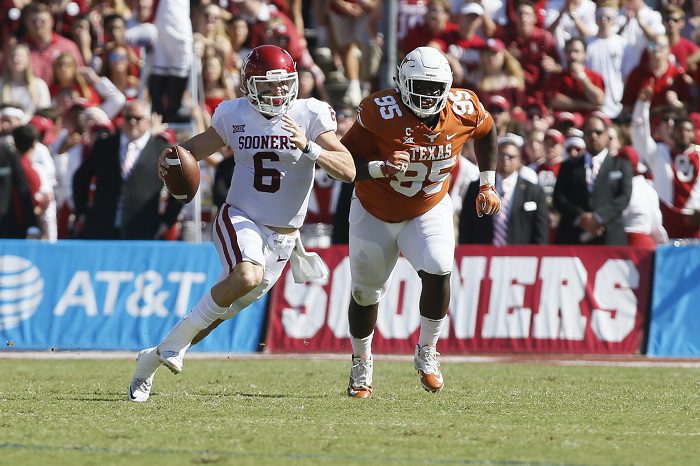 With the Red River Rivalry having two new head coaches for the first time in 70 years, there appeared to be even more intrigue than usual to the Oklahoma vs. Texas game in Dallas.

ESPN's press release on Sunday cited how popular the game was, noting:
"Georgia Tech vs. Miami (3:30 p.m., ABC) earned a 2.5 overnight while Oklahoma vs. Texas (3:30 p.m., ESPN) earned a 2.4 Nielsen overnight in the late afternoon timeslot, the second and third highest-rated games of the day, respectively.  The overnight for the Hurricanes' fourth quarter comeback was up from last season's regional late afternoon window (Nebraska at Indiana or UNC at Miami), while the Sooners-Longhorns game was up 243% from last year's game in that times slot (Wake Forest vs. Florida State). This year's Red River Showdown is ESPN's highest-rated Saturday afternoon game of the year."
The highest-rated game of the day on ESPN networks was the noon E.T. kickoff between Michigan and Indiana (which went to overtime).

It's also important to note that the West Virginia vs. Texas Tech game was ESPNU's highest-rated game of the season (0.5) and up 67% year over year (Minnesota at Maryland).
So for all those folks saying the Big 12 is a lost and dying conference, the fans apparently still beg to differ.