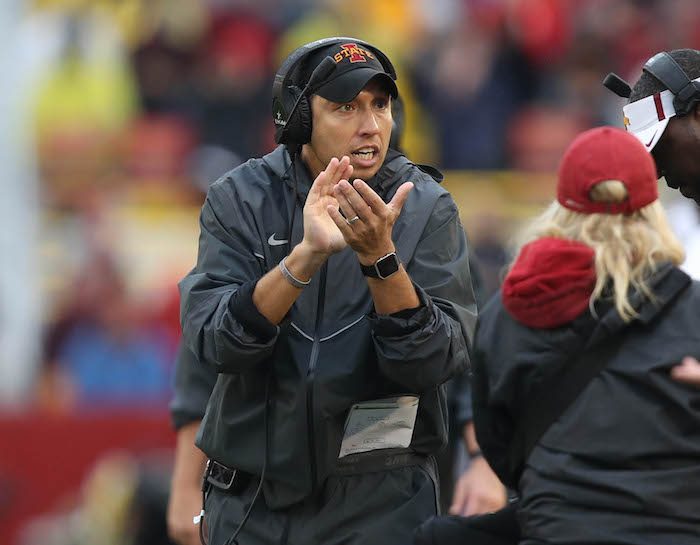 Iowa State football is less than two full years into Matt Campbell's tenure, but the Cyclones are already turning heads. The Cyclones should be sitting at 5-1 on the season and could even be in the Top 25 had they held off Iowa last month.
Regardless, Iowa State is an impressive 4-2 which includes a stunning win over the Oklahoma Sooners. Their two losses to the Hawkeyes and the Texas Longhorns look like solid losses. Iowa loss by a touchdown or less to #2 Penn State and Michigan State (who beat Michigan last week). Meantime, Texas held a lead in the second half against top-ten Oklahoma. And don't forget,all this recent success has been behind walk-on quarterback Kyle Kempt.
I don't want to scare Iowa State fans. Heck, they should be feeling great about where they currently stand under Campbell's leadership, along with the potential for where they could be headed. But when you look at some of the big-time coaching jobs that could be open in a couple of months, it should be cause for concern.
We may end up with openings at Tennessee, Nebraska, UCLA, and Arkansas. Plus who knows what other SEC school succumbs to booster pressures by the end of the season. I'm looking at you Florida, Texas A&M, LSU and Auburn. Meantime, regardless of their success this season, is the relationship completely fractured between Brian Kelly and Notre Dame?
The point is: while we always have a robust coaching carousel, this year could be unique in the number of high-profile jobs that could become available.
And for any university President or athletic director out there, why wouldn't Matt Campbell be on your short list?
He's 37 years old, had Toledo in the Top 25, and is turning around Iowa State faster than anyone expected. Plus, he knows how to find talent. Best example: David Montgomery, who he recruited to Toledo, but was able to bring with him to Ames. Iowa State is currently 4-2 and has only had one winning season in the past decade. Additionally, the Cyclones haven't won more than seven games since 2000. With a couple of breaks and good fortune, Campbell could achieve both this season.
Campbell has been destined for success since his mid-20s, when during a scouting visit to Bowling Green by then New England Patriots director of player personnel Scott Pioli, Campbell was assigned to make sure the VIP had everything he needed. Pioli was so impressed by Campbell he offered the young man an interview with the team. Campbell was so confident in himself and his future, he declined.
Now to the other factor that always plays a role in coaching hirings and firings: the contract.
Campbell's deal runs through 2021.
The guys over at Wide Right Natty Light did a solid deep dive into Campbell's contract.
Essentially, in 2015, Campbell earned $2 million for just a few weeks of work on the job. It was basically a signing bonus.
Then in 2016, his total compensation was $1.2 million, with potential incentives bringing that up to $2.1 million. Those incentives were not reached as they included items such as six wins, Big 12 championship, Big 12 coach of the year, and bowl win.
Campbell is making $1.3 million this year, with bonus potential up to $2.1 million. By 2021, Campbell's base is $1.7 million, with potential to make $2.6 million.
His contract includes a 100% buy out, meaning if he is hired by another school, Iowa State is owed all the guaranteed money that remains on Campbell's contract. The lifetime total guaranteed compensation is $10.7 million. After this season that is down to $6.2 million (his guaranteed salary total from 2018-2021).
It's a sizable buyout, but isn't obscene.
If a major SEC or Big Ten school thought Campbell was "their guy", they would pay it. Hell, some of these schools are going to pay millions of dollars just to fire the coaches they currently employ.
In fact, Campbell would be a great fit and have a lot of potential at a place like Nebraska. It's essentially Iowa State on steroids. He could recruit to his Midwest ties, while trying to poach the occasional top-flight athlete from Texas with far more resources than he currently has.
Granted, I don't want to see this happen, as I'd love to see how much success he can have at Iowa State, but I am being realistic.
So if Campbell makes a bowl game this season and continues to make progress, Iowa State would be wise to rip up his contract and start anew. It's an important time for Iowa State football with the recent renovations to Jack Trice and momentum happening on the football field. Losing Campbell would put the Cyclones back to square one in many ways.
Sure, Campbell has raved about the Iowa State job and how much it means to him. And there's no doubt I believe he's sincere about it. But he is still very young by head coaching standards and is an incredibly driven individual.
Iowa State can't rest on their laurels. A base of $2.5 million, which would put him in the middle of the pack in the Power 5 coaching salaries, plus incentives and a 100% buyout is where I would start looking if I were Iowa State AD Jamie Pollard.
Pay up. Money talks.