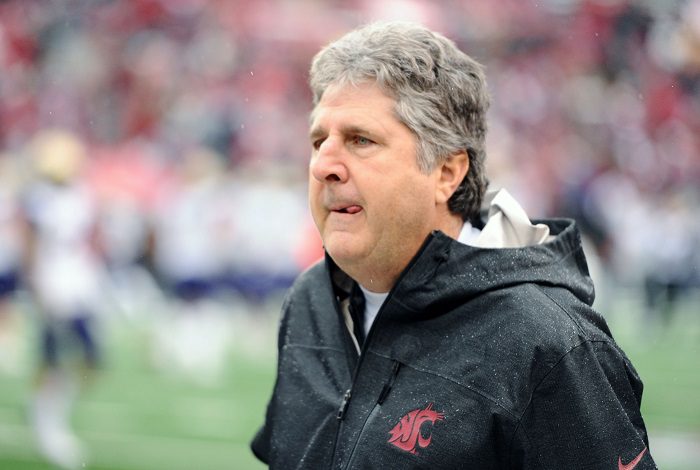 Texas Tech is off to a 4-2 start this season, but before they host Iowa State this weekend, there might be a distraction near Jones AT&T Stadium. Former head coach Mike Leach, who is still fighting tooth and nail to be paid for his services from the 2009 season, tweeted about a rally behind held this Saturday in Lubbock.


— Mike Leach (@Coach_Leach) October 19, 2017
When a fan tried to troll him, Leach confirmed that he will not be in Lubbock, but that the rally is being held by friends in West Texas.
Friends are having the rally, which I endorse. I hope everyone goes and has a great time. I will be busy up here as we play CU. #GOCOUGS!

— Mike Leach (@Coach_Leach) October 20, 2017
As noted, the rally takes place at 10:00 AM Saturday morning October 21st and the location is vague simply stating "Near Red Raider Stadium", which obviously isn't the name of the stadium as some folks pointed out.
That is not where Texas Tech is. It is in Lubbock, Texas, stadium is called The Jones and is located at University & 4th. #wreckem #payhim

— Dallas HP Blonde (@DallasBlonde822) October 20, 2017
Of course, the hashtag #PAYCOACHLEACH will yield plenty of results.
This all comes just a couple days after Leach went on a rant against Texas Tech in his press conference at Washington State, saying, "They were outright crooks at Texas Tech. You're talking about an organization that hasn't paid me for 2009. We won nine games in 2009 and they haven't won nine since. Yeah, are there crooks there? Yeah. They're felons and oughta put them in jail."
But Leach didn't stop there, adding, "You've got schools that have actually had murders, schools that have had rapes and sexual assaults, schools that have cheated and fixed grades, schools that have bought their players. There's only one school in the nation that's shameful enough to not pay their head coach. Only one. And that's Texas Tech. Texas Tech stands alone as far as being sleazy as far as not paying their head coach."
Clearly the bad blood between Leach and Texas Tech is far from over and Leach is not going to stop his fight.