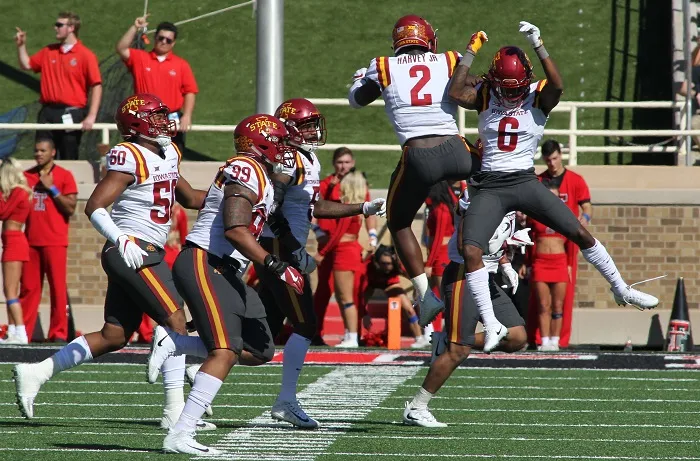 As Iowa State continues its special season behind second year head coach Matt Campbell, it's all the little things that the Cyclones are doing well. Saturday's win in Lubbock over Texas Tech was a microcosm of all that is going right for the Cyclones.

After the 31-13 win over the Red Raiders, Campbell said, "Our recipe for success is don't make mistakes, don't turn the ball over, force them to make some mistakes, and then when they do, you've got to do a great job at winning situational football. If you look back on the last three weeks that's been our recipe for success." 
That's exactly what the Cyclones have done this season and it continued on Saturday against the Red Raiders.
Iowa State went on the road and won the turnover battle (+2) against a Texas Tech team that came into the game tops in the Big 12 in turnover margin at +9. Since conference play began, Iowa State is now +4 in turnover margin, which is second best in the conference behind undefeated TCU. Iowa State is the only team in the Big 12 who has yet to give up a fumble on the season in conference play.

Meantime, the Cyclones committed, zero, I repeat, zero, penalties. That continues a trend that began when Big 12 play started. Iowa State entered Saturday with only 31 penalty yards per game, which was the best in the Big 12 by a wide margin. TCU entered second in the conference with 41 penalty yards per game.
Then there was the third down success. Iowa State was 8 of 16 on third downs against Texas Tech. Iowa State was not nearly as efficient in this department beginning the afternoon, ranking 8th in the Big 12. But their effectiveness on third downs was a big reason they left Lubbock with a convincing victory.
As a result, Iowa State won its fourth-straight road game for the first time since 1960-61 and is off to a 5-2 start for the first time in 15 years. The locker room was rocking after the victory.
It was another happy locker room after today's win!! 🌪🏈🚨 pic.twitter.com/68s3wMWzTh

— Cyclone Football (@CycloneFB) October 21, 2017
The Cyclones are becoming one of the darlings of the 2017 college football season as Matt Campbell's national profile and stock continue to rise, with even Kirk Herbstreit tweeting on Saturday afternoon that major programs looking for their next head coach need to go to Ames.
But in typical Campbell fashion, he had no interest in jumping the gun on what was going to happen the rest of the season, saying, "I think that'll be something t the end of the season we'll look at and say, 'did we reach our full potential?' … as soon as you start buying into everything that everybody else wants to say nice about you, bad things happen."
That's easier said than done as this group of Iowa State football players have never experienced anything close to this kind of collegiate success. The last time Iowa State won more than three games in a season was 2012.

The Cyclones could find themselves in the Top 25 come Sunday and there is already momentum to bring College GameDay to Ames next week when they host #4 TCU.
Hey @CollegeGameDay, see you next weekend? #CollegeAmesDay 🌪🏈 pic.twitter.com/d15eC67wkV

— Iowa State Athletics (@CycloneATH) October 21, 2017
It's probably a long shot with Ohio State hosting Penn State next Saturday, but to even be having this conversation should make Iowa State fans pinch themselves.
More so than ever in Ames, "a storm is most certainly brewing."