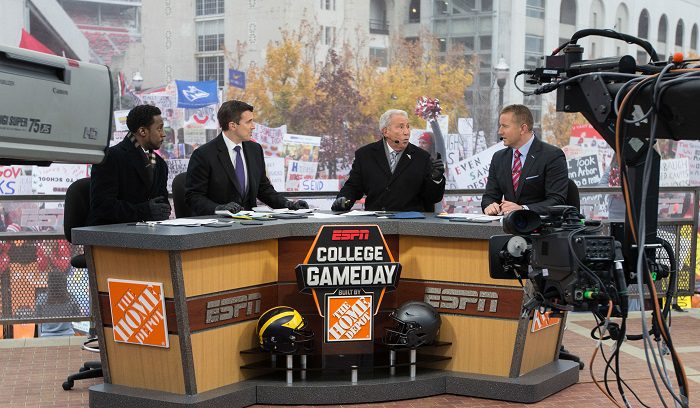 Regardless of what you think about Kirk Herbstreit, when he speaks, the college football world listens.

On Saturday afternoon, as Iowa State was manhandling Texas Tech in Lubbock and heading towards 5-2 on the season, Herbstreit sent out a tweet that send waves across college football, and likely has some Iowa State fans shaking in their boots.
Dear AD's thinking of making a new hire I'll save you your coaching search firm fee-go DIRECTLY to Ames, IA and get Matty Campbell FAST!!

— Kirk Herbstreit (@KirkHerbstreit) October 21, 2017

I wrote about this last week explaining why it's so imperative for Iowa State to pay Matt Campbell, writing:
We may end up with openings at Tennessee, Nebraska, UCLA, and Arkansas. Plus who knows what other SEC school succumbs to booster pressures by the end of the season. I'm looking at you Florida, Texas A&M, LSU and Auburn. Meantime, regardless of their success this season, is the relationship completely fractured between Brian Kelly and Notre Dame?

The point is: while we always have a robust coaching carousel, this year could be unique in the number of high-profile jobs that could become available.

And for any university President or athletic director out there, why wouldn't Matt Campbell be on your short list?

Naturally, plenty of Iowa State fans responded with fear, disappointment and some humor.
Herbie, can't us Cyclone football fans have something nice for once in our lives?!?

— J.S. (@BigJ52) October 21, 2017
You're not making any friends in Ames.

— Jason Van Arkel (@JVAPxP) October 21, 2017
Stay away, he's ours!

— Jeremy J. Greiner (@moe_greiner) October 21, 2017
— CYberCLONE (@CyFan7) October 21, 2017
Sorry Cyclones fans, this is only going to continue moving forward.
I believe Matt Campbell is loyal to Iowa State, but I also know he's a very motivated and still young head coach who is going to have many opportunities moving forward.
This talk isn't going away, especially as Iowa State continues to improve and have plenty of success.
Get used to it.