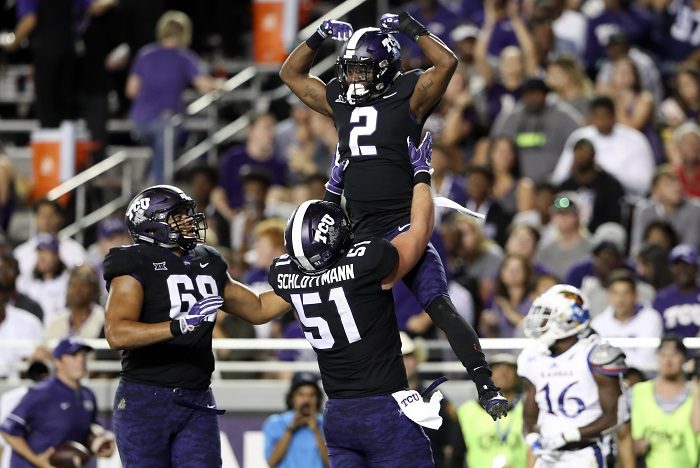 So let's get the easy part out of the way. No. 4 TCU defeated Kansas, 43-0, in Big 12 action. That's what an undefeated Top 4 team should do to a near-winless team in conference play.
But the score doesn't even come close to how dominant TCU's defense (7-0, 4-0 in Big 12 action) was Saturday night. Going into the fourth quarter the Jayhawks (1-6, 0-4) had minus-6 total yards (they finally got into positive yardage with 8:54 left in the game and ended with 21 total yards). The Jayhawks had negative rushing yards for the entire game (minus-25 yards). The Jayhawks had four first downs and, believe it or not, didn't have a turnover in the game. Their best player was their punter, Cole Moos, who had a 43.2-yard average on 11 punts.
Meanwhile, TCU quarterback Kenny Hill threw five touchdown passes, running backs Darius Anderson and Kyle Hicks combined to rush for 117 yards, wide receiver John Diarse caught four passes for 130 yards and a touchdown while wide receiver KaVontae Turpin returned a punt 90 yards for a touchdown.
Most expected TCU to win this game, even though the Horned Frogs and Jayhawks have played some close games recently. But the level of domination, especially by TCU's defense, was a bit jarring. I expected, at some point, that Kansas would uncork a big play when it still mattered. But the Jayhawks never did. In fact, the fourth quarter was played under a running clock as game officials tried to beat bad weather coming into the Dallas-Fort Worth area.
If nothing else, the national TV audience received a glimpse of just how good this Horned Frogs defense really is. Those of us that have been watching the Horned Frogs this season saw that the offense is catching up fast.
These Horned Frogs are playing with an edge. And it may be because their head coach, Gary Patterson, remembers well what happened in 2014. You know what happened — TCU went 11-1, won a Big 12 co-championship and was left out of the College Football Playoff, even though they were ranked No. 3 in the College Football Playoff rankings the week before the season's final week. I was at their final game that season, a home win over Iowa State. The Horned Frogs received their first Big 12 trophy and the energy at Amon G. Carter Stadium said, "We're going to the playoff." But, of course, TCU didn't.
Patterson played the class card that Sunday when he talked with media outlets around the country. But inside of all of that he said one thing that I believe rings true four years later:
"If you want to control your own destiny, then win every game."
With each game, it seems that mantra has seeped into the play of Patterson's entire team. When I saw TCU the first time against Arkansas the defense was clearly championship level and the emergence of defensive end Ben Banogu was exactly what the Horned Frogs needed. But the offense lagged. Hicks played, but he wasn't himself due to injury. Thankfully, Anderson toted the load. But Hill wasn't sharp.
Then, a few weeks later, I caught TCU against West Virginia. Hill's play had sharpened. In that game, Hill had a rushing touchdown, a passing touchdown and a receiving touchdown. He was the reason TCU won. But Hicks was finally healthy and was their leading rusher in the game. Diarse's emergence as a legit No. 1 weapon continued. The defense gave up more than 500 yards for the second straight game, but when it mattered the Horned Frogs got stops. After the game Patterson — whose standard for defensive performance is notoriously stratospheric — talked about what mattered in a game like that — points allowed, turnovers created and red zone defense. The Horned Frog defense was solid in all three categories that day.
Against Kansas on Saturday, well, they were the complete package, as they should have been. And that bodes well for the remainder of the schedule, which is gradually ramping up.
If FOX tried to sell you on the Kansas game being a trap game for TCU, well they failed. But next week in Ames, Iowa, against Iowa State? That totally feels like a trap game now after the Cyclones went into Lubbock and spoiled Texas Tech's homecoming. Patterson's teams are great on the road, but having seen Iowa State in person I can tell you that Cyclone defense is underrated.
Get by that and it's Texas in Fort Worth on Nov. 4, and while the Longhorns may not look that dangerous on offense, their defense just held Oklahoma State to 13 points.
On Nov. 11 TCU goes to Oklahoma, and if the Sooners manage to get through Bedlam and Oklahoma State with a victory — and that game is basically a Big 12/College Football Playoff eliminator at this point — they'll be primed to ruin TCU's season.
Get by OU? Then it's Texas Tech and a season-ender against Baylor, followed by a Big 12 Championship game about 20 miles down the road in Arlington, Texas.
The Horned Frogs are the only team in the Big 12 that controls their own destiny when it comes to both the league title and the College Football Playoff. The path is laid out before them to be the Big 12's representative on the national stage.
But destiny is a crooked line in college football. Fortunately, right now, Patterson has his Horned Frogs playing like a team with a straight edge that can cut right through it. If he wants to get the Horned Frogs into the playoff, that cannot change.
After all, there is only one way to control your own destiny.