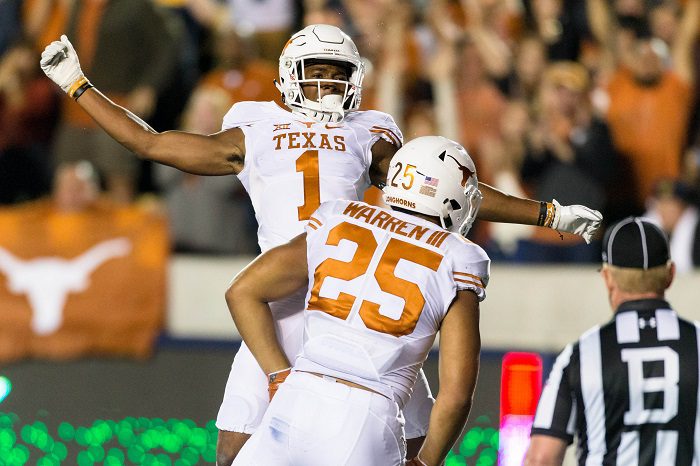 Here is everything you need to know about the Big 12 showdown in Waco, Texas between the Texas Longhorns and the Baylor Bears.
Broadcast info
11 a.m. Central Time, Saturday, Oct. 28, 2017, McLane Stadium, Waco, Texas
Records: Texas 3-4 (2-2 in Big 12); Baylor 0-7 (0-4 in Big 12)
TV: ESPNU (Mike Couzens, John Congemi)
Radio: Sirius/XM 83/83 (check local listings for Texas and Baylor affiliates)
Fun facts: The last two games in the series have each been decided by six points or less, with Texas winning both games. This is the first time that Texas head coach Tom Herman and Baylor head coach Matt Rhule will face each other in Big 12 play. But it's not the first time they've squared off as head coaches. The pair's teams met in the 2015 American Athletic Conference championship game, with Herman's Houston Cougars beating Rhule's Temple Owls, 24-13.
Key players
Texas Longhorns
RB Chris Warren III. With QB Sam Ehlinger in concussion protocol and Shane Buechele prepping to start again, it's more important than ever to get Warren the ball more often. He has just 307 yards rushing this season, but a healthy 4.6-yard average along with a team-leading five rushing touchdowns. Kyle Porter should play this week (he didn't play against Oklahoma State due to an ankle injury) but it's time for Warren to give more fuel to this offense (or, perhaps more importantly, for the Longhorn coaching staff to commit to giving him more to do).
DB Kris Boyd. Baylor wants to establish a running game, but they rallied to nearly beat West Virginia last weekend because they got their pass game going, and that means Boyd will need to have a good game Saturday in Waco. He leads the Longhorns with eight pass-breakups, has an interception and is coming off an 11-tackle game against Oklahoma State.
LB Malik Jefferson. The Longhorns don't know who they'll be facing at quarterback on Saturday. Heck, it could be a combination of two players. Either way, they must get pressure on the quarterback and Jefferson is one of their best options to do so. He had a late sack against Iowa State that practically closed the door on a comeback. His team-leading six tackles for loss and 2.5 quarterback sacks makes him Texas' best shot at putting pressure on whoever is behind center.
x`
QBs Zach Smith and/or Charlie Brewer. The Bears have a bit of a conundrum right now. The season is lost and it's time for head coach Matt Rhule to start evaluating players. He has two young, promising quarterbacks — Smith, the sophomore who took over for Anu Solomon, and true freshman Brewer, who nearly led a comeback over West Virginia after he relieved Smith, who had the stomach flu. Both players have a future at Baylor, but Brewer appears to be the hot hand. Rhule isn't tipping his. He said Monday that Smith is the starter, but the competition would continue this week. He could start one or the other, or play both. Either way, someone must play, play well and elevate this offense.
WR Denzel Mims. Baylor will be even more reliant upon Mims with Chris Platt out for the rest of the season with an injury. Already the team's leading receiver with 34 catches and 685 yards, Mims also leads the Bears with seven receiving scores. Platt was second with five, so the 6-foot-3, 197-pound sophomore is now the unquestioned No. 1 option in the passing game. No one could have seen this coming. Mims caught just four passes a year ago. Expect Mims to get a lot of Texas DB Kris Boyd in coverage on Saturday.
LB Clay Johnston. Baylor's defense is a definite work in progress. But Johnston, a redshirt sophomore linebacker, is a bright spot for the Bears now and in the future. The team's leading tackler (52) and best penetrator at the line of scrimmage (nine tackles for loss), Johnston will be counted on to keep track of the ball carrier for Texas, especially when they run the read-option. He also gives the Bears an extra defender against the pass.
Key storylines
Texas Longhorns
The Ehlinger concussion story dominated the early week of coverage in Austin. The news broke Sunday and took many by surprise, given that it didn't appear Ehlinger was hurt against Oklahoma State. In fact, it's possible the hit that triggered the concussion may have occurred against Oklahoma the previous week. Herman said Ehlinger didn't exhibit any concussion symptoms until after last Saturday's game with the Cowboys and that he left any evaluation of Ehlinger in either game to the team doctors. Either way, it put Texas' concussion protocols under scrutiny. It also means that we'll get another helping of Shane Buechele at quarterback on Saturday, and his last game against Iowa State, at least production-wise, left much to be desired. Let's see how Buechele plays after what amounts to a month of rest after suffering his own injuries earlier this season (he wasn't 100 percent against Iowa State). Defensively this Texas defense is doing special things, especially after holding OSU's top-ranked offense to just 13 points last weekend. It's a performance that, with a better offense, would have meant a Texas win. Longhorns fans are itching for a bowl game. This is a game Texas must win to get there.
Baylor Bears
The Bears, now out of the bowl picture, must start planning for next year. That means you could see even more younger players on the field. Of course, the Bears are already young. The Bears have played 17 true freshmen, fourth most in FBS, with 10 of them having made at least one start. In addition, 23 different players have made their first collegiate start this season (second-most in FBS). In fact, of Baylor's 154 starters in seven games, 76 have been either freshmen or sophomores. That may pay off down the road, but right now it makes the Bears vulnerable to mistakes on both sides of the ball. Brewer gave the offense a real spark when he came off the bench. But is that enough to make him the starter on Saturday?
Prediction
Texas 23, Baylor 17. Part of me really wants to take Baylor in this game, based on what they did against West Virginia last weekend. Baylor won't go winless (hi, Kansas). But I've seen the defenses for both Texas and West Virginia in person and, frankly, the Longhorn unit is much better and should have an easier time shutting down the Bears and keeping them down. But it will be close because I have no idea what we'll get from the Texas offense.