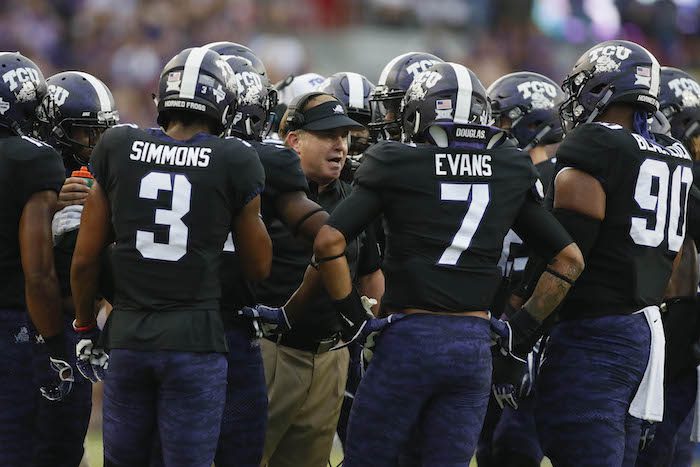 Here is everything you need to know about the Big 12 showdown in Ames, Iowa between in our Iowa State Cyclones vs. TCU Horned Frogs preview and prediction.
Broadcast Info
Date: 2:30 p.m. Central Time, Saturday, Oct. 28, 2017, Jack Trice Stadium, Ames, Iowa
TV: ABC/ESPN2 (Dave Pasch, Greg McElroy, Tom Luginbil)
Radio: TCU: WBAP 820 AM, KTCU 88.7 FM (Brian Estridge, John Denton, Landry Burdine)
Radio: Cyclone Radio Network | John Walters (Play-by-Play) , Eric Heft (Analyst), Ben Bruns (Sideline)
Fun facts: TCU head coach Gary Patterson's first game on the Horned Frogs' sideline was a 31-21 victory at Iowa State in 1998. Patterson was TCU's defensive coordinator at the time.
Key players
TCU Horned Frogs
Kenny Hill, quarterback
So many of us are just waiting for the other shoe to drop. Gary Patterson insists it isn't going to happen with Hill. He's matured and realizes he doesn't have to win games. But with each passing victory, does that pressure become too much? Hill is completing 70% of his passes and has 15 touchdowns to just three interceptions. Iowa State is now tops in the Big 12 in turnover margin and will look to exploit him at home Saturday.
Ross Blacklock, defensive tackle
Mat Boesen and Ben Banogu have gotten most of the props, but the redshirt freshman Blacklock deserves plenty of praise for keeping the middle clogged so the guys on the edge can do their thing. At 6'4", 326 pounds, Blacklock is a force in the middle and will give the interior of the Iowa State offensive line plenty of issues.
Iowa State Cyclones
David Montgomery, running back
Montgomery is coming off a season-high 164 rushing yards last week. But he's going to have to have the game of his life this week against TCU. He will be needed to run the ball, but also to be used in short screen passes for quarterback Kyle Kempt to dump it off to, along with being used in to help pass block. It's going to be a busy afternoon for Montgomery.
Joel Lanning, linebacker
Lanning may find himself on both sides of the ball again on Saturday. But defensively, the team's leading tackler will need to lead the front seven in stopping the run. TCU will want to use a heavy dose of Kyle Hicks and Darius Anderson. Stopping the run and forcing Kenny Hill to beat you is the move here for Iowa State.
Key storylines
The weather
Early in the week the forecast was calling for a good chance of snow/sleet in Ames on Saturday. By mid-week the forecast simply said partly cloudy in the low 40's. But the winds will be whipping out of the north between 15 and 20 mph. These two teams want to establish the running game and this will be just another excuse to do that. As for arm strength, advantage Kenny Hill. But what Kyle Kempt lacks in arm strength that his predecessor Jacob Park has, he makes up for with his smarts, decision making and accuracy.
Taking advantage of the mistake(s)
It's the kind of game where one mistake can be the difference. Both these teams have been incredibly opportunistic. In Big 12 play, TCU and Iowa State rank 1-2, respectively, in turnover margin. Meantime, Iowa State has a wide lead for fewest penalties in conference play, committing only 11 penalties through four games. Both teams play clean games with limited mistakes, hence their success to date… who blinks first?
Iowa State offensive line vs. TCU defensive line
This is where I think this game will be decided. TCU's defensive line and front seven is just so quick, yet so strong and talented. Iowa State's offensive line is good, but I don't know if they have the horses to give Kyle Kempt enough time to get it downfield to his weapons like Allen Lazard and Hakeem Butler. As noted above, David Montgomery will be needed in pass protection or ready for screen plays.
Prediction
TCU 31, Iowa State 21
Ultimately, I think back to the Texas Longhorns game against Iowa State. The Cyclones had trouble with the Texas defensive line and linebackers. Well, this group at TCU is really going to give them issues. Meantime, TCU's running game of Hicks and Anderson will get it going and allow Kenny Hill a couple of shots downfield. Elsewhere, Iowa State's defensive line has been a nice surprise led by the likes of Ray Lima, but TCU has arguably the best center in the Big 12 in senior Austin Schlottmann, who is going to have a quality offensive line ready for the Cyclones. It's TCU moving on to 8-0 on the season, while the Cyclones fall to 5-3.