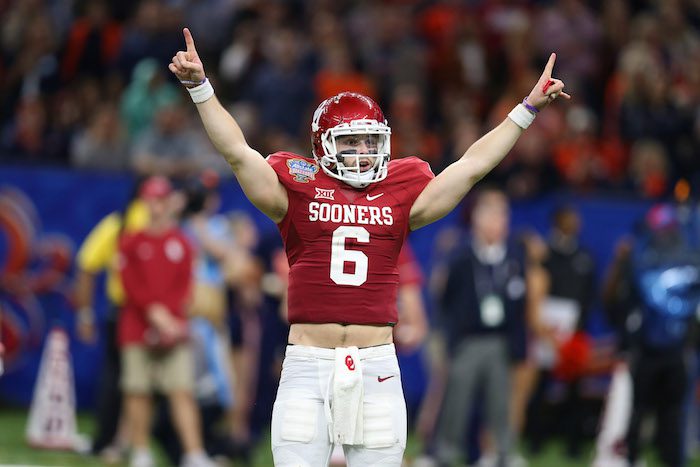 I have seen this question over and over, probably nearly a hundred times by now, "Who is the best quarterback in the Big 12?" I have seen a few people say this guy and others say that guy, but the bottom line is that there really isn't one clear cut answer to that question. Well, I am here to help solve some of these problems and try my best to answer the question that everyone has on their mind. Of course, this is just my opinion but after gathering up all the info I could, here is from 10 to 1, my ranking of the signal callers of the Big 12 so far, this season.
Editor's note: Here were the HCS preseason rankings for quarterbacks.
10. Kansas QB Peyton Bender
Season Stats: 204.1 Passing yards per game, 8 TD/9 INT, 54.4% Comp.
If you are wondering where Carter Stanley is, I left him off this list. His stats were no better than Peyton Bender's by any means except in the rushing department. Are you really surprised that a Kansas quarterback takes the cake for last place on this list? The answer to that should be no but just look at Peyton's stats this year. He isn't torching anyone with his arm and his completion percentage is bad and his TD/INT ratio isn't any better. I expected much better for Peyton Bender this season, but it is hard to blame him considering just how bad this Jayhawks team is all around.
9. Kansas State QB Alex Delton
Season Stats: 80 Passing yards per game, 1 TD/1 INT, 52% comp. %, 70.7 Rush yards per game, 5 Rush TD
Plain and simple, 80 passing yards per game isn't going to help your case to jump anyone else on this list. I understand a lot of his stats are due to the offense that Kansas State runs but honestly, I am not sure he would really be a good fit in any other offense in this league. His completion percentage is lackluster, and he really struggles throwing the football. However, his legs put him ahead of Peyton Bender (KU QB) on this list. At least Alex has something to fall back on when he struggles to throw the football. Do I think he could start for Kansas if he was there? Yes. I also wanted to mention that Jesse Ertz would fall in the same spot here as well.
8. Baylor QB Zach Smith
Season Stats: 177.6 Passing yards per game, 8 TD/6 INT, 53.5% comp. %
Even though it appears that true freshman Charlie Brewer will be the starter now, he doesn't have enough snaps for me to fairly evaluate him. As far as Zach Smith goes, his stats are worse than I thought they would be at this point. He doesn't throw for over 200 yards a game and like a few others on this list, his completion percentage is not something to brag about. He had some solid performances against Duke and Oklahoma but other than that he has been very pedestrian at best. Yes, he has a big-time arm but that doesn't always translate to success on the field.
7. Iowa State QB Kyle Kempt
Season Stats: 164.2 Passing yards per game, 7 TD/1 INT, 69.7% comp. %
For those wondering, Kempt does throw for a lot less yards than what Jacob Park provided. However, I think Kempt is the better quarterback of the two and a lot of that has to do with maturity. Kempt is a redshirt senior. Matt Campbell is only in his second year, but Kempt is a cool, calm and collected young man. It appears that nothing phases this guy. He doesn't turn the ball over and he is a field general in my opinion. He knows exactly what he is capable of and he executes whatever his offensive coaches ask him to do. One thing I really like about Kempt is that he throws one of the prettiest deep balls in the Big 12. He can sling it for 300 yards if he needs to, but he is best suited managing this offense and getting the ball to his playmakers. I am sure Cyclone fans wish Kempt had a few more years of eligibility left.
6. Texas QB Sam Ehlinger
Season Stats: 294.5 Passing yards per game, 6 TD/3 INT, 54.5% comp. %, 67.8 Rush yards per game, 1 Rush TD
 Being number six on this list isn't bad at all and being a true freshman it more impressive in my book. Ok, so his TD numbers aren't great by any means, but he has had a few less games he played in much like Iowa State QB Kyle Kempt and Baylor QB Zach Smith. His completion percentage is what it is for being a true freshman but look at those rushing stats. He means as much to this Texas offense like Alex Delton or Jesse Ertz mean to Kansas State offense. Why am I comparing these two you ask? Because no other teams in this conference rely so heavily on their quarterback play than Kansas State or Texas. The bottom line is that Sam Ehlinger is the Longhorn offense. While it may not always be pretty to watch, remember how much Texas is asking of this true freshman quarterback. The kid has all the tools to be the next great quarterback in Austin.
5. TCU QB Kenny Hill
Season Stats: 246.9 Passing yards per game, 15 TD/3 INT, 70.2% comp. %, 16.6 Rush yards per game, 2 Rush TD
Before the season started, raise your hand if you thought that Kenny Hill would look this good through his first seven games. If your hand is up, then I am going to call you a liar. Hill has been very "trill" so far, this season. He isn't turning the ball over like he was last season and he is having a lot more success hitting his receivers. While his rushing numbers have taken a drop, his improvement in the passing game lands him at #5 on my list. No longer is Kenny Hill holding back this TCU offense. If anything, he is making it more difficult to stop for opposing defenses. You can make an argument that the TCU run game has helped his development tremendously, but you must give credit to Hill for being super-efficient in this offense.
4. Texas Tech QB Nic Shimonek
Season Stats: 334.4 Passing yards per game, 18 TD/5 INT, 70.9% comp. %, 1 Rushing TD
Earlier in the season, I tweeted out a picture of a stat line for the Eastern Washington game saying, "Patrick Mahomes Who?" That's because in the first few games, Nic Shimonek was torching defenses and picking up right where Patrick Mahomes left off from last season. His offense line is still a work in progress but Nic Shimonek has been good for the most part of the season. Yes, he struggled a bit in his last two games but overall, he has been very solid for the Red Raiders. System guy or not, there are a few Big 12 teams that would love to have Shimonek as their quarterback this season. Is he the most mobile or athletic guy in the world? No and sometimes he struggles hitting his receivers on the run but when he has a good, clean pocket, he can pick a defense apart. I just wish we could see him take a few more shots downfield like Patrick Mahomes did during his time in Lubbock.
3. West Virginia QB Will Grier
Season Stats: 352.4 Passing yards per game, 26 TD/5 INT, 66.2% comp. %, 14 Rush yards per game, 2 Rush TD
Will Grier or aka "Mountain Jesus" has been phenomenal this season. He leads the Big 12 with 26 touchdown passes and that is 7 more than any other quarterback in this league. For as many times as he throws it per game, his completion percentage is very good as well. His ability to move around in the pocket and find his target is rare in quarterbacks. Will has a big-time arm and has plenty of gunslinger in him. For being a newcomer in this league, Will Grier has made plenty of noise already this season. I think Will is going to be a lock for Big 12 newcomer of the year. I am sure Florida fans are filling that swamp of with tears because Will Grier could play better with one arm tied behind his back than any of the quarterbacks that Florida has with two arms.
2. Oklahoma State QB Mason Rudolph
Season Stats: 378.5 Passing yards per game, 19 TD/4 INT, 66.5% comp. %, 8.1 Rush yards per game, 6 Rush TD
Sorry Oklahoma State fans, I am sure you are upset but I think Rudolph or Will Grier could have been in this spot. Believe it or not, Mason Rudolph leads all Big 12 quarterbacks with 6 rushing touchdowns this season. Who would have thought that was possible before the season? Mason is also throwing for a league high 378.5 yards per game and I am sure your wondering why is he isn't my number one quarterback. He is great don't get me wrong, but my number one spot is for a guy who has been playing lights out. Look, Mason has a big-time arm and NFL type of talent, but he has struggled or essentially been shut down in games against Texas and TCU. Mason is still a great quarterback and just because I have him at number two doesn't mean he is playing second fiddle to anyone by a large margin. Rudolph would start for 8 teams in this league if they had the option to get him.
1. Oklahoma QB Baker Mayfield
Season Stats: 335.3 Passing yards per game, 19 TD/2 INT, 73.8% comp.%, 24.3 Rush yards per game, 3 Rush TD
A two-time Heisman finalist and now is probably heading to New York again to make it 3 or heck, he has a chance to win the darn thing. I don't think people realize how good Mayfield really is and sometimes people take his performances for granted. His TD/INT ratio is absurd, and his completion percentage is one of the best in college football. A guy that is accurate with the football and doesn't turn the ball over? I'll take him on my team any day of the week. What is rare about Mayfield is that he is a wizard with the football. He can escape pressure like no one else in this league can and make a throw downfield for big score or a big play. Mayfield does whatever it takes for his team to win no matter if it is with his arm or sacrificing his body in the run game. I think there is a gap between Baker Mayfield and any other quarterback in this conference right now.