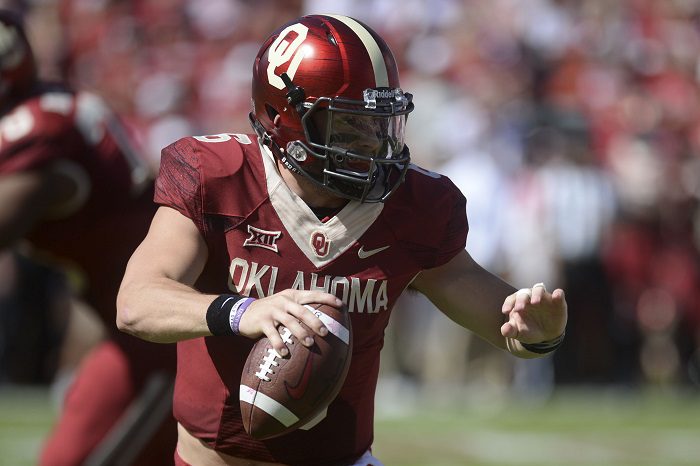 Here is everything you need to know about the Big 12 showdown in Norman, Oklahoma between the Oklahoma Sooners and Texas Tech Red Raiders.
Broadcast Info
Date: October 28st, 2017 | 7:00 PM CT | Gaylord Memorial Stadium
TV: ABC/ESPN 2 | Steve Levy, Brian Griese, Todd McShay
Radio: Sooner Sports Network (Toby Rowland, Merv Johnson, Chris Plank)
Radio: Texas Tech Sports Network (Brian Jensen, John Harris, Chris Level)
Fun Fact: Don't forget history was made last year between these two teams. In their 2016 match up, each recorded 854 yards of total offense to go along with 125 combined points. The 1,708 combined yards of total offense marked the most in a game in NCAA FBS history.
Key Players
Texas Tech Red Raiders
Nic Shimonek, quarterback
Shimonek has to get back on track this week against a leaky OU secondary. Last week against Iowa State he struggled with just 207 passing yards and zero touchdown passes to one interception. As an offense, Tech has only scored 20 points the past six quarters. That needs to change on Saturday or they have no chance.
Eli Howard, defensive end
Howard is top 4 in Big 12 conference play with 3.5 sacks. This OU offensive line he's going up against will be arguably the best he sees all year. Even if Howard doesn't rack up big numbers, he has to cause enough chaos to allow linebackers like Dakota Allen and Jordyn Brooks the opportunity to get to Baker Mayfield.
Oklahoma Sooners
Baker Mayfield, quarterback
It's an easy choice, sure. But Mayfield did not practice at all leading up to the Kansas State game with a shoulder injury. Kyler Murray even had a package for himself at QB last weekend. So now how is that shoulder? What Mayfield's status? He still threw for 410 yards last week, but did appear to be in pain throughout the game.
Jordan Thomas, cornerback
Thomas got torched the first month of the season, but the last couple of weeks he has looked better. He will need to continue his good play as Tech is going to try and throw the ball downfield. As much as the Red Raiders have tried to establish the running game in recent weeks, this OU defense's weakness is the secondary. Kliff Kingsbury knows that.
Key Storylines
Who passes the ball better?
Both these teams have struggled in Big 12 play against the pass. Texas Tech ranks 7th in passing defense, while the Sooners are stunningly in 9th place in the Big 12 in passing defense. Nic Shimonek hasn't looked like himself since halftime of the West Virginia game, but if there is ever a time for him to get back on track, this could be the weekend. Meantime, Baker Mayfield is playing hurt, but he is the ultimate gamer and still torched a solid K-State secondary for over 400 passing yards. What could he do against Tech?
Tech forcing turnovers
That's how Tech's defense has made its living this season. Just a couple weeks ago the Red Raiders had the best turnover margin in the conference. But since Big 12 play started, Tech has a turnover margin of 0. They are tied for the lead with 5 interceptions, but have thrown four so far in conference play. However, OU quarterback Baker Mayfield has thrown only two interceptions all season long. Can the Red Raiders force Mayfield to finally make a couple of mistakes?
Penalties
In conference play, Texas Tech and Oklahoma rank 8th and 9th respectively in penalty yards. If Tech wants to pull off a three-score upset, it needs to play as clean as game as the team has played all season. As for the Sooners, they've played some of the lesser competition in the Big 12 much more closely than has been needed, in large part because of silly mistakes, like penalties, that have kept their opponents in games. Can they put an end to that this weekend?
Prediction
Oklahoma 48, Texas Tech 31
Texas Tech has regressed to the mean the past two games with losses to West Virginia and Iowa State. Kliff Kingsbury is desperate to not let this season start spiraling out of control. But I don't see how his defense, which is admittedly improved, can stop the Sooners. Plus, Kingsbury has tried to establish the running game in recent weeks, but OU's run defense has been far better than its passing defense. As more tape comes out on Nic Shimonek, it seems like he is getting a bit exposed.
That being said, Oklahoma has not looked like itself since the Ohio State game. A loss to Iowa State, packaged with games that should not have been as close as they were (Baylor, Texas, Kansas State) leads me to believe everything isn't clicking just right for this OU team. What to make of it? I'm not entirely sure. But Tech should be able to stick around in this game, but the Sooners will eventually pull away.