Kansas State Wildcats
Former Kansas State AD John Currie is (rightfully) getting crushed by Tennessee fans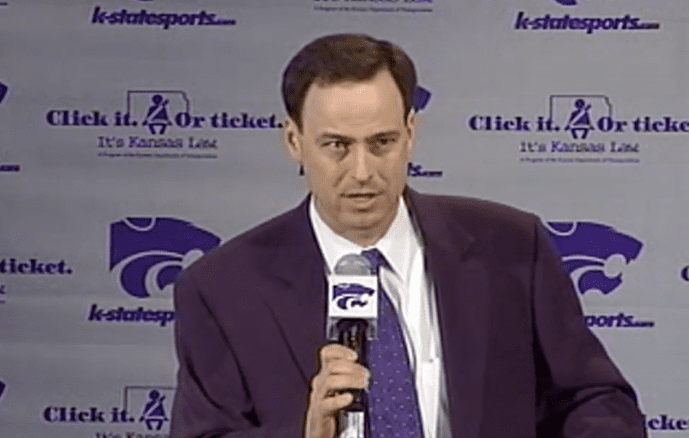 When John Currie left Kansas State for Tennessee, he had to have known he might very well be in the market for a new head football coach sooner than later. Butch Jones went 9-4 last season and 4-4 in SEC play, a season where the Vols were expected to win the SEC East. Now this season, they're 3-5, including an 0-5 mark in the SEC. But Currie has yet to pull the plug on the Jones run in Knoxville, which is really upsetting most of Vol Nation. Rightfully so.
In many ways, it appears from a distance like the job is too big for Currie to handle. Kansas State is not Tennessee in terms of pressure and expectations, but Currie should have known what he was getting into. Before his time at Kansas State, he worked at UT. Currie joined the University of Tennessee in 1997 as Executive Director of its Athletic Scholarship Fund. Other positions he held there included Executive Associate Athletic Director, Senior Associate Athletic Director, Associate Athletic Director for External Operations, and Assistant Athletic Director for Development.
But here's another issue for Currie: he's never had to hire a football coach. He became the Kansas State AD in 2009, after it was announced that Bill Snyder would be returning to coach the team. He also didn't hire Frank Martin, but it's widely reported that his fractured relationship with Martin is what led the head coach to jumping ship for South Carolina. That ended up with Bruce Weber in Manhattan. How's that gone for both sides?
It's nearly impossible to find any reason to keep Jones employed at this moment. Fire him, use an interim head coach (how much worse can it get?), and officially begin the search in Knoxville.
Curry is butchering this in a big way and as you'll see below is not endearing himself to Vol Nation.
Here are the best (or worst) tweets, depending how you look at it, aimed at John Currie in recent days. Some of these are GOLD.
Florida's AD has fired Jim McElwain because unlike Tennessee's AD he isn't a pussy.

— Clay Travis (@ClayTravis) October 29, 2017
@John_Currie we are no longer just sick of Butch. We are sick of you. Make a change tonight or get out. Get out. pic.twitter.com/VCTO8rNvX3

— Georgia Volunteer (@RockyTopGeorgia) October 29, 2017
This is no longer a joke. Fire John Currie and fire Butch Jones. We're not taking this anymore.

— Barstool Rocky Top (@BarstoolTenn) October 29, 2017
I want @john_currie to go to a restaurant-get horrible service-then not hear from mgnt for 5 weeks about it. #FireButch #GBO

— Andrew Hoskins (@ajh101474) October 31, 2017
@John_Currie you should be Doug Dickey for Halloween and be an AD

— Negavol (@Vet4vols) October 31, 2017
John Currie is a joke from what I can tell. Complete lack of accountability in the athletic department. Always some bs excuse why it's someone else's fault that Butch has failed

— Curt Turner (@turnbaby33) October 31, 2017
Hey, @John_Currie, check out my buddy's 2nd graders' homework. Maybe it can help you sort all this out and make a decision. @ClayTravis pic.twitter.com/kuNWKGNqm5

— Mark Jenkins (@jenkins_mark) October 30, 2017