Oklahoma Sooners
Bob Stoops has not returned Steve Spurrier's call about Florida job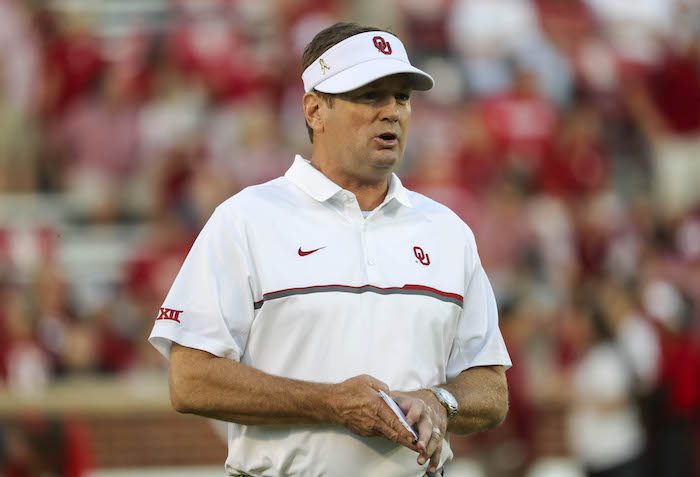 As Bob Stoops continues to enjoy retirement, his name keeps popping up as a potential candidate for various jobs that are open (Florida), and some that aren't even yet available (Tennessee). This all despite the fact he has insisted multiple times he will never coach again.

In fact, Stoops recently was +800 to be named the next head coach at Florida. These were the same odds as Iowa State's Matt Campbell.
Current odds on next @GatorsFB Head Coach (via @DaveMasonBOL ) pic.twitter.com/87iLRyuSWA

— Todd Fuhrman (@ToddFuhrman) October 31, 2017
Of course, Stoops was the defensive coordinator at Florida in the mid 90s before he took the head coaching job at Oklahoma. So the ties are there. Plus, one of his closest friends and mentors in the industry, Steve Spurrier, who Stoops worked under at UF, is now an ambassador and a consultant for the Gators.

Spurrier was a guest with Clay Travis on his radio show, "Outkick the Coverage" and admitted he's called Bob Stoops, but said he has yet to receive a call back.
"Oh, I called him and said if you want this job, we'll put your name in the pot," Spurrier said. "He hasn't called back yet. I don't know if he got the message or not. But, I seriously doubt that Bobby wants to do it again, but that certainly would be his call. If he wanted to, I'm sure there are a lot schools that would love to have him."
We recently spoke with Berry Tramel of The Oklahoman, who agreed with the premise that Stoops will never again be on the sidelines. You can listen to that interview here. 
But, it seems like the rumors around Bob Stoops coaching again just won't go away. At least not until he starts turning down jobs, or in this case… just not answering and returning calls. Either one will do.