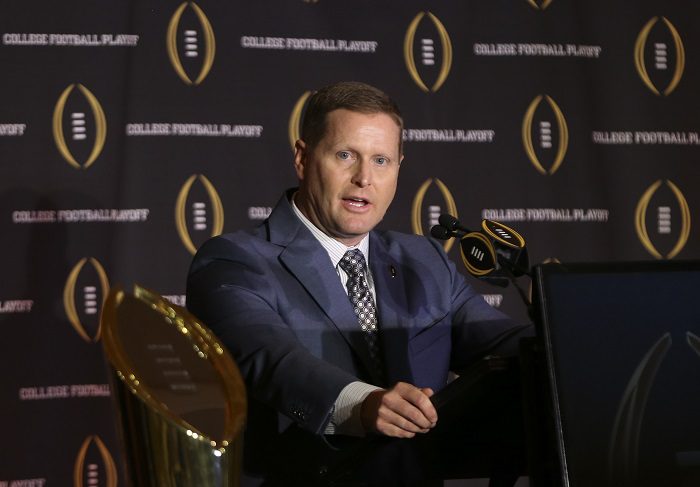 The first College Football Playoff rankings of the 2017 season were released and overall, Big 12 fans should be pleased with where things stand.
1. Georgia (8-0)
2. Alabama (8-0)
3. Notre Dame (7-1)
4. Clemson (7-1)
5. Oklahoma (7-1)
6. Ohio State (7-1)
7. Penn State (7-1)
8. TCU (7-1)
9. Wisconsin (8-0)
10. Miami (Fla.) (7-0)
11. Oklahoma State (7-1)
15. Iowa State (6-2)
Sooners are in good shape
The biggest question I had: Would the committee rank Oklahoma over Ohio State? Even though the dopes that vote in the AP Poll seemed to have forgotten what happened in Week 2 when OU rolled over the Buckeyes in Columbus, it's nice to know the folks in the College Football Playoff committee board room didn't.
"The head-to-head win was significant in our eyes on the road at Ohio State, knowing that these teams will continue to have an opportunity to build and enhance their résumé in the weeks ahead," committee chari and Texas Tech athletic director Kirby Hocutt said.
There was never a doubt OU should have been above Ohio State, especially considering Oklahoma's loss to Iowa State looks better every week.
Clemson getting benefit of the doubt
Kirby Hocutt was talking about OU/Ohio State when he said, "the selection committee is very aware of unique circumstances associated with each game throughout the season." But he was also clearly referring to Clemson.
Clemson is at #4 ahead of Oklahoma, even though OU has a better win than Clemson (Ohio State vs. Auburn) and the Sooners have a better loss (Iowa State vs. Syracuse). The committee is must be factoring in quarterback Kelly Bryant's injury against Syracuse.
But last I checked, the rest of the team was healthy, no? Bryant's been good this season and a nice surprise, but let's not make it out to be like he is Deshaun Watson. He's thrown for more than 240 yards once this season, has six touchdown passes to four interceptions and is averaging 58 rushing yards per game. Relax. They lost that game due to more than just the injury to Bryant.
By that standard, can we say Oklahoma State shouldn't have lost, or wouldn't have lost, to TCU if the right side of their offensive line was healthy? Injuries should be factored in, but they cannot be used as an excuse for elevating a team.
TCU and Oklahoma State need help
The Horned Frogs and Cowboys are both behind a pair of Big Ten teams in Ohio State and Penn State. Yes that can sort itself out moving forward, as they are in the same division. But if Ohio State and TCU or Oklahoma State both win out and are competing for the final playoff spot, do we really think the Horned Frogs or Pokes will get the edge? I have a hard time believing that, especially when the committee has shown a propensity for favoring Ohio State, even when they don't even win their division (2016). 
Iowa State (?!?!?!)
Every time I see the Cyclones with a number next to their name I can't help but smile. What a ride for Matt Campbell's guys. And the committee didn't view this as simply a feel good story with a couple of massive upsets, they have the Cyclones in the top 15. What a time to be alive. Is this the part where I say, "Dilly, dilly!" 
The Pac-12 is screwed
The highest ranking for a Pac-12 team is Washington at #12. There are five total teams in the conference ranked (USC, Stanford, Arizona, Washington State), but they are all between 17-25. It'll take a miracle for the Pac-12 conference to find itself back in the College Football Playoff again this year.
Root for Notre Dame to lose
If the Irish trip up at some point, most likely vs. Miami or Stanford, the Big 12 is in much better shape than it is right now. Notre Dame is the wild card in all this as they would take away a spot from a Power 5 conference. A one-loss Big 12 team would absolutely get a playoff spot, if Notre Dame loses another game. If not, then it will be dicey come Sunday, December 3rd…
The good news is, we have another five weeks left of games to get this all figured out!