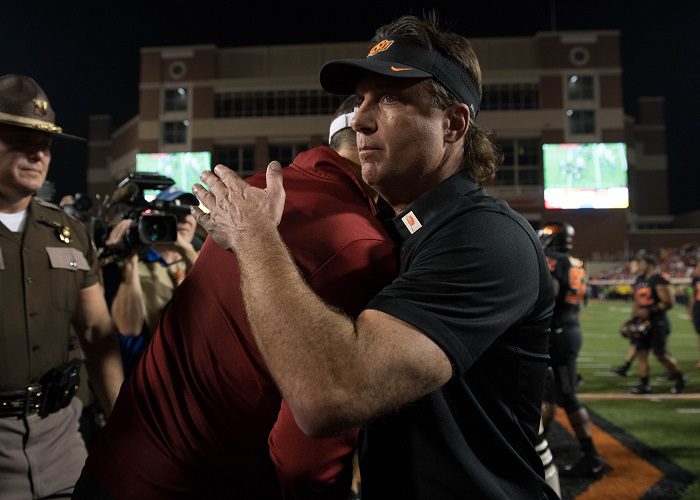 "That was a heck of a college football game." 
Mike Gundy put it best when he opened his postgame press conference following Oklahoma State's loss to Oklahoma on Saturday.
It was. But unfortunately for his Pokes, they came up on the short end with a 62-52 loss to the Sooners. However, unlike in previous years when Gundy would get criticized for "tightening up" in the big spot or simply being outcoached by Bob Stoops' staff, that's not what happened on Saturday.
"Going into the game we felt like we needed to control 'six'," Gundy added. Six, of course, means #6 for OU, Baker Mayfield. Unfortunately for Gundy, it was "Six" who got the last laugh. Mayfield torched the Sooners for 598 yards and five touchdown passes and launched himself atop the Heisman discussion.
But Gundy was not timid and did not call a "safe" game with OC Mike Yurcich, who has drawn the ire of Cowboys fans over the years. Mason Rudolph threw 54 passes for 448 yards, compared to 34 carries on the afternoon, with Justice Hill racking up 228 on the ground for over 7.5 yards per carry.
Heck, in the second quarter with OU down 28-17, Oklahoma State went for it on 4th and goal from the two, resulting in a touchdown pass from Rudolph to Marcell Ateman. Sure, it looked like Rudolph "nudged" Gundy to go for the touchdown, but regardless, that's what fans wanted to see. And it worked.
Then, on Oklahoma State's final two touchdown drives, they went for it on fourth down. Now maybe you sit there on your couch and say those were obvious decisions based on how the Cowboys' defense was playing. But in past Bedlam matches it's entirely possible Gundy might've played the field position game or attempted a long field goal. He didn't.
Early in the fourth quarter the Pokes went for it on a 4th and 1 from the 36. Justice Hill got the first down and then it was a 33-yard hook up from Rudolph to Tyron Johnson for a score to pull Oklahoma State to within four (extra point pending) at 48-44.
The next drive, with the Pokes down 10 again, Oklahoma State went for it on 4th and 12 from the Oklahoma 36. An 18-yard pass to Ateman was hauled in and followed up by an 18-yard touchdown to Tyron Johnson. Pokes within three… again.
Even on Oklahoma State's second-to-last drive, down three after an interception by Chad Whitener, they could've tried a 55-yard field goal from Matt Amendola to tie the game, but didn't. Gundy admitted that he considered the field goal attempt, saying, "I did. But it's a long ways. He's [Amendola] made a 54 [yarder], I think. I should know the percentage, but I'm just going to tell you it's really low. We felt like on 4th and 8, that, with who we are, with our wide outs, with our quarterback, our percentages were better than a 55-yard field goal." 
That's the Mike Gundy that fans have wanted to see in Bedlam.
So instead, OSU went for it on 4th and 8 from the OU 38, with an incomplete pass to Tyron Johnson down the right sideline. The play call was great, but Rudolph overshot Johnson, likely due to some extra adrenaline and nerves. Gundy said during the timeout before the play, they wanted to, "Go to something that they [OU] really hadn't seen, we hadn't gone out of that set yet and it worked. It was a good play, we just overthrew the ball."
Sure, the Oklahoma State defensive backs had a brutal afternoon. But lots of secondaries have had awful games against Lincoln Riley and Baker Mayfield in recent years. Want to get on defensive coordinator Glenn Spencer? Take your complaining somewhere else. The Cowboys' defense had played outstanding for much of the season. In a pass-happy Big 12, Oklahoma State had held seven of its eight opponents under 300 passing yards, with three under 200. If not for some solid play by this defense, they would've been out of the College Football Playoff picture long before November 4th.
Sometimes, a team is just outplayed and there is not necessarily anyone or anything obvious to blame. Except for maybe, "Six".
"Am I glad he's a senior? Sure," Gundy said, referring to Mayfield.
On that note, Gundy's not alone. He's with eight other Big 12 coaching staffs that are in the same boat.