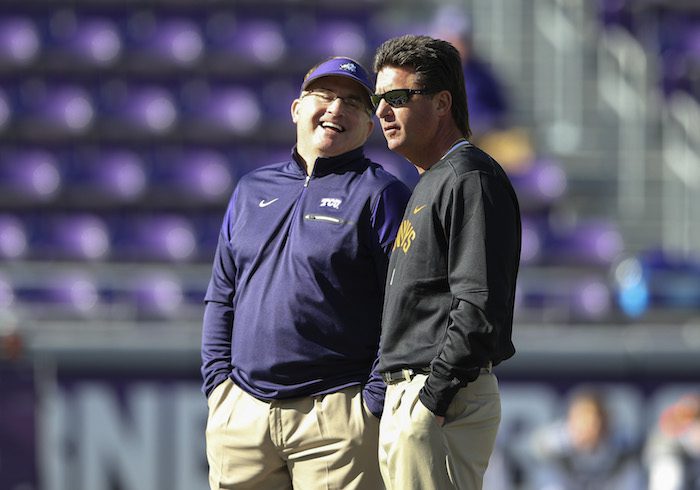 In our 2017 version of the Big 12 power rankings, we have averaged out the rankings of our main contributors at Heartland College Sports. These will be done on a weekly basis and released every Monday morning. A friendly reminder before trolling: Power Rankings can swing drastically week to week and are not simply a ranking based on what we think the best teams are in the conference, but rather based on the games that have been played to date.
This was another busy week for the Big 12 conference as we have our first-ever tie for the top spot in the Big 12 Power Rankings!
T-1. TCU Horned Frogs (Last week: 3)
Whoa! Five voters from HCS and the points added up to a tie between the Horned Frogs and Sooners. What better week to have these two tied in the top spot, considering they're playing each other this Saturday. Four voters had OU at 1, one voter had them at three behind TCU and ISU. We will not reveal his identity, but I can confirm he is NOT an Oklahoma State grad or fan. The Horned Frogs defense put together another outstanding performance with a 24-7 win over Texas, allowing the Longhorns to rush for less than 10 yards. A ridiculous .3 yards per carry. But facing Baker Mayfield will be a different story this weekend…
T-1. Oklahoma Sooners (Last week: 2)
The Sooners move up a spot after they dropped an absurd 62 points and over 800 yards of offense in Bedlam over the weekend. Baker Mayfield is now the leader for the Heisman Trophy and Marquise Brown has suddenly become a household name after over 250 receiving yards. The ridiculous amount of skill-position talent in Norman is unfathomable. Throw it behind that offensive line and it's a joy to watch (unless it's your team getting rained on). The defense still is very leaky and has its issues, but overall, the Sooners still looks like the class of the Big 12 conference.
3. Oklahoma State Cowboys (Last week: 4)
If you told Oklahoma State fans they would score 52 points on Saturday, I'm sure over 90% of them would've expected to leave Boone Pickens Stadium with a win. Unfortunately that didn't happen. The defense which had played so well in recent games got smoked. Especially the secondary. But no doubt Mike Gundy is off the hook for this one. He called a good game, wasn't conservative, but simply lost the shootout. However the end result is no College Football Playoff for the Pokes this season and likely no Big 12 championship game. Also, Pokes fans who think they can do better than Gundy: I suggest you take your head out of your ass.
4. West Virginia Mountaineers (Last week: 5)
Dana Holgorsen seemed relieved after his team finally picked up a solid win over the Cyclones. The Mountaineers had won all the games they were supposed to win this season, but every game against quality competition they had come up short in. This despite some close calls against Virginia Tech and TCU. The defense step up when it was asked to and needed to, holding Iowa State to 350 total yards. Also, WVU got back to running the ball, racking up more than 200 on the ground with a 100-yard day from Justin Crawford. Crawford's 25 carries were his most this season, having not even cracked the 20-carry mark yet this year. It was nice of Jake Spavital to remember he has one of the best backs in the Big 12 on his team.
5. Iowa State Cyclones (Last week: 1)
After a memorable 4-0 run in October, the Cyclones came back down to earth with their 20-16 loss to West Virginia. The Cyclones offense struggled mightily against the defense that, frankly, hadn't been playing incredibly well of late. But Matt Campbell knows what his team is and realizes that they are unlikely to be digging out of 17-point deficits (granted their deficit was nearly that much against OU). But that's not the style of play the Cyclones want to have moving forward. They aren't built for it. However this team still showed a ton of fight and didn't roll over, despite the tough first half. The Cyclones are here to stay. Dilly Dilly.
6. Texas Longhorns (Last week: 6)
Texas has stayed in the #6 spot in the Power Rankings for multiple weeks in a row. There is a big drop off from five to six in the poll. But the Longhorns now have only a one-point edge over the team in the #7 position. This offense is atrocious to watch. Their 17-7 deficit against TCU might as well have been 37-7. 9 rushing yards. Limited offensive creativity from Tim Beck. Yuck. But give the defense credit. These guys played their hearts out and never got tired every after multiple three-and-outs from their offense. They also never got down, despite the little help their offense was giving them. Todd Orlando deserves much credit.
7. Kansas State Wildcats (Last week: 8)
Kansas State went on the road and shocked Texas Tech with a 42-35 overtime win. They were down to third-string quarterback Skylar Thompson (who may be the QB of the future in Manhattan). But this was a classic Bill Snyder-win where his team just finds a way. Granted they got some help from the Red Raiders (more on that below), but it's looking more and more likely like the Wildcats could be reaching a bowl game this season. Sure the expectations were much higher in August, but the extra month of practice can pay enormous dividends for the following season.
8. Texas Tech Red Raiders (Last week: 7)
What a mess in Lubbock. Kliff Kingsbury is inexcusably playing for overtime when his defense is dogsh*t and he has his supposedly high-power offense on the field. Even his players admitted after the game they wanted to give it a shot. Why not?! K-State had come from 11-points down entering the fourth quarter and had all the momentum. Worst case, Shimonek tosses up an interception and the odds of a return for a score are slim to none and you head to overtime anyway. I'll never understand that. Now Tech has lost four-straight and if Kingsbury can't beat Baylor this week… watch out.
9. Baylor Bears (Last week: 9)
Woooo! In the win column! Congrats to the Bears for a dominant 38-9 win over Kansas. Charlie Brewer threw for over 300 yards and three touchdowns in his first career start and Matt Rhule would be wise to ride him the rest of the way this season to see what the true freshman is all about. Baylor is all about 2018-2019 right now. That's fine. It's just being realistic. But this program should still continue to feel good about the direction it's heading.
10. Kansas Jayhawks (Last week: 10)
So much for Carter Stanley solving all the KU problems, huh? Stanley finished 17 of 33 for 155 yards and an interception. There was Doug Meacham losing it on the sidelines when he got ticked off by the officials slowing down the game to give Baylor time to substitute personnel. The offensive coordinator had to be restrained from going after the referee by Beaty and other members of the coaching staff. That's the kind of season it's been in Lawrence. There ain't much for to say.