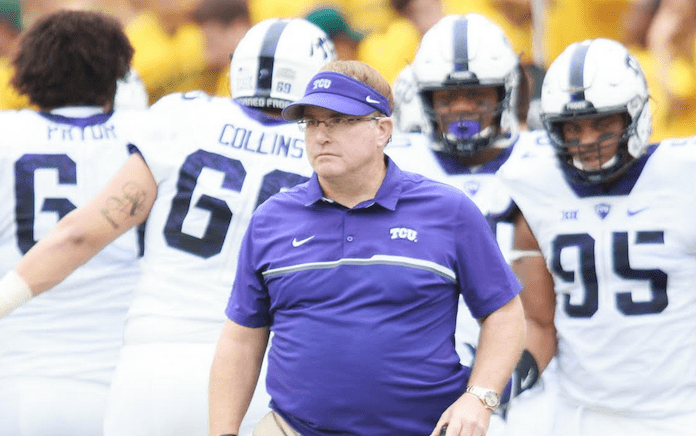 "Reach for the stars." 
That's apparently the motto to live by in College Station. Even if the odds are slim to none, give it all you've got.

Well, that is exactly what Texas A&M would be doing if they make a run at TCU head coach Gary Patterson. With Kevin Sumlin expected to be in his final go around with the Aggies, ESPN's Adam Rittenberg reported as much, writing:
"Don't be surprised if the school kicks the tires on TCU's Gary Patterson, Washington's Chris Petersen, Florida State's Jimbo Fisher, Clemson's Dabo Swinney and former Oregon coach Chip Kelly. Of that group, Patterson seems like the most realistic option, as Texas A&M wants a coach with Texas ties."
Patterson is in his 17th season as TCU's head coach and has a 157-55 overall record. His Horned Frogs are 8-1 so far this season and have been ranked in the top 10 for the past few weeks.
It's well noted Coach P's wife, Kelsey, loves Fort Worth and does a lot of charity work. We spent over 10 minutes interviewing her last year, which you can listen to here.
On top of that, Patterson is now one of the top-10 highest-paid coaches in the country. 

He would leave a job with incredible job security and $5 million per year for that circus that is Texas A&M football, dealing with unreasonable boosters, with less job security, all for what… an extra million per year?
While I've never (YET) had the good fortune of making $5 million per year, I can state with confidence that one's lifestyle doesn't change when you go from a $5 to $6 million salary.
None of this makes any sense and Texas A&M would be wise to move on from Patterson before it wastes an ounce of effort on him. Then again, the rest of the list isn't all that reasonable either! Jimbo Fisher or Dabo Swinney?!
I think a reality check is due sometime soon in College Station. Anyone interested?