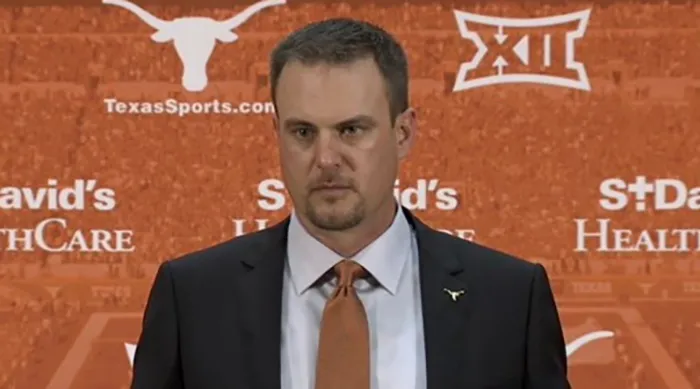 The Texas Longhorns have had an up and down season under Tom Herman. They've won the games they're supposed to (minus Maryland) and lost the games they were projected to lose.

For all the accolades Todd Orlando's defense has received in recent weeks, the offense has garnered that much criticism. In conference games, here are Texas' rankings among the 10 Big 12 teams.
Scoring offense: 9th
Total offense: 7th
Rushing offense: 8th
Passing offense: 6th
Pass efficiency: 9th
Sacks against: 9th
Not only are the stats not good, but the play-calling has come into question as offensive coordinator Tim Beck has use his quarterback, either Sam Ehlinger or Shane Buechele, as a runner far more than critics believe make sense. In full disclosure, I have questioned plenty of these decisions in recent weeks as well.
Granted it's hard to do much when the offensive line is banged up and the back up players haven't been able to pick up the slack, but it's that much more frustrating when compared to how well the defense has played.
Before he joined the Longhorns, Beck was a polarizing figure as the offensive coordinator at Ohio State. And now that polarization has come to Austin.

Regardless, don't expect head coach Tom Herman to make any staff adjustments after the season. He said during his weekly press conference:
"I think continuity and consistency with your staff is really, really important in college football. It is one of the most underrated reasons for success.. the way we call plays on offense is very collaborative. If a play comes out that I don't think should be run, I'm going to say, no don't run that play. I hired these guys knowing exactly what I was going to get. We've all got to get better, especially on that side of the ball. But I have full confidence that we will."
Here is the video:
UT's Tom Herman says no matter how this season ends, he's sticking with his assistants – including OC Tim Beck. One word: continuity.#HookEm pic.twitter.com/6msO4RO1Rb

— Dennis de la Pena (@dennisonfox7) November 7, 2017
So, if you were ready to move on from Tim Beck. Sorry! Get used to him being in Austin. But maybe Beck and Herman can collaboratively make some adjustments to the playbook this offseason. Or just recruit six to eight 5-star offensive lineman?