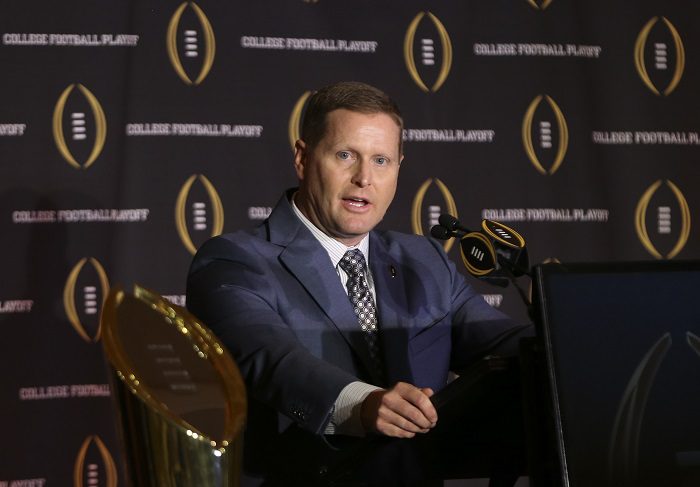 The first College Football Playoff rankings of the 2017 season were released and overall, Big 12 fans should be pleased with where things stand.
1. Georgia (9-0)
2. Alabama (9-0)
3. Notre Dame (8-1)
4. Clemson (8-1)
5. Oklahoma (8-1)
6. TCU (8-1)
7. Miami (8-0)
8. Wisconsin (9-0)
9. Washington(8-1)
10. Auburn (7-2)
15. Oklahoma State (7-1)
21. Iowa State (6-2)
No movement
I said Monday on Sports Illustrated's SI Now I didn't think there would be any change in the Top 4. The only thing I thought might differ is swapping Alabama/Georgia and maybe OU sliding up to #4. But Clemson also beat a ranked team in NC State on Saturday, so I'm fine with leaving them in the four spot for now.
Defending Big 12 defenses
I won't sit here and try to convince you that Big 12 defenses are SEC defenses circa 2010. They're not. But when you hear Joey Galloway call Oklahoma's defense "awful" and Booger McFarland say, "To me, TCU has the best defense in the Big 12," as if it's some incredibly enlightening statement, I have to defend the conference here.
First off, Booger (is there a more appropriate nickname?), TCU has one of the best defenses in the country. They are 6th in the nation in total yards allowed per game, they have the best rushing defense in the country, tied for 11th in team sacks, haven't allowed touchdowns in 13 of the last 16 quarters … is that enough?
As for Oklahoma, yea, they've gotten smoked a few times on defense. But if the Pokes played Wisconsin tomorrow, I guarantee they'd hang 40+. Crushing a defense for getting ripped by Oklahoma State's offense doesn't seem reasonable. Ultimately, if Oklahoma's defense isn't great, but if the offense is just that good to win 'em games, does it matter?
Also, are the SEC defenses really that good? I'm pretty sure holding Florida to seven points, as Georgia did last week, is far from impressive. The offenses in that conference are a disaster.
Rece Davis dopiness
During the discussion with CFB Playoff committee chair Kirby Hocutt, Rece Davis asked about OU's defense in back-to-back questions. Hocutt gave two great answers. First when asked about the "evaluation about OU's defense", Hocutt responded with, "not as strong as their offense has been evaluated."
Genius.
And as Hocutt noted, "They [Sooners] have two of the best road wins in the country."
Boom. End of conversation. Two wins over teams currently in the Top 15, both on the road. Can anyone else in the country say that? The answer is "No, no, and no."
Wipe my ass, Rece.
Worried for TCU
While plenty can happen, I'm getting nervous for TCU. Why? Their non-conference win over Arkansas does not matter much anymore, unfortunately, as the Razorbacks have collapsed.
We've already seen TCU get stiff in 2014. They aren't a national brand and won't draw big TV numbers. There are four spots: We have two SEC teams in contention, Notre Dame, an undefeated Wisconsin and a pair of ACC teams (Miami/Clemson) that are in the mix. All of them would have an edge over a one-loss TCU, in certain circumstances. Hell, even a one-loss Washington Pac-12 champion might have better odds than a one-loss TCU. I don't like that I'm saying it, but I'm trying to think how the committee has, does and will think moving forward.
Oklahoma State where it belongs
I saw some fans on Twitter upset that OSU lost a tight game to the #5 team in the country and slid down to #15 behind USC and the two Big Ten East teams that lost in Ohio State and Penn State. Here's the problem: what is their best win? Yes, I watch Oklahoma State and think they're really good. But playing solid games in losses against TCU and Oklahoma is only worth so much. West Virginia on the road? OK,  but they looked sloppy doing it. I'd like to see OSU go to Ames and roll the Cyclones to give them some more credibility.
Iowa State falls
Only Penn State and Ohio State fell more places (7) than Iowa State (6). Granted road losses in Morgantown are not anything to be embarrassed by, but it's fair to have the Cyclones down at #21. Frankly, I think it's a bit more accurate. I love Cyclone Nation, but top 15 felt like a stretch.
No love for the Mountaineers
However, the Mountaineers get no love for beating ISU (which tells you what the committee thinks of the Cyclones), as they made the Top 25 in the AP Poll, but not in the College Football Playoff rankings. Yet LSU in in at #24, despite a loss to Troy and a 30-point shellacking by Mississippi State. And #25 is Northwestern, who lost by over 20 to Duke and 24 to Penn State. No love for the Mountaineers? Their games against Virginia Tech and TCU could have gone either way. Only the loss to Oklahoma State was sloppy.
The Mountaineers should have been ranked.
Root for Notre Dame to lose
KEEP rooting for the Irish. Their best chance at a loss is this week against Miami on the road. It's pretty clear that Notre Dame will make the Playoff if they win out. They still have ranked games this weekend and against Stanford. But, the Irish would take away a spot from a Power 5 conference. A one-loss Notre Dame will set up for a dicey "Selection Sunday" for the Big 12, assuming the conference has a one-loss champion. A two-loss Big 12 champion…? I don't like the odds, regardless of what the Irish do moving forward.
The good news is, we have another four weeks left of games to get this all figured out!