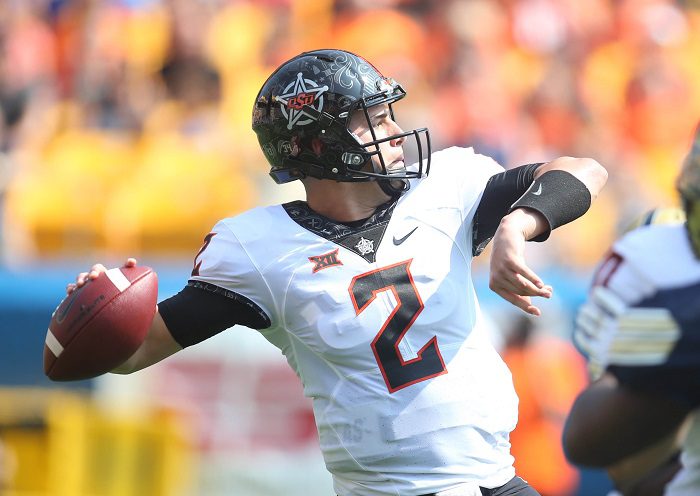 Here is everything you need to know about the Big 12 showdown between the Iowa State Cyclones and the Oklahoma State Cowboys in our preview.
Broadcast Info
11 a.m. | Saturday November, 11th | Jack Trice Stadium
TV: ABC | Mike Patrick (Play-by-Play), Tommy Tuberville (Analyst) and Paul Carcaterra (Sideline)
Radio: Cowboy Radio Network | Dave Hunziker (Play-by-Play), Dave Holcomb (Analyst), and Robert Allen (Sideline)
Radio: Cyclone Radio Network | John Walters (Play-by-Play) , Eric Heft (Analyst), Ben Bruns (Sideline)
Satellite Radio: Internet 964
Key Players
Oklahoma State Cowboys
QB Mason Rudolph- Mason comes in this game averaging 368.2 yards passing and has thrown for 27 touchdowns to 4 picks. His completion percentage is currently at 63.3% so he hasn't been great this season when it comes to his accuracy. However, with the ball in his hands he is capable to pick a defense apart especially with the weapons around him. With Iowa State being stout against the run, this game could fall on the arm of Mason Rudolph.
WR Marcell Ateman- I could put any receiver in this spot because OSU has so many talented guys to choose from. James Washington sprained his ankle last week against OU and even though he is playing, he still may not be at 100%. This is a game where Ateman could have a big game if ISU focuses too much on James Washington. Ateman has caught 6 touchdown passes this season and his size is a mismatch for anyone trying to cover him at 6'4.
DT DeQuinton Osborne- Osborne has 7 TFLs so far, this year and that is impressive at the defensive tackle spot. This guy has been disrupting offenses all year long and he will play a key role trying to stop the ISU running game.
Iowa State Cyclones
RB David Montgomery- I don't care what anyone else says, David Montgomery is the best player on this football team. He is averaging 92.3 yards per game and 4.6 yards per carry. He breaks tackles like nobody's business and is just such a hard-nosed runner. If Montgomery has over 100 rushing yards in this game, then this should be a very close game between these two teams.
WR Allen Lazard- Big time players step up in big time games. That must be the case for Allen Lazard on Saturday. I like Hakeem Butler, but Allen Lazard is a senior and this will be the most important game so far in his career. If he gets a few chances, Lazard may prove who the best wide receiver is in this game.
LB Joel Lanning- 94 is a number to keep in mind. Why? Because that's how many tackles MLB Joel Lanning has this season to lead his team. Lanning will have his hands full against this high-powered OSU offense whether they are running or passing the football. It will be interesting to see how much Lanning has-to drop in coverage because the Cowboys love to throw the football.
Key Storyline
Oklahoma State passing attack vs. Iowa State secondary
This is going to determine whether the Cowboys score 30 plus points or less than 20. I honestly think that OSU RB Justice Hill will have a hard time finding running room against this hard-nosed ISU defense in Ames. If this is the case, then this game will fall on the arm of Mason Rudolph and all these outstanding pass catchers. Can the Cyclone defense cover the likes of James Washington, Marcell Ateman, Jalen McCleskey and Tyron Johnson? I am not so sure they can, and they haven't faced a receiving group this deep and talented.
One thing nobody will bring up is that Iowa State needs to find ways to pressure Mason Rudolph. Like I said before, Iowa State will struggle trying to cover all those talented receivers and how you counter that is with a quick, fierce pass rush without having to blitz a ton. Defensive ends JaQuan Bailey and J.D. Waggoner will have to play the game of their lives on the edge trying to create havoc. If Iowa State can't pressure Mason Rudolph, then I have a hard time seeing them winning this football game. I know some folks are wondering if ISU will use the rush 3 and drop everyone else strategy but I don't think they will. Texas and TCU are the only defenses that can use that and execute it against a team like OSU. I am not sure that the Cyclones would be able to stop Justice Hill by just bringing 3 and chasing him with your linebackers.
Prediction
Oklahoma State 34, Iowa State 27
Iowa State has a fantastic defense, but I just don't see the offense playing on the same level as the defense. If Oklahoma State can stuff the run game, I am not sure ISU QB Kyle Kempt will be able to get into a shootout to keep up the pace. The Cowboys will be able to hit a few passes deep but keep an eye for Justice Hill coming out of the backfield in this game. The Bottom line is that Iowa State won't be able to keep up offensively to win. However, this game will be close because Jack Trice will be rocking. Oklahoma State knows all about Jack Trice Stadium, just ask that 2011 team.