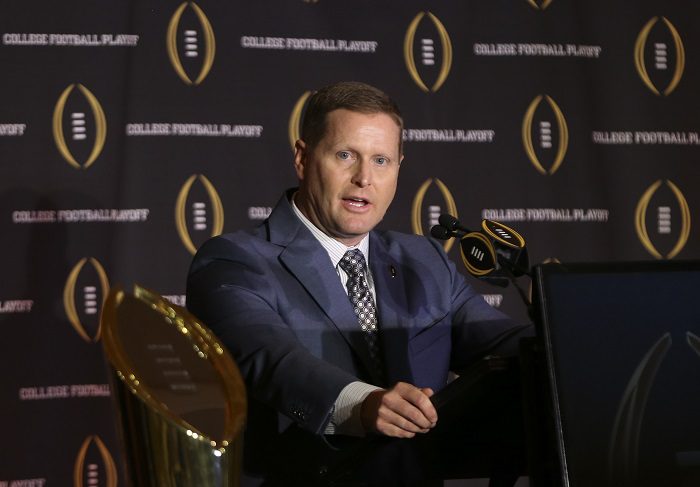 The third College Football Playoff rankings of the 2017 season were released and overall, Big 12 fans should be pretty pissed off.
1. Alabama (10-0)
2. Clemson (9-1)
3. Miami (9-0)
4. Oklahoma (9-1)
5. Wisconsin (10-0)
6. Auburn (8-2)
7. Georgia (9-1)
8. Notre Dame (8-2)
9. Ohio State (8-2)
10. Penn State (8-2)
12. TCU (8-2)
13. Oklahoma State (8-2)
Oklahoma got screwed
There's no other way to put it. OU has better overall wins than Clemson and Miami, and their loss is better than Clemson's as well (Syracuse vs. Iowa State). On top of that, committee chair Kirby Hocutt said on Tuesday night the committee loves the defenses of Clemson and Miami. First off, Clemson and Miami don't even have the best scoring defense in the ACC. Virginia Tech does.
Next, have they seen the Oklahoma offense play? It's the best in the country, has a Heisman winner at quarterback and arguably the best offensive line and set of skill position players as well. So I guess the committee likes great defenses over great offenses? That makes zero sense. That is quite possibly the most ridiculous comment ever made by a committee chair (that's saying something considering some of the words that came out of Jeff Long's mouth. Side note: sorry to see him lose his job at Arkansas). Also, this past week, Clemson played great defense against a downtrodden Florida State team using a back up quarterback? Wow! Congrats. Meantime Oklahoma goes out there and blasts the #6 team in the country in TCU and get zero credit or respect for it. I am stunned.
Additionally, Clemson is living off their loss to Syracuse, with the excuse that "Kelly Bryant got injured". First off, since when did Kelly Bryant becomes Deshaun Watson? Seriously, someone explain this to me. The Tigers were losing to Syracuse in the first half when Bryant went down. That notion is ridiculous.
Then there's Miami, who had close games with the likes of UNC, Georgia Tech, Syracuse and Florida State. But two good weeks against Virginia Tech, and as usual, an overrated Notre Dame squad, and now it's the 1980's "U" all over again. Also, both wins for the Hurricanes are at home. Two of OU's Top 11 wins are on the road. Plus, Miami has yet to even play a team on the road better than .500! Stop. The Sooners got totally screwed and this is very concerning.
TCU's big drop
TCU loses on the road to a top 4 team and was one of the biggest fallers in the rankings from 6 to 12. For what it's worth, they did hold OU scoreless in the second half, but couldn't get the offense going enough. Sorry Horned Frogs fans, this is how it's always going to be. You will move up the rankings slower than you should and your team will drop faster than it should. Welcome to the life of a non-blue blood in the College Football Playoff committee era. "Sad!"
Rece Davis dopiness
This headline stays the same from last week, because well, Rece is a dope. On Tuesday night he was fawning over how Wisconsin's schedule is really toughening up here down the stretch. Oh, is it really? They get their first ranked win of the season last week against Iowa, now they play a Michigan team that has zero business being in the Top 25 (one Top 25 win vs …… Florida), but of course, the committee slides the Wolverines in at #24, because it would give the Badgers another chance at a Top 25 victory. Next week, it's Minnesota. Yep, I'd call that a real juggernaut of a schedule, Mr Davis.
As I noted last week, wipe my ass, Rece.
It's OU or bust
The only team making the College Football Playoff from the Big 12 is Oklahoma. I'm not going to sugarcoat this and try to give you scenarios where it can happen. No shot. TCU and Oklahoma State are too far down, evening beating OU in the Big 12 championship game won't make a difference. They are behind two-loss teams like Ohio State, Penn State, Notre Dame and Auburn. The Horned Frogs and Pokes have zero chance of reaching a College Football Playoff. Sorry, folks.
West Virginia Mountaineers shafted
The Mountaineers have put together a couple of solid wins in back-to-back weeks. First off was a ranked Iowa State team, then it was a road victory over Kansas State. The Wildcats aren't what we expected them to be before the season began, but playing in Manhattan is never easy. However, the Mountaineers have received zero love from the committee, even though their losses are close ones to very quality and ranked teams in Virginia Tech, TCU and Oklahoma State.
Here's a comparison to NC State's resume from Chris Anderson of Eers Sports:
Top 50 Wins (Team rankings via Sagarin)
NCSU – 3
WVU – 3
"Best" Win
NCSU – 33 – Louisville
WVU – 24 – Iowa State
"Worst" Loss
NCSU – 37 – South Carolina
WVU – 17 – Virginia Tech
College Football Playoff Ranking
NCSU – No. 19
WVU – N/A
The Mountaineers should have been ranked.
Iowa State disrespect
Why doesn't Iowa State get the same injury protection that Clemson receives? The Cyclones were playing with a backup freshman quarterback in Zeb Noland and took Oklahoma State down to the wire, with the game ending on a controversial play. But the Cyclones slide right out of the Top 25, no questions asked. I don't think ISU is a Top 15 team, but they are certainly Top 25 and can hang with anyone. Plus, they have two wins (OU, TCU) that are better than anyone ranked from 15-25.
The bias is real, folks
I always try to remain somewhat optimistic with the committee being true to what it is supposed to do: find the best four teams, regardless of conference, name, ratings, etc. But I keep finding reasons to believe otherwise. This week was the most obvious example this season. The amount of mediocre SEC (Mississippi State, LSU) and Big Ten (Michigan, Northwestern) teams getting love is truly stunning.
Back to Oklahoma, who has the best non-conference win in the country, three wins over Top 11 teams, one loss to a team who's spent time in the Top 25, and it can't crack the Top 3 without help. It concerns me for how any other Big 12 program can find itself in legitimate College Football Playoff contention moving forward without an undefeated season or an amazing non-conference win.