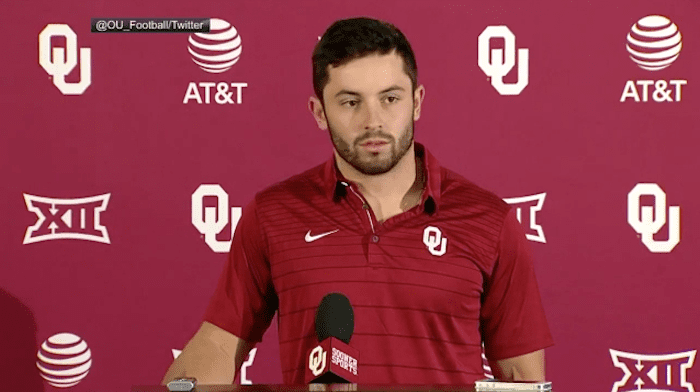 I'm not saying I'm a big fan of guys grabbing their crotches on national TV to embarrass an opponent you're favored to beat by 37 points. But this is what you get with Baker Mayfield, the good and the bad. Frankly, the bad is the reason you get the good. That's how it is and that's how it's going to be if Mayfield goes on to a successful NFL career.

Baker Mayfield has never been and never will the biggest, fastest or strongest. What you get is a guy who was a former walk-on and has willed himself to a potential Heisman Trophy thanks to his instincts, work ethic and having a chip on his shoulder the size of George Washington's nose on Mount Rushmore.
If you missed the series of events on Saturday in Lawrence, let's not forget, it was one-win Kansas (over bleepin' Southeast Missouri) who refused to shake Mayfield's hand during the pregame. Then during the game, KU defensive back Hasan Defense hit Mayfield late in the head area. As the game continued, the trash talk appeared to continue before the "Godforsaken" crotch grab.
Kansas showed Baker Mayfield the cold shoulder pregame and then this happened #BakerMayfield #YourFavoriteQBsFavoriteQB

— Dinger For 3 (@dingerfor3) November 19, 2017
Was it classy? No. Was that something that I would want youth players to emulate? Not really. But if you follow the sports world everyday, this should be very low on the list of things you are offended by. Some people like to be victims and get offended, and to me, this is the latest example. Frankly, I'm more offended by KU's audacity. If they focused that closely on their own playbook as much they did trying to slight Mayfield, they might've actually covered the 36-point spread.

Also, these are grown men (I hate when broadcasters call them "kids") playing a violent game with tons of testosterone flowing. Stuff happens. If you're that easily offended, get over yourself and go watch synchronized swimming.
Mayfield did go on to apologize after the game, saying, "I got caught up in a competitive game, a chippy game, but what I did was unacceptable. I apologize. It's disrespectful. It's not the example I want to set. It's not the legacy I want to leave at OU. I truly do apologize. Thinking about the kids that are watching this now, it's not something I want to do to the parents out there. I'm sorry."
Fine, that's all that was needed. OU probably went into damage control after the game and the university and football program is a classy one that knew that was the right thing to do.
But that should have been the end of it.
However, OU coach Lincoln Riley said there was "no excuse" for Mayfield's actions and said he would consider disciplinary action once he gets the chance to watch the antics for himself. IF Riley ends up with any disciplinary action that affects the game next week against WVU (first quarter or series suspension, etc.) that would be succumbing to the lynch mob. He can't do that.

In many ways, Mayfield has become the kind of athlete I'd want to go to war with. We moan and groan about how pro athletes are rich and spoiled and don't care as much as the fans do, while many of the college athletes are complaining they can't make a buck. Baker Mayfield cares. Does that mean he crosses the line sometimes? Yep. And he will continue to do that.
But that's the good with the bad. And the bad really isn't as bad as the societal victims make it out to be.