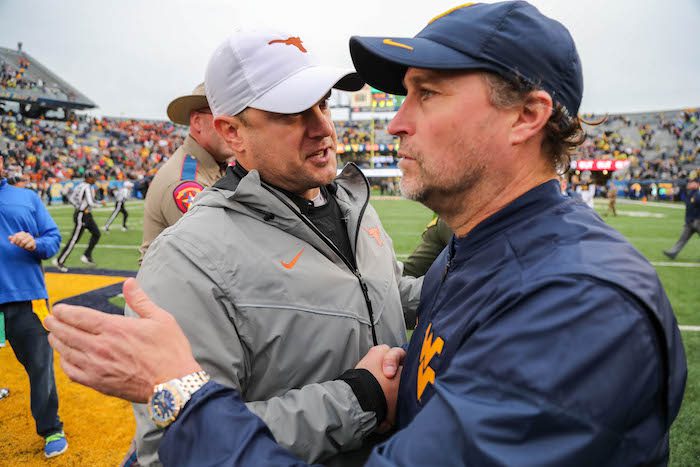 In our 2017 version of the Big 12 power rankings, we have averaged out the rankings of our main contributors at Heartland College Sports. These will be done on a weekly basis and released every Monday morning. A friendly reminder before trolling: Power Rankings can swing drastically week to week and are not simply a ranking based on what we think the best teams are in the conference, but rather based on the games that have been played to date.
While the top remains fairly steady, with one week remaining in the regular season, the middle of the Big 12 is muddy and up for grabs, with lots of movement.
1. Oklahoma Sooners (Last week: 1)
With one week left in the regular season, it's clear this is Oklahoma's conference. At this point, whether it's West Virginia this week, or TCU/Iowa State the following week, everyone else is playing spoiler. Crotch grab and all, Baker Mayfield is the leader for the Heisman Trophy and the weapons around him are just getting more comfortable every week. Now it's just time for the defense to do its part in bending (plenty), but not breaking.
2. TCU Horned Frogs (Last week: 3)
The Horned Frogs slide up a spot as they rolled over Texas Tech in Lubbock, despite missing their starting quarterback, running back and key pieces on defense. True freshman Shawn Robinson had his ups and downs. He was clearly more comfortable on the ground, where he rushed for 84 yards on 10 carries, compared to his 85 passing yards (6/17). The defense was missing Travin Howard and Montrel Wilson at linebacker and Niko Small at safety, but held the Red Raiders to 153 passing yards. Impressive.
3. Oklahoma State Cowboys (Last week: 2)
This is where the part of the rankings get interesting. Teams three through six were all very interchangeable in the voters' eyes. The Pokes hang onto a top 3 spot, despite their embarrassing performance at home against a Kansas State team that was underachieving throughout the season. Third-string QB Skylar Thompson looked like Baker Mayfield mixed with Lamar Jackson, while Mason Rudolph struggled throughout the opening 2+ quarters. OSU's late comeback came up short, but the Cowboys could still end up with another 10-win season under Mike Gundy by demolishing Kansas and winning their bowl game.
4. Iowa State Cyclones (Last week: 5)
The Cyclones move up a spot after taking care of an improving Baylor team on the road. The win snapped Iowa State's two-game losing streak and thanks to Oklahoma State's letdown, the Cyclones still have a shot, albeit a small one, of making the Big 12 championship game. Also, Allen Lazard, Hakeem Butler and Matthew Eaton may be one of the most underrated wide receiving corps in the Big 12, and possibly even the country. While the loss of Lazard will be tough, it's fun to think that Butler and Eaton are both coming back. QB Zeb Noland looked more comfortable as well.
5. Texas Longhorns (Last week: 6)
Texas has quietly put together a nice few weeks. In Saturday's win over West Virginia they held the Mountaineers to under 60 rushing yards. Yes the loss of Will Grier helped the defense, but it was still another impressive performance. The Longhorns have won three of their last four games following their two losses to the Oklahoma schools. But even date back seven games, only one was by more than five points (TCU). Sure it's not the 12-1 season the mighty Chip Brown predicted, but UT is going bowling, Tom Herman gets another month of practice with this group and the momentum continues into 2018 for the Longhorns. All good news for UT fans anxiously awaiting the turnaround in Austin.
6. West Virginia Mountaineers (Last week: 4)
The Mountaineers had a brutal weekend. Their Big 12 title hopes went up in flames as they lost quarterback Will Grier for the rest of the season on a horrible and inefficient play call by Jake Spavital. Then Chris Chugunov could never get the offense going against a stout Texas defense. The Mountaineers had only 56 rushing yards on the afternoon, while the rush defense had tons of problems, allowing Texas to rack up 233 yards on the ground. WVU is starring down a 7-5 regular season and a mediocre bowl game. This isn't what many expected even just one month ago.
7. Kansas State Wildcats (Last week: 7)
The Wildcats went to Stillwater and stunned Oklahoma State and the entire Big 12 with their 45-40 win over the Cowboys. Skylar Thompson was incredibly efficient through the air (10/13, 204 yards, 3 TD, 0 INT) and on the ground (17 carries, 93 yards, 1 TD). Thompson has been better than Alex Delton and looks to be the favorite for the starting job heading into 2018. If there is anything to be gained from what is still a disappointing season in Manhattan, it's learning who your starting quarterback is going into the offseason. Kansas State also had great special teams play with Byron Pringle's kick return for a touchdown and the defense forced Mason Rudolph into a pair of interceptions. Good day all around for the Wildcats.
8. Texas Tech Red Raiders (Last week: 8)
The fact that Texas Tech remains at 8th on this list probably says more about the teams below them than it does about the Red Raiders. Kliff Kingsbury's passive play calling once again flipped the momentum of Saturday's game. Clayton Hatfield missed another chip shot and TCU, with a true freshman quarterback, went on to roll over the Red Raiders 27-3. Even under Kingsbury, it would've been unfathomable to think that Tech could "only" allow 27 points and lose. But not only did they lose, they got smoked in front of their home crowd on senior day. Ugly scene. Tech needs a win Friday over Texas to become bowl eligible… and possibly save Kingsbury's job.
9. Baylor Bears (Last week: 9)
There were reasons for optimism in Waco on Saturday. Charlie Brewer continues to solidify himself as the quarterback of the future for the Baylor Bears, while the running game piled up 133 yards against one of the better run defenses in the Big 12. Yes, the defense had its issues, but when you're a one-win team, you try to take away as many positives as you can. Maybe the best news for Baylor is this: the team is still fighting and playing hard every week for head coach Matt Rhule. That's as important as any developments on the field.
10. Kansas Jayhawks (Last week: 10)
155 total yards of offense. Another blowout loss. Firing up Baker Mayfield before the game by not shaking his hand. Late hit to Mayfield's head area. Boy, what a dumpster fire in Lawrence. I'm not wasting any more of my time or your time writing about this.