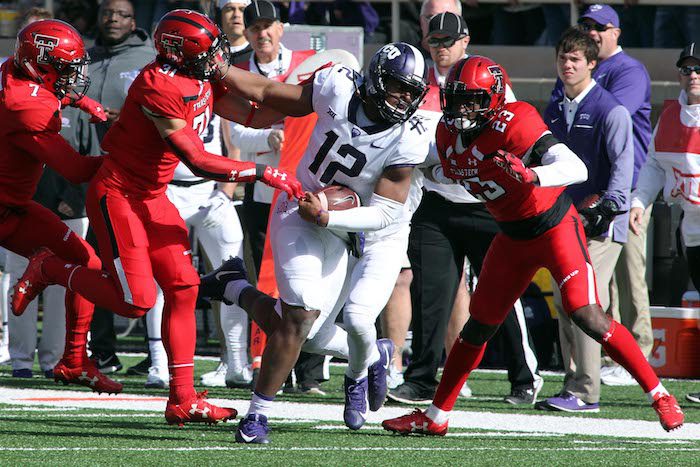 I hear it all the time, "Who has the best conference in college football?" SEC? Big 10? ACC? What about the Pac-12? Very rarely are you going to hear the words "Big 12" coming out of someone's mouth in that conversation. Whether you do it or not, there are plenty of folks out there who love to bash the Big 12 conference (cough, Paul Finebaum, cough). In week 11 we saw Texas get bowl eligible in Morgantown, a windy snoozer in Lubbock, a crotch grab in Kansas, a defensive battle in Waco and an upset in Stillwater. As always, there was the good, the bad and the downright ugly. Before I begin, I would like to say I didn't include the Baylor/ISU game. Nothing really exciting happened in that game and we all knew how that one was going to play out. I also didn't include WVU since their starting QB Will Grier was injured and that changed the whole dynamic of the game. Hats off to ISU for the win and I wish Will Grier a speedy recovery.
The Good
Texas (Beat West Virginia 28-14)
Texas is back folks! To a bowl game that is. After leaving Morgantown with a win, Texas is now bowl eligible for the first time in 3 years. I know that sounds insane, but it is a step in the right direction for Tom Herman's program. Offensively QB Sam Ehlinger provided an immediate spark for the offense (Even though he made a dumb throw that cost him 6) and did just enough to win. Texas found some success running the football with Daniel Young, Sam Ehlinger and Kyle Porter as the Longhorns racked up 233 yards on the ground. It was hard to gauge the defense considering WVU QB Will Grier (hand) left the game in the first quarter and never returned. However, WVU only completed 4 of 16 third downs and had just 295 total yards. I can't say enough about how much better this offensive line looked with starting LT Connor Williams back in the lineup.
Oklahoma (Beat Kansas 41-3)
Before you start complaining, there is a good reason Oklahoma is on this list and not just because they played Kansas. Yes, Baker Mayfield had a hell of a day, but the star of the show was the defense. Oklahoma only allowed a combined 155 total yards (123 passing, 23 rushing) and absolutely dominated this game from start to finish. I know what you are thinking, it's just Kansas so no big deal right? Wrong, with this victory Oklahoma is guaranteed a trip to the Big 12 title game on December 3rd. Congrats Sooners on a heck of a season so far. Also, I'll have more on the shenanigans in this game later in the article so keep reading.
TCU (Beat Texas Tech 27-3)
TCU finds themselves on this good side of the list for the same reasons Oklahoma is on here. TCU played excellent defense holding Texas Tech to just 3 points in Lubbock. Think about that for a second, Texas Tech supposedly known for their offensive firepower being held to 3 points at home. Texas Tech outgained TCU 327-289 and lost by double digits. My favorite stat of the day in the Big 12: TCU had a total of 85 passing yards in the game and won by 25 on the road. The most important thing is that after this win, TCU is now almost everything but "officially" going to play Oklahoma in a rematch for the Big 12 title.
KSU (Beat OSU 45-40)
What a huge victory for these Wildcats. How many folks had them going into Stillwater, dropping 45 points and walking out with the win? Not this guy. But the important thing is that Kansas State is now bowl eligible in this roller coaster season of theirs. Third string QB Skylar Thompson elevated his game throwing 3 touchdown passes and led his team in rushing with 93 yards. Kansas State rushed for over 200 yards in this game and at one point led 42-13 which is incredible. Defensively they were solid for about 3 quarters until melting down late, but by then it was too late for the Cowboys. I can't say enough about how tough and gritty this football team played on Saturday. Tip of the hat to head coach Bill Snyder who is going to take the Wildcats to a bowl game for the 19th time in his tenure.
The Bad
Texas Tech (Lost to TCU 27-3)
What a disappointment for the Red Raiders. I expected them to keep this one close but, they never were in control of this game. They had their opportunities but blew it every time. Tech had a great drive to start the game that lasted over 7 minutes and even though it resulted in 3 points, it was a balanced, aggressive drive. They even went for it on fourth down in that drive, so I thought they were really in it to win it. Well, after taking a 3-0, they never scored again. TCU started a true freshman QB (Shawn Robinson) and Tech looked surprised that he could run the football until they settled down a bit defensively. At halftime, they were down 10-3 and still had their fair share of chances to go up. Then in the middle of the third quarter, their defense got the ball back and Tech had it at the TCU 6-yard line.
Texas Tech made its way to the TCU 2 yard-line and then came fourth down. Kliff Kingsbury decided to kick a field goal, which seems ok right? Well, it's not because anyone who has watched them this year knows they have been horrible and I mean horrible on special teams. That decision ended up biting Tech in the ass as Clayton Hatfield missed a 20-yard field goal and after that Texas Tech was done. Where was that aggressiveness that you had on the opening drive Kliff? I just don't understand. The score ended up being 27-3, but it wasn't the defense's fault. The offense was pathetic, to say the least. Texas Tech had a total of 153 passing yards and as an air raid offense, that's not going to cut it. TCU had 85 yards passing and beat you by 25 at home. That's embarrassing, and Kliff Kingsbury may lose his job if he loses to Texas on Friday night.
The Ugly
Oklahoma State (Lost 45-40 to KSU)
Kansas State comes in with a third string QB who completes just 13 passes and beats the Cowboys in Stillwater. I don't even know where to start with this team because for the first 3 quarters, they had zero energy and looked like they didn't want to play. Maybe they found out TCU won, but there was still a chance to get into the Big 12 title game, so I don't understand. The offense was bad and at one point had a stretch of nine scoreless drives. Mason Rudolph was off and some of the receivers dropped some passes. RB Justice Hill didn't have that juice and this offense was just plain bad until they scored 20 points in the fourth quarter but by then it was too late.
At one-point Kansas State, a nearly 3 touchdown underdog, led 42-13 in the third quarter. I do have to say it may be time for DC Glenn Spencer to go after having a brutal month so far. This defense was terrible for 3 quarters. They made a third string QB looked like a Heisman contender and somewhere in Stillwater WR Byron Pringle is still running around wide open after torching the secondary with 3 long touchdowns. They also gave up over 200 on the ground and quite frankly there isn't much more to say. It is sad that this team will likely be headed to the Alamo or Camping World Bowl. Just a disappointing season for this team considering the expectations.
Kansas (Lost 42-3 to OU)
I don't get it Jayhawk fans, you don't want to shake hands with Baker Mayfield in pregame and then get upset when he is talking trash and crotch grabbing. You don't poke the bear and expect him to just sit there and take it, do you? Well, the football team must have thought that, and I am not quite sure why considering you're 1-9 on the season and have one conference win in 3 years. David Beaty after the game basically supported the whole thing, which I get you want to back up your players, but why do that against Oklahoma? Why do that against Baker Mayfield? Why give Baker and that football team more motivation to kick your ass? If Kansas was a decent football program I could maybe understand, but you're not. The football team is a joke and should be more worried about playing well on the field instead of trying to intimidate people. Don't get me wrong, it was wrong of Baker to grab his crotch and yell "f**k you" to the Jayhawks sideline, but I wasn't all that surprised considering the pregame and it was chippy the whole game.