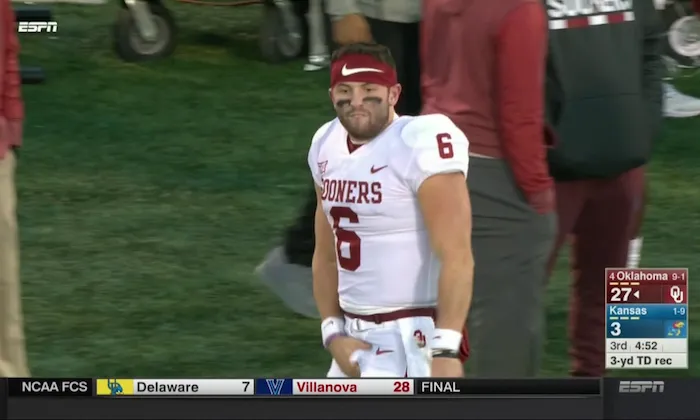 During his Monday press conference, Oklahoma head coach Lincoln Riley did what I expected, but was fairly disappointed by. He suspended quarterback Baker Mayfield, who won't start against West Virginia on Saturday, but will play against the Mountaineers.
Head coach Lincoln Riley announces that QB Baker Mayfield will not start Saturday's game against West Virginia, but will play and he will not be a team captain for the contest.

— Oklahoma Football (@OU_Football) November 20, 2017
As you saw and heard, Mayfield also won't be a captain for the final game in Norman in his college career.
While Riley did make a mistake in his decision, it shouldn't be overblown (just like Mayfield's actions shouldn't be overblown). Even without Mayfield for a couple of series or even a full quarter, OU should roll over West Virginia, who will be without quarterback Will Grier.
Suspending Mayfield was simply succumbing the the lynch mob that is consistently offended by every little thing that happens in sports and/or society. I wrote a defense of Mayfield on Sunday, explaining that Mayfield is who he is. What makes him great is what makes him act foolish sometimes. Can he be a punk? Sure. Arrogant? Yep. But with the good, comes the bad. And I use the word "bad" relatively.
Let's go back to August: Had Lincoln Riley decided to suspend Mayfield for the first half against UTEP following his public intoxication arrest over the offseason in Arkansas, I would've completely understood it. The team leader put the team in the national headlines with a foolish and immature mistake that had legal consequences.
But this… for grabbing his junk… really?
I compare Mayfield's crotch grab to a coach or player getting caught dropping a few F-bombs on a hot mic during a game. It happens. These are grown men playing an emotional game and making obscene gestures is in the same vain as cursing obscenities. We know it happens, but would prefer to not see or hear it. He got caught. Oops. Let's not try to find a reason to be offended.
On Monday, Riley said, "This decision was difficult." He went on to get a big choked up when talking about Mayfield and what he's meant to his career and to the OU program and community.
Unfortunately, it didn't need to be a difficult one. Lincoln Riley is a young coach and in ten years he will look back on this faux outrage and realize what it was: some media members trying to create a story for their own columns, websites, TV shows and podcasts. That's the world we live in. Everything in overblown and overhyped, so we get mass overreaction. This happens in news, politics, sports and pop culture. No one or nothing is exempt.
Remember the context of the entire story, which included Mayfield getting snubbed by KU before the game when their captains refused to shake his hand. Then there was the late hit by Hasan Defense to Mayfield's head and reports of a KU head coach grabbing his crotch as he motioned towards Mayfield (prior to Mayfield returning the favor).
Should the Heisman front runner have known the cameras were going to be on him all game and been more conscious of that? Probably. But in the heat of the moment, I'm not going to lose it over such a silly gesture.
Speaking of the Heisman, before you tell me this should hurt Mayfield's chances, let's not forget it was four years ago, November 14th, 2013, that the State Attorney in Florida opened a rape investigation into then Florida State QB Jameis Winston. One month later, to the day, Winston won the Heisman Trophy.
So please, spare me the "character" issue when it comes to what the Heisman Trophy means. If two players were dead even, then character can be the tiebreaker. That's it. And for Mayfield, no one is in his galaxy in terms of on-field play this season.
Finally, before you call me an OU apologist: I was incredibly hard on Bob Stoops for not expelling Joe Mixon. I believed that was a case of a coach getting caught up in a 5-star talent and giving him far more leeway than he would have a 3-star player.
I think outrage is warranted for serious criminal allegations. In what is some kind of sick irony, I've heard more over the past two days regarding Baker Mayfield grabbing his nuts on the sidelines of a fairly meaningless football game than I have the aforementioned Jameis Winston being accused of sexually assaulting an Uber driver.
But hell, that's today's society, to which I say, "grab this".