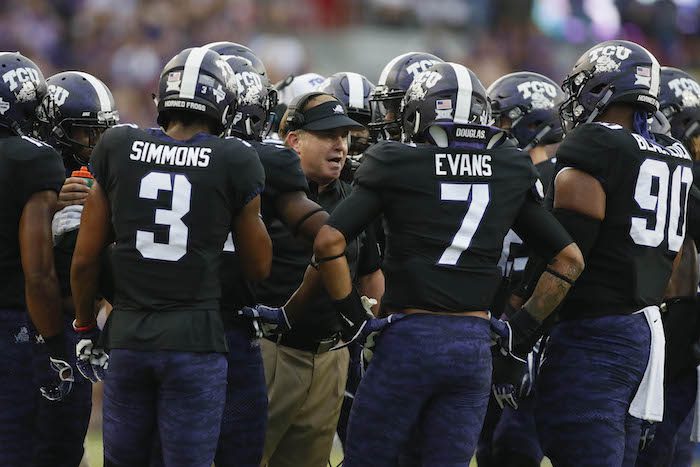 Here is everything you need to know about the upcoming Big 12 game in Fort Worth, Texas in our TCU vs. Baylor preview and prediction.
Broadcast info
Date: November 24th, 2017 | 11:00 a.m. CT |Amon G. Carter Stadium
TV: FS1 | Justin Kutcher (play-by-play) | Mark Helfrich (analyst)
Radio: Baylor IMG Sports Network | John Morris (play-by-play), J.J. Joe (analyst), Ricky Thompson (sideline)
Radio: WBAP 820 AM/KTCU 88.7 FM | Brian Estridge (play-by-play), John Denton (analyst), Landry Burdine (sideline)
Satellite Radio: Sirius 83, XM 83
Fun fact: These two universities used to be neighbors… literally. After being founded in 1873 in Thorp Spring, Texas, as AddRan Male and Female College, TCU's campus moved to Waco in 1895. The name was changed to AddRan Christian University in 1889 and Texas Christian University in 1902 . TCU relocated to downtown Fort Worth in 1910 when the Waco facility burned. The University then opened three new buildings on its present campus in 1911.
Key Players
Baylor Bears
Charlie Brewer, quarterback
Brewer is looking more comfortable by the week. On Saturday against a really solid Iowa State defense he finished 26/36 for 198 yards, one touchdown and one interception. But if Brewer thought Iowa State had a loaded defense, now he gets to face the best pass and run defense in the Big 12. But hey, it's another chance for Brewer to prepare himself for 2018. All these reps are very positive.
Ira Lewis, defensive tackle 
Lewis is quietly having a really productive junior season for the Bears. His 4.5 sacks are tied for 8th in the Big 12 conference, while he also has 31 tackles and 9.5 tackles for loss on the season. Baylor will need its front seven to get in the backfield, cause some chaos and force TCU to beat them through the air.
TCU Horned Frogs
___________, quarterback
This is the biggest in the game. Gary Patterson said Monday that Kenny Hill is probable. But if not, it's back to true freshman Shawn Robinson, who finished with 85 rushing yards and 84 passing yards.
Ben Banogu, defensive end 
Banogu leads the team with 13 tackles for loss and 6.5 sacks. His tackles for loss are good for 4th in the Big 12 conference, while his sacks ranked second. Banogu has been one of the breakout stars in the Big 12 this season and could do even more damage against a shaky Baylor offensive line this weekend.
Key Storylines
TCU's quarterback situation
It's the storyline of the game on Friday. It's important for Hill to play, not as much for this week against Baylor, but for next week in a potential Big 12 championship game against Oklahoma. If the Horned Frogs want to spoil the Sooners' trip to the College Football Playoff, they need Hill to be healthy. To expect him to not play this week, have been out for two weeks, knock off the rust and go beat the Sooners would be a tall ask. Getting Hill reps this week is imperative if TCU wants to pull off the upset next week. Shawn Robinson looked serviceable last week against Texas Tech, but he's still clearly more comfortable with his legs than throwing the ball. That would work against Baylor, but not Oklahoma.
Brewer's poise
Charlie Brewer is undoubtedly the quarterback of the future in Waco. He's show maturity beyond his years, is comfortable in the pocket, but also has the wheels to roll out and make things happen if needed. But now he has to go on the road to Fort Worth and face the best defense in the entire Big 12 conference, and one of the best in the country. He's got a shaky offensive line, but if Brewer can make some magic happen Friday, his legacy will begin building awfully fast in Central Texas.
Rivalry
These two teams don't like each other. They are in different places this season, but it's been one of the best rivalries, if not the best, in the Big 12 the past five seasons. Baylor is the one-win team with nothing to lose behind a bunch of freshmen and sophomores, while TCU is the senior-laden squad looking to punch a ticket to the Big 12 championship game. TCU is clearly the more superior team, but weird things can happen in hotly contested rivalries. These two teams have split their past six games and the all-time series is as even as it could be: 53-52-7 in favor of the Horned Frogs.
Prediction
TCU 35, Baylor 17
As mentioned, not only is this TCU team an extremely veteran bunch, but Friday is obviously senior day for 35 players. They will be super focused in their last-ever game at Amon G. Carter Stadium. Baylor is making strides, but the talent gap is too wide, combined with the fact that the Bears will be on the road and TCU's upperclassmen realize everything that is at stake. Kyle Hicks rushed for a career-high 192 yards and five touchdowns in last year's game against Baylor, and with Hicks carrying the load due to Darius Anderson's injury, it should be another big afternoon for the running back against the worst run defense in the Big 12.