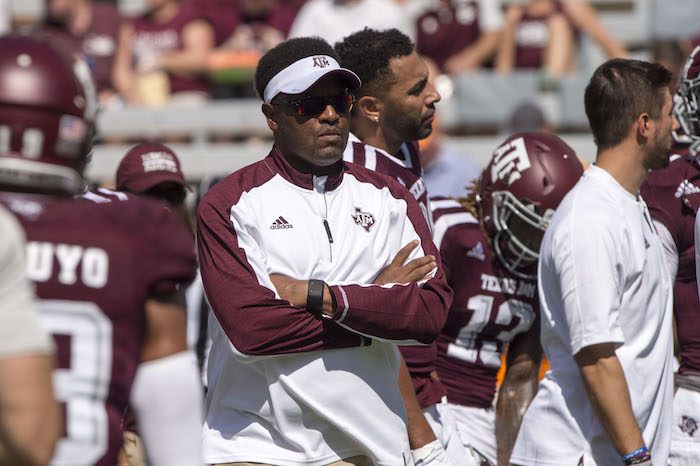 First off, I don't know if the time is up for Texas Tech head coach Kliff Kingsbury. The Red Raiders are 5-6 and if they beat Texas on Friday night in Austin, they would be bowl eligible for the third time in five years under Kingsbury. But even if Kingbury gets a win, which is no guarantee, I'm not sure a bowl berth would even excite this fan base all that much.
Outside of Kansas, there is reason for optimism at every other Big 12 football program. However Texas Tech is stuck in no man's land. The Red Raiders aren't necessarily falling backwards, but they sure aren't progressing forward. The program has gone stale and even Kingsbury's trademark high-octane offense has been very inconsistent this season.
With Kevin Sumlin reportedly set to be fired by Texas A&M after the LSU game, win or lose, Tech would be wise to gauge Sumlin's interest in a job in Lubbock.
One of the many hang ups to making this happen is Sumlin may not want to replace a coach that he's worked with for years. Sumlin hired Kliff Kingsbury at Houston in 2008, who worked his way up to co-offensive coordinator. Then, Sumlin hired Kingsbury again in 2012 when he got the job at A&M to be his offensive coordinator. Kingsbury's special season with Johnny Manziel at quarterback helped make him a rising star in the coaching ranks and land him the head job at Texas Tech, his alma mater.
Also, there may be hesitancy from folks in Lubbock that they are getting A&M's "scraps". First off, if any group of fans and boosters should put their egos aside, it's those in Lubbock. Texas Tech football has been more or less irrelevant since Mike Leach was wrongfully terminated in 2009. If you're not a math whiz, that's nearly a decade of purgatory.
Kevin Sumlin was a victim of his own success in College Station. His first year, 2012, was the 11-2 season with Manziel and coincided as the inaugural SEC season for the Aggies. It was A&M's first top-five finish in 50 years. Boosters and fans got their hopes up thinking this was going to be par for the course for A&M football. But dating back to 1998, that is the only season A&M has won 10+ games. Despite what their irrational fan base thinks, the Aggies are not a blue blood. They spent their existence living in the shadows of the Texas Longhorns. They thought a move to the SEC would change that. It hasn't. If anything it's only gotten worse as they play, at best, fourth fiddle to Alabama, Auburn and LSU.
I've always felt one of the hardest parts of the job at Texas Tech is recruiting. There is not a lot of immediate talent in West Texas and Lubbock is five hours from Dallas-Fort Worth, six hours to Austin and eight hours to Houston.
But one thing Sumlin has been lauded for throughout his career is his recruiting ability. This week, SI's Bruce Feldman wrote about the 53-year-old, "Sumlin's a dynamic recruiter who would be a fit in any region."
But the region he knows best is Texas, where he's been a head coach since 2008. In fact, he's been on coaching staffs in Texas or Oklahoma dating back to 2001. He knows the recruiting scene in the Lone Star State as well as anyone.
The coaching criticism of Sumlin may be fair. He brought in several four and five-star players in recent years, but still lost most of his games to the top competition in the SEC. But if the interest were mutual, Tech should still seriously look into it.
The reality is this: Texas Tech is not a premier job in college football. They aren't a blue blood and aren't paying top dollar. With all the major job openings at Florida, UCLA, Tennessee, A&M and likely Nebraska, Tech has to wait in line behind all of them.
Maybe there is a Group of 5 coach that becomes Texas Tech's Matt Campbell, but far more end up like Butch Jones than Campbell. So why not make the preliminary private phone call? See if Sumlin is interested. And then Texas Tech can make a decision from there.