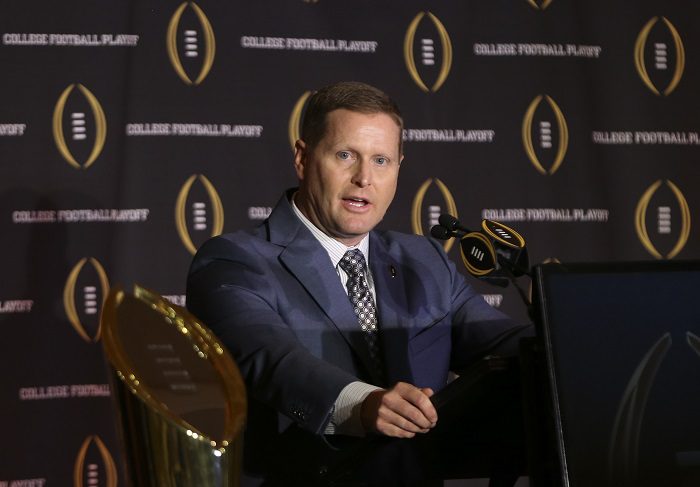 The fourth College Football Playoff rankings of the 2017 season were released and, once again, the Big 12 conference was slighted.
1. Alabama (11-0)
2. Miami (10-0)
3. Clemson (10-1)
4. Oklahoma (10-1)
5. Wisconsin (11-0)
6. Auburn (9-2)
7. Georgia (10-1)
8. Notre Dame (9-2)
9. Ohio State (9-2)
10. Penn State (9-2)
12. TCU (9-2)
19. Oklahoma State (8-3)
Sooners disrespect continues
I just don't get it. Three Top 11 wins. Two of them true road victories. No one else in the country can say that. Miami has yet to play a team better than .500 on the road. OU's loss is a better loss than Clemson. Iowa State would smoke Syracuse on a neutral site any day. In fact, Iowa State would beat Syracuse in the Carrier Dome. The Kelly Bryant injury is the lamest excuse being used by the committee this season. Here's what Baker Mayfield thinks of the #4 rankings again this week: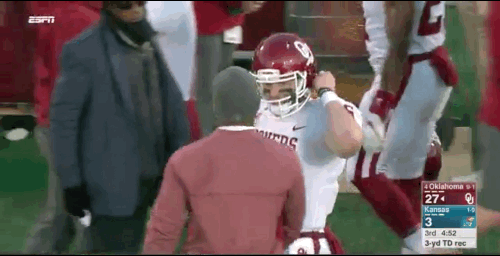 In all seriousness… the lack of respect for the Sooners leads to my next point below….
The Power 5 may be dead
The ESPN panel did its usual thing where they play out scenarios during the discussions. A scenario throw out was if Alabama wins out, Miami loses a close game to Clemson, and Oklahoma and Wisconsin win out, what happens? There was serious debate on Oklahoma not making the College Football Playoff. Think about that. OU could have four Top 12 wins, which no one else would have. A loss to a team that turned out to be much better than many expected at the time in Iowa State. A conference championship. The best non-conference road win in the country. A blue blood program. And yes, OU could miss the College Football Playoff, per ESPN. IF that were to happen, then the Power 5 conferences are just in name only. We could easily just starting calling in the Power 4. The Big 12 would clearly be inferior in the eyes of the powers that be in college football. Also, if that were to happen, then barring an undefeated season, the remaining Big 12 football programs are unlikely to have a shot at the College Football Playoff. Ever. "Sad!"
Oklahoma State held up
I thought the Pokes would drop further, to be honest. Not because I don't think they're not a Top 20 team, but I thought the committee would find reason to boot another Big 12 team below where it deserves to be ranked. And really, when you think about it, what is Oklahoma State's best win? I guess either Iowa State or West Virginia on the road? They're solid wins, but when that's your best win, and you have three losses, it's hard to justify putting the Pokes much higher. But the eye test, of course, gets Oklahoma State easily into the Top 20. Yea, that same "eye test" that keeps Alabama at #1 and Ohio State in the Playoff discussion. All in all, I was pleasantly surprised to see Oklahoma State ranked at #19.
No movement
The only movement in the Top 12 was a flip between Miami and Clemson at #2 and #3. Every team in the Top 12 won, so there was not much need to change. Plus, a lot of the top teams, cough, Alabama, cough, Clemson, played cupcake games this week. Overall, it was a pretty boring week of college football, so there wasn't much need to change much.
Why the Miami love?
Committee chair Kirby Hocutt made zero sense when he said that Miami got a boost because they trailed Virginia by 14 and came back. That is SO IRRATIONAL. Now you get a boost for LOSING a game and coming back. Teams should start trying that going forward. Get down early against an opponent and then go blow them out in the second half. Kirby Hocutt would love that. Maybe that's what he's been trying to teach Kliff Kingsbury to do at Tech. Unfortunately, once the Red Raiders are down, they typically stay down.
Also, it was noted that Miami was slow out of the gates because of the early start against UVA following two very emotional games and wins over Virginia Tech and Notre Dame. You've got to be shittin' me? By that logic couldn't you argue that Oklahoma deserves a break as they overlooked Iowa State and it turned into a trap game because no one realized how good the Cyclones were and Texas was on deck for the Sooners? Of course that's a lame excuse, but that's the slippery slope the committee is going down when they make these arguments.
Lastly, do we forget that the Hurricanes beat Georgia Tech, Syracuse and UNC by a combined 14 points? Apparently so…
Where is Iowa State?
I didn't expect the Cyclones to be ranked because they weren't last week and beat a one-win Baylor team. But look at some of the teams from 20-25 that are ranked. Memphis?! Their best win is over UCLA. They got blown out by UCF 40-13 and then beat a bunch of nobodies in the AAC. Boise State?! Their best win is San Diego State and lost their only two other decent games against Washington State and Virginia. It's like Iowa State's two top-5 wins never happened. I really don't understand it. I thought the point of the committee was to get rid of teams with weak(er) schedules and rewards those with quality ones. No team from 15-25 can say they have wins as good as Iowa State's.
Yes, the Cyclones have four losses, and there is no four-loss team ranked. But every loss is by 10 points or less: Iowa (3), Texas (10), West Virginia (4), Oklahoma State (7). They should have beaten Iowa and had chances at the end to beat WVU and Oklahoma State. I'm not arguing for "woulda, coulda, shoulda", but if the committee's job is to not just go by the AP Poll and move teams up for wins and downs for losses arbitrarily, regardless of how the game played out, then what is the point of them?
The bias is REMAINS real, folks
I guess ESPN is already pumping up the ACC, as they have the ACC Network launching in 2019 and may see some cracks in the foundation of their baby, the SEC. I can't think of any other explanation for the love for Miami and Clemson. Also notice this: The committee snuck Virginia Tech back in at #25, after their big-time resume-building win escaping 4-7 Pitt, so Miami and Virginia Tech would each have another "Top 25 win" against currently ranked opponents. Hmmm…
Regardless, the Big 12 continues fighting an uphill battle and it's a damn shame. The idea that the Big 12 plays no defense remains one of the most uneducated opinions across college football. Do we not forget that the Big 12 dominated their bowl games last season and held multiple teams below their season average?
Also, how about this: Miami DC Manny Diaz and Clemson DC Brent Venables are considered two of the top coordinators in the sport. Neither could hack it in the Big 12. Coincidence? Or is that a testament to just how good and complex Big 12 offenses can be?
I'll let you think about that… but we know what the committee and ESPN talking heads believe.