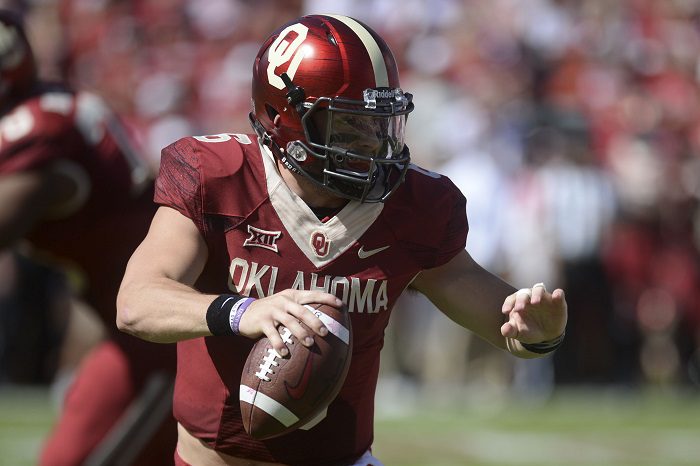 Here is everything you need to know about the Big 12 showdown between the Oklahoma Sooners and West Virginia Mountaineers in our preview.
Broadcast info
Date:  Saturday, Nov. 11, 2017, Gaylord Family-Oklahoma Memorial Stadium, Norman, Oklahoma
TV: ESPN | Steve Levy, Brian Grease, Todd McShay
Radio: IMG Mountaineers Sports Network | Tony Caridi, Dwight Wallace, Jed Drenning
Radio: Sooner Sports Network | Toby Rowland, Merv Johnson, Chris Plank, and Ted Lehman
Radio: Sirius 83/XM 83
Fun facts: With a win Saturday, Lincoln Riley would set the Oklahoma record for most victories in a debut season, passing Barry Switzer (10 in 1973) and Chuck Fairbanks (10 in 1967). Riley would also become 13th coach in FBS history with no previous head coaching experience at a four-year college to win at least 11 games in his first year.
Key players
West Virginia Mountaineers
Chris Chugunov, quarterback
Chugunov replaced the injured Will Grier last week and will once again be in charge of the offense. Chugunov had his moments against Texas, but it was a tough spot going into a game against one of the best defenses in the Big 12. He finished 14 of 26 for 189 yards with one touchdown. Now that he has a full week to prepare with the starters, he should have a better performance.
Kyzir White, safety
The senior will be expected to help a secondary that might have some early opportunities against Kyler Murray, who is starting in place of Baker Mayfield. White has 71 tackles on the season, which is top 15 in the Big 12, along with three interceptions and two forced fumbles.
Oklahoma Sooners
Kyler Murray, quarterback
The biggest thing for Murray, don't mess up. We know don't if he'll play one series, two series or the entire first quarter. But I'm guessing Lincoln Riley will call a very conservative game plan with plenty of runs and short passes. Murray won't be asked to do too much. So once again, just don't make an egregious mistake.
D.J. Ward, defensive end
Ward is one of the 18 seniors playing their last game in Memorial Stadium. He's tied for fifth in the Big 12 with four sacks and often gets overlooked by teammate Obo Okoronkwo. He's played in 41 career games with 14 starts. Ward even had two pass breakups last week. With fresh blood at QB for WVU, Ward could have a big afternoon.
Key storylines
The Baker Mayfield "situation" 
When Lincoln Riley says Mayfield won't start, what exactly does that mean? Had this game included Will Grier, then there would be far more intrigue. But even if Mayfield misses the entire first quarter, which I highly doubt, OU should be able to weather the storm just fine with Kyler Murray. Hand the ball off to Rodney Anderson and OU will be fine. West Virginia has the worst run defense in the Big 12 allowing 200 rushing yards per game. Plus, behind this offensive line, the Sooners won't have a problem. West Virginia's defense is light on the defensive line, so I expect the Sooners to pound the rock early and often with lots of success.
Can Chugunov find the Grier magic? 
With Will Grier at quarterback, the Mountaineers could have had a real chance to torch the Sooners secondary. Chugunov will have to channel his inner Grier and get the ball into the hands of Gary Jennings, David Sills and Ka'Raun White to expose the soft OU secondary. The Sooners rank 8th in the Big 12 in pass defense efficiency. Getting the passing game going is West Virginia's best hope to stay in this game and potentially pull off a major upset.
Plus, the WVU offensive line has to keep Chugunov upright. The Mountaineers have given up the second fewest sacks in the Big 12 this season (13). But a lot of that is thanks to Grier's mobility and pocket presence. OU will bring the pressure with D.J. Ward, Obo Emmanuel Beal and others.
Field position
The Mountaineers have not done a good job in this part of the game all season. West Virginia is last in the Big 12 in net punt average at 34.0. The Sooners are second in the Big 12 at 40.2. Billy Kinney needs to do a better job and flipping the field and not giving Baker Mayfield and this OU offense a short field.
Prediction
Oklahoma 42, West Virginia 21
Without Will Grier, this game lacks most of the intrigue it would've had if he was healthy. As a result, the Sooners will roll to victory on Senior Day as they get ready for the Big 12 championship game next week at AT&T Stadium.