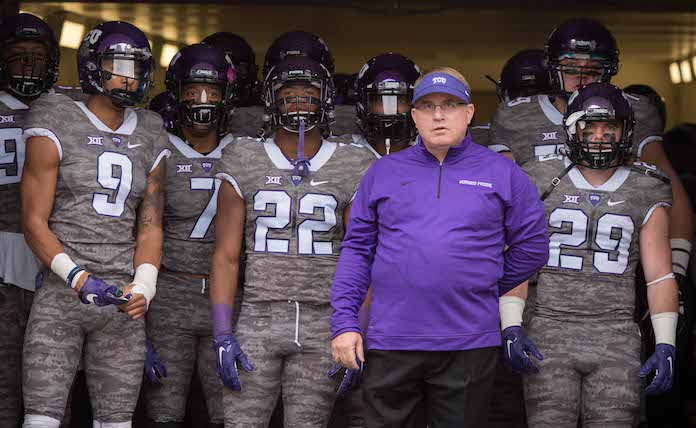 For all those folks trying to convince themselves Gary Patterson has the slightest interest in leaving Fort Worth, think again. TCU announced Friday that Patterson has agreed to a contract extension through 2024.

It's a six-year extension on Patterson's current deal and he news come right after the Horned Frogs beat Baylor 45-22 in the regular season finale. The victory gives TCU ten wins for the third time in the past four seasons.
Patterson is the winningest head coach in Texas since 2000 and has had his name thrown around for potential openings at Tennessee, Florida, Texas A&M and even his alma mater, Kansas State, if and when Bill Snyder decides to retire.
Granted most of those talks have been rumors tossed around by fans, but regardless, this is the latest example of Patterson's commitment to TCU. It's well known Patterson's wife, Kelsey, is very active in the Fort Worth community and loves where she lives.
Patterson first came to TCU in 1998 and defensive coordinator and became the head coach in 2000 where he has seen this program go from the WAC to Conference USA to Mountain West to now the Big 12 conference.

The Horned Frogs are 159-56 under Patterson, including a 100-40 conference mark. Since joining the Big 12 in 2012, TCU is 50-26 and has missed one bowl game since 2004 (2013, when TCU when 4-8).
Just last month when USA Today announced the highest-paid coaches in the nation, Patterson cracked the top 10, one of just two Big 12 coaches (Tom Herman) to do so. Needless to say, Patterson isn't giving TCU a hometown discount, but he's certainly show as much loyalty as is possible to the Horned Frogs.
This is a good day for the Big 12 and an even better day for TCU.