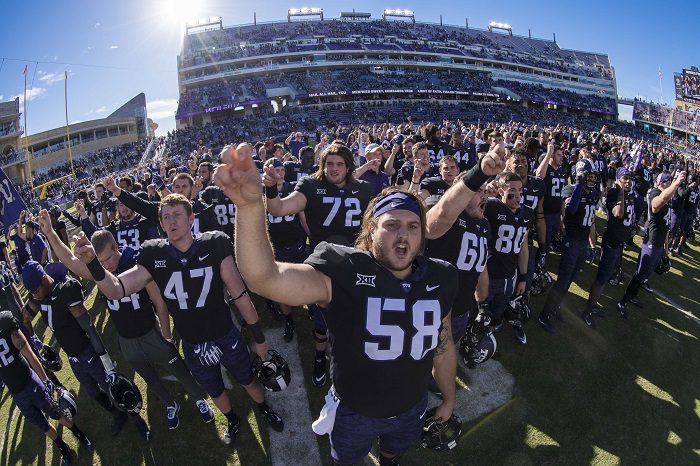 All TCU wanted was another shot at Oklahoma. So now they'll get it.
TCU's 45-22 win over Baylor on Friday sealed the Horned Frogs (10-2, 7-2 in Big 12) as the second-place team in the Big 12 Conference, which means they will face Oklahoma (10-1, 7-1 in Big 12) in the Big 12 Championship game next Saturday morning, with kickoff set for 11:30 a.m. at AT&T Stadium in Arlington, Texas.
Of course, on the off chance that OU loses to West Virginia on Saturday, the Sooners and Horned Frogs would share the regular-season title (with OU getting the obvious tie-breaker based on head-to-head). But their collision course in Arlington next Saturday won't change as a result of what happens in Norman, Oklahoma.
"I relish the chance to win a championship," TCU head coach Gary Patterson said. "It's what you get to do in this one. Let's just set the record straight a little. (Oklahoma quarterback) Baker Mayfield is a great player and has a chance to win a Heisman. He's a good football player. And he has a lot of good players around him. But it won't be at their place, it'll be 20 minutes down the road and we'll get a chance to do it again."
TCU looks primed for the challenge of a rematch with the Sooners. After the Bears took a quick 9-0 early on a safety and a Blake Lynch 54-yard touchdown reception, the Horned Frogs responded with 21 straight points and never trailed again, though the Bears had the lead cut to 21-19 at halftime.
But the Horned Frogs responded as they have for the past month and a half — by using their defense as a blunt instrument on the opponent. TCU's Ty Summers picked off a Charlie Brewer pass early in the second half, setting the tone for the final 30 minutes in which TCU gave up only a third-quarter field goal, the first points the TCU defense had given up in the second half since giving up a field goal to Kansas State on Oct. 14.
By the time it was done, TCU quarterback Kenny Hill had 325 yards passing and three touchdowns, along with a rushing score; running back Sewo Olonilua had 71 yards rushing and a score; and defensive end Matt Boesen set a school record with 5.5 sacks in a single game. The Horned Frogs ended up with 10 sacks for the game.
Summers said watching Boesen work on Friday was just like watching him work during practice.
"It was fun," Summers said. "I got excited as if I was making the plays. I was loving it. We were all loving it. He was bringing the energy today and it was huge."
How exacting is Patterson at this point in the season? Boesen delivered a bravura performance and wasn't made available to the media afterward. That was Patterson's decision, and while he never said why Boesen wasn't available, he alluded to the fact that Boesen missed coverage on a play that led to Baylor's second-half field goal.
Yet Patterson spoke eloquently about his recruiting trip to Boesen's home in California and the lengths the Torrance, Calif., native, a former high school wrestler, went to motivate himself.
"On the wall of his room, when I went there, was the whole tournament bracket for the state wrestling tournament in the CIF (California)," Patterson said. "He has the whole tournament bracket on his wall in his bedroom. You have a guy that has great leverage and plays with a great motor. It actually came down to us and Baylor (during recruiting). Those were his final two schools. We're happy he's here, even though I'm not real happy with him today because he gave up three points."
Meanwhile, Patterson wasn't all that eager to talk about his Horned Frogs' incredible stretch in the second half of the last six games.
"What it means is that we have to get better at doing that in the first half," Patterson said, turning what was supposed to be a positive question into a motivating answer to his team.
Even Summers read from a similar script.
"The game we played a few weeks ago (against Oklahoma), we didn't start good," Summers said. "We ended up playing well in the second half, but ultimately if you give up that many points in the first half it's hard to come back. So, if we're able to start fast that gives us the best chance."
A melee broke out on the Baylor side of the field late in the third quarter and cleared the benches on both sides of the field, but led to no ejections. Instead, game officials warned both sides of the field. Patterson said he was grateful for the way the officials handled it.
"It wouldn't have been one guy (ejected); it would have been a couple," Patterson said. "On both sides, but it wouldn't have mattered to them. It would have mattered to us. We have to learn how to act better when it comes to those kinds of things."
Patterson also beat his university's PR department to the punch, announcing the six-year contract extension he and the university agreed to on Wednesday. The deal will keep him with the Horned Frogs through the 2024 season and, with recruits in town for visits this weekend, it gives Patterson another card to play when he talks about the stability of the Horned Frogs.
But, right now, the Horned Frogs have a game to prepare for, and that preparation begins Sunday. Until then Hill and the rest of the Horned Frogs get a day or so to clear their heads, and Hill sounded like he needed it after participating in a Senior Day ceremony that included 34 other Horned Frogs.
"It all sunk in when I was out on the field with my family," Hill said. "I came here three years ago after everything that had happened (at Texas A&M) I told Coach P (Patterson), 'Thank you for just bringing me here and letting me have this opportunity.' These fans today — you heard them — they were going nuts. It's everything you want from your last game (at home)."