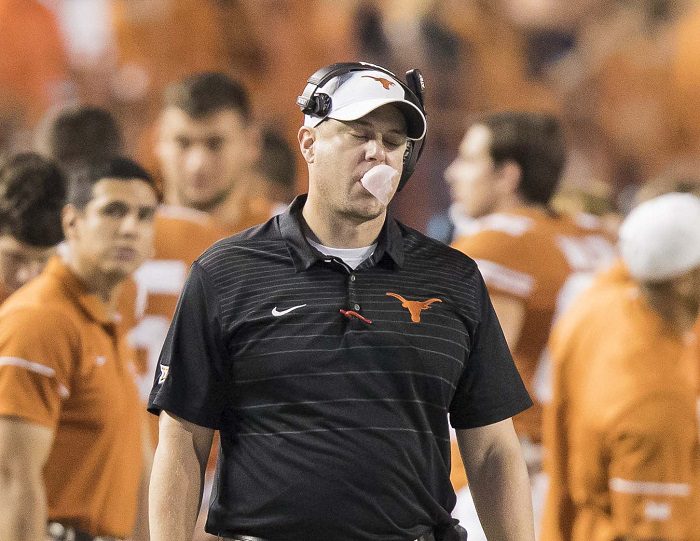 Another season in the books and another 6-6 campaign. Strides were taken in the right direction for the Longhorns. They might have their quarterback of the future in Sam Ehlinger, although some fans would refute that claim. The defense generally played outstanding throughout the season. And before Friday night's four-turnover disaster, they were one of the best teams in turnover margin in the Big 12 conference.
But the overlying concern that has now followed Tom Herman from Houston to the 150 miles west on Highway 290 is acknowledging that his team has played up and down to its competition.
Herman's first season as a head coach in 2015 was a 13-1 campaign in Houston that saw his team beat Louisville, then ranked opponents Memphis, Navy and Temple, along with a win over #9 Florida State in the Peach Bowl. But the Cougars' only loss that season was a 20-17 victory at UConn. It was a Huskies team that went 6-7 and lost its bowl game to Marshall. You want to say it's one let down game? All teams have them? OK, fine.
Onto 2016, where Herman's Cougars beat the #3 Oklahoma Sooners in the opening week and then beat #5 Louisville late in the year. Two top 5 wins for a Group of Five school? Unbelievable. But there were also losses to Navy (46-40), SMU (38-16) and Memphis (48-44). Something isn't adding up.
As Herman made the jump to the Power 5 level and took on the massive job of trying to turn around the Texas Longhorns, this trend followed his team this season. An opening-game home loss to Maryland was followed up a couple of weeks later by a road loss by three points to #4 USC. Last month, the Longhorns lost by a combined eight points to Oklahoma and Oklahoma State, two teams that have spent time ranked in the top 10. A couple of weeks ago, after jumping out to a 28-7 lead over Kansas after the first quarter, the Jayhawks actually won the final three quarters 20-14 and UT did not come close to covering the 30-point spread (42-27).
Of course, then there was Saturday night. Texas was already bowl eligible, but was looking to end the season on a three-game winning streak and winning four of five games. It would've been a fantastic way to close out Herman's inaugural season and would've given this program solid momentum as it heads into bowl season.
Alas, it was Kliff Kingsbury who pulled off some magic and the victory may have very well saved his job, as AD Kirby Hocutt announced after the game Kingsbury would return as head coach in 2018.
Herman literally looked and sounded shell-shocked after the loss.
But his most interesting answer in his postgame press conference came after he was asked, "Overall in the second half, why do you think you all could look so good last week against West Virginia in various things and then tonight, it's just not happening?" 
There was a 10-second pause before Herman answered with, "I don't know, I don't know. They're kids." 
Frankly, that's a cop out because of the facts drawn out above. They're kids, but he's a man, as Mike Gundy would say, and a man who has a three-year track record of his teams playing up or down to its competition. That's not on "the kids".
Texas Tech came into this game a beaten down team. They were using a quarterback who had never started a game at the Division I level. They had lost five of their past six games by an average of 16 points per game. This was a Texas Tech team waiting for someone to put them out of their misery. Texas couldn't do it.
There can be plenty of discussion on the play calling by Tim Beck, not just in this game, but throughout the season. Sure, the pass on 3rd and 2, with the clock on your side and holding three timeouts to their one, is as brutal decision as Beck has had, which is saying something.
But even if the Longhorns had pulled off this victory, it's the big picture that remains far more concerning. And it's no longer just a coincidence for Herman's teams to play highly-ranked teams tightly and mediocre teams poorly. It's now a trend.
As Herman continued his answer in assessing "what happened?", he added, "We gotta figure that out, obviously. But I don't have a good answer for you."
The good news is, after this exhibition bowl game, Herman will have eight months to try and come up with an answer. If not, 2018 could easily be more of the same on the 40 Acres.