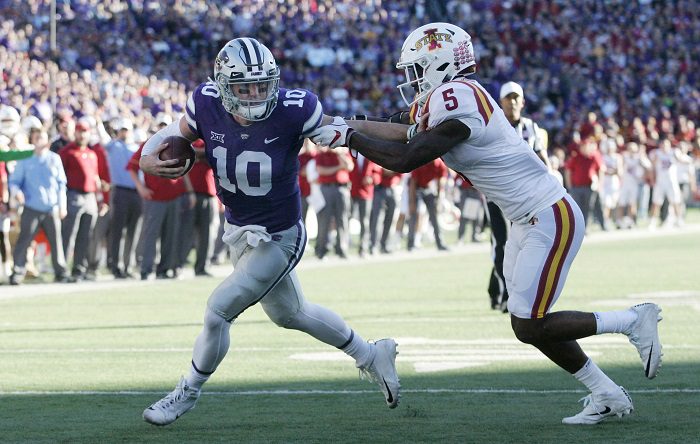 With eight seconds left in the game and Kansas State down 19-14, Skylar Thompson had the Wildcats facing a 2nd and goal from the one-yard line. On the snap, Thompson rolled left, came all the way back to his right, and as the clock ticked towards zero, it was evident this would be the last play of the game. For a moment, Thompson looked like he was going to try and run for the score, but instead, he found Isaiah Zuber wide open in the back of the end zone for the touchdown.
"I kept my eyes downfield trying to find somebody open. And then bounce it back around to the right side and then I thought about tucking it and trying to hit the front pylon. But right when I was thinking about that I looked up and saw Isaiah Zuber wide open and he did a great job of staying alive for me and found a way to get open," Thompson said.
Kansas State 20. Iowa State 19. Farmageddon.
While the season-ending injury to Jesse Ertz proved to be a tough one to swallow, there's always the silver lining. And in this case, Skylar Thompson's outstanding performance to close out his redshirt freshman season gives Kansas State plenty of reason for optimism heading into 2018.
After the conclusion of the game, I began thinking about the parallels between Skylar Thompson in 2017 and Oklahoma State's Mason Rudolph in 2014.
Go back three years in Stillwater, and Oklahoma State dealt with injuries to J.W. Walsh and then Daxx Garman. Enter: true freshman Mason Rudolph.
The Cowboys were sulking through a season that was not living up to expectations, as they started off 5-1, but then lost four-straight games to TCU, West Virginia, Kansas State and Texas. Rudolph started his first game of his career the following week in a 49-28 loss to #7 Baylor, as the losing streak reached five.
But next up: Bedlam. The game may best be known for Tyreek Hill's punt return that led Oklahoma State to a 38-35 overtime win against the Sooners. But it was also a breakout game for Rudolph, who finished 19 of 35 for 273 yards with two touchdowns to one interception. The Cowboys went into bowl season on the upswing and beat Washington in the Cactus Bowl 30-22, with Rudolph finishing 17 of 26 for 299 yards with two touchdowns and one interception.
The rest is history. While a Big 12 championship eluded Rudolph during his time in Stillwater, he has a chance to finish his career with three-straight 10-win seasons, an incredibly impressive feat.
Fast forward to 2017 in Austin, Texas and K-State QB Jesse Ertz going down on October 7th against the Longhorns and never returning. At the time, Kansas State had fallen to 3-2 and would go on to lose two more games in a row against TCU and Oklahoma. 3-5. The preseason hopes of a Big 12 title were long gone and the bowl chances were looking slim to none as well.
Skylar Thompson replaced Alex Delton in games at Kansas and at Texas Tech, leading the Wildcats to two-straight wins. From there, he took over the starting duties, lost a tough one against West Virginia, but then beat Oklahoma State with an impressive showing (10/13 204 yards, three passing touchdowns, 17 carries, 93 yards, one rushing touchdown), and had a legendary finish against Iowa State.
Kansas State has now won four of five games as they await their bowl selection. Suddenly, the vibes around Manhattan are completely different from earlier this season. It's amazing what a few weeks can do, especially as it relates to the quarterback position.
Following the victory on Saturday, Thompson added, "All I wanted to do was send them [the seniors] off with a win. And to experience that moment with Trent Tanking and guys like that, you can feel how much it meant to the that they got a win at their last home game. And for me to be a part of it and help present that moment for them is a moment I'll never forget."
The even better news for Kansas State, zero of the offensive players that started alongside Thompson on Saturday were seniors. On defense, there were a handful (Tanking, Will Geary, Tanner Wood, Jayd Kirby, Cre Moore), but there's reason to believe this program has a solid base as it heads into 2018.
And it all starts with #10.