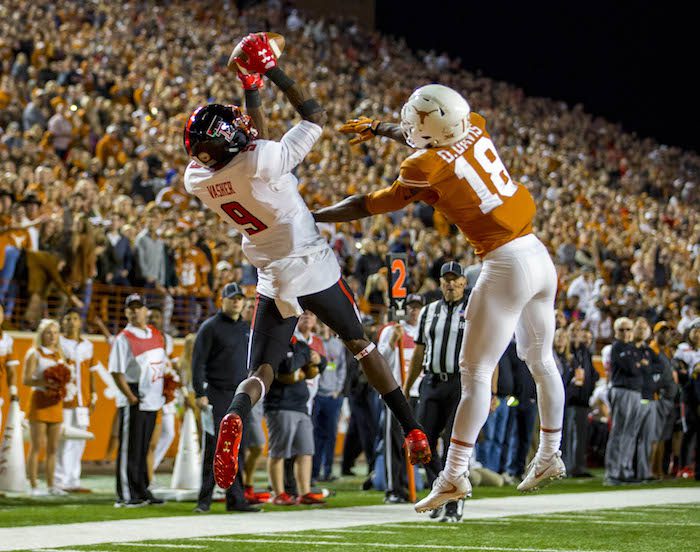 I hear it all the time, "Who has the best conference in college football?" SEC? Big 10? ACC? What about the Pac-12? Very rarely are you going to hear the words "Big 12" coming out of someone's mouth in that conversation. Whether you do it or not, there are plenty of folks out there who love to bash the Big 12 conference (cough, Paul Finebaum, cough). In Week 13 we saw two teams in opposite directions in Fort Worth, a coach saves his job in Austin, a beatdown in Stillwater and Norman as well as a last second victory in Manhattan. It was the last week of the season for two Big 12 teams, but eight Big 12 teams are bowl eligible.
The Good
TCU Horned Frogs (Beat Baylor 45-22)
It certainly was a tale of two halves on Friday for TCU. Baylor punched the Horned Frogs in the mouth early to jump out to a 9-0 lead, but eventually things worked out for Gary Patterson and company. QB Kenny Hill was back in the lineup and had a great game throwing for over 300 yards and 3 touchdowns. The running game wasn't the same without RB Darius Anderson, but this team got the job done. After leading 21-19 at halftime, TCU outscored Baylor 24-3 in the second half to clinch a Big 12 title game berth. TCU fans got more good news when it was announced that head coach Gary Patterson signed an extension that will keep him in Fort Worth for years to come. Next up is a rematch with the Oklahoma Sooners at Jerry World.
Texas Tech Red Raiders (Beat Texas 27-23)
This was the biggest game for Kliff Kingsbury's coaching career. Lose this one and he is mostly likely sent packing when he gets back home, but he managed to pull out a huge victory over the Longhorns. Kliff Kingsbury started QB McLane Carter and after a solid first quarter, he looked more and more like a backup as the game went on. Carter threw two interceptions and Texas Tech trailed 20-10 at halftime until Kingsbury had enough. Then came in senior quarterback Nic Shimonek (who started the previous 11 games) and this offense found new life. Tech was down 10 in the fourth quarter and Nic Shimonek threw two touchdown passes to complete the comeback and help Texas Tech win two straight down in Austin. After this win, Texas Tech is now bowl eligible and AD Kirby Hocutt said that Kliff Kingsbury will be back to coach the Red Raiders in 2018.
Oklahoma Sooners (Beat West Virginia 59-31)
Look, WVU came in with a backup quarterback so no one should have expected the Mountaineers to win this game. There isn't much to say about this game because Oklahoma dominated and coasted in the second half after being up 45-10 at halftime. This game was very chippy and to my surprise, Baker Mayfield kept his cool. In fact, he calmed some of his teammates down and wanted them to just play ball. The Sooners rushed for over 300 yards, Baker Mayfield only had 3 incompletions and the Sooners win their 11th game of the season. Not bad for a rookie head coach huh? On another note, this matchup seems to be more a rivalry game than what we thought even though the Sooners have dominated. This was the last time Baker Mayfield played in front of the people in Norman. Next up is a rematch with TCU with the College Football Playoff on the line and a possible three peat.
 Kansas State Wildcats (Beat Iowa State 20-19)
I am not going to sugar coat this football game. It was boring for the first three quarters and felt like I was watching a Big 10 game (gross). After three quarters, Iowa State led 12-7 and I just about fell asleep before the game started picking up. Kansas State was down 19-7 early in the fourth quarter and then BOOM! The Wildcats answered a Cyclone score with a 13-play, 68-yard touchdown drive that lasted over 7 minutes and put K-State right back in it. The defense got the ball back for the offense and for one last drive which QB Skylar Thompson completed 6 of his 15 passes to get the ball on the ISU 1 yard-line with around 10 seconds left and no timeouts. On the last play of the game, Thompson scrambled around and found a wide-open Isaiah Zuber in the back of the end zone to win the game. I'm so glad I didn't fall asleep because this was the best finish to a game in the Big 12 all season long. Crazy that Iowa State outgained the Wildcats 379-264, but lost a heartbreaker to Kansas State once again.
Oklahoma State Cowboys (Beat Kansas 58-17)
Much like their rival in Norman, the home team was the clear favorite by a mile or two. QB Mason Rudolph put on a clinic throwing for over 400 yards while three Cowboy receivers went for over 100 yards (James Washington, Marcell Ateman and Dillon Stoner). The offense put up a total of 661 yards and the defense gave up less than 250. This game was never close, and the senior class got a win in their last game at Boone Pickens. I am sure many Cowboy fans wish they would be playing in the Big 12 title game, but it will be interesting to see what bowl game is in their future.
The Bad
Iowa State Cyclones (Lost to Kansas State 20-19)
Iowa State played well enough to win that football game nine times out of ten. Offensively, QB Kyle Kempt managed the game, but it hurt when they lost RB David Montgomery early on. This offense put up 379 yards while the defense only gave up 264. Iowa State had a 19-7 lead in the fourth quarter until the defense finally collapsed. I will say the officiating in this game was quite suspect at times. Three flags were picked up that would have helped Iowa State and one of those was a key non-pass interference call that would have essentially helped ice the game for the Cyclones. Iowa State has now lost ten straight to Kansas State and this may have been the biggest heart breaker of them all.
Baylor Bears (Lost to TCU 45-22)
Did I Expect Baylor to win this game? No, but they put up a hell of a fight much they have all season long. Yes, they fell to 1-11, but the most amazing thing to me is that this football team never quit under any circumstances under Matt Rhule in his first year. This team showed drastic improvement over the course of the year compared to when I saw them against Liberty in Week 1. While things may be disappointing this season, next year they will be better. It also appears that Charlie Brewer is going to be their guy at quarterback.
West Virginia Defense (Lost to Oklahoma 59-31)
Coming into the game, they had a backup quarterback, so I didn't expect them to win anyways. However, this defense was flat out embarrassing on Saturday. They let Baker Mayfield pick them apart and gave up over 300 rushing yards. All together this defense gave up over 600 yards and if Oklahoma wanted to they could have scored 70 easily. Through 12 games, they gave up an average of over 200 yards on the ground. That's not going to get it done and it is tough to win games when opponents are able to hurt you on the ground. There is no doubt this defense took about 10 steps back from last season.
The Ugly
Texas Longhorns (Lost to Texas Tech 27-23)
After this loss, Texas finishes the season at 6-6. Are they going to a bowl game? Yes, but 6-6 is not ideal for the folks down in Austin. I understand it is Year 1 for Tom Herman, but I expected this team to win eight games. Maybe I was the crazy one for thinking that, but there is no excuse why this team couldn't win eight games this year. Sure, the offense was really banged up, especially on the offensive line, but 6-6 was not in anyone's plan (looking at you, Chip Brown). Offensive coordinator Tim Beck may have called his worst game in burnt orange (there has been a few of them) because the play calling was suspect at best. The defense played well enough to win but you can't turn the ball over four times and expect to win. It will be very interesting to see this team in their bowl game and hopefully get a sneak preview for next year.
Kansas Jayhawks (Lost to Oklahoma State 58-17)
This team finishes 1-11 on the season with zero FBS wins. David Beaty is now 3-33 after three full seasons and is 1-26 in Big 12 play. Apparently, he will be back in 2018 and next season MUST be a make a break year of David Beaty. Tell me where you have seen improvements with this football team and I will call you a liar.