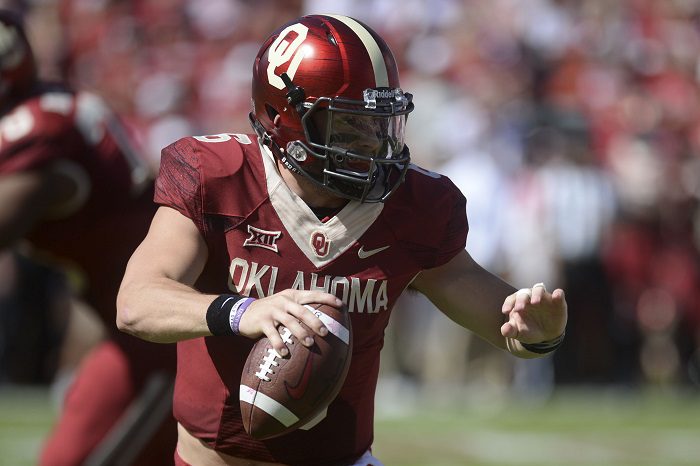 I'm pretty appalled, I've got to be honest. The national media really let Baker Mayfield slide this past weekend.
Did you see this during Saturday's game against West Virginia? After OU scored another touchdown to continue its blowout of the Mountaineers, Mayfield slapped his head coach Lincoln Riley's ass. I nearly fell out of my chair. The audacity of this young man, who one week after grabbing his crotch on national TV and scarring thousands, maybe MILLIONS, of children for the rest of their lives, has the cajones to now do THIS?! 

Ugh, see the disgust for yourself.
Can't believe Mayfield would slap another man's ass on the sidelines. This is not something children should EVER see. So vulgar! Time to suspend him for the Big 12 championship game. pic.twitter.com/DiWGkw8Caj

— HCS (@Heartland_CS) November 26, 2017
I mean, seriously? When do the lewd sex acts on the sidelines stop with this guy? He's an animal who can't be stopped.
Here's the reality, Baker Mayfield is never going to learn his lesson. His apologies are fake and meaningless. I thought he might have been sincere after this latest incident in Lawrence. Boy, was I wrong.
In fact, Mayfield is basically undraftable at this point. Forget maybe late-first or second round. Mayfield will be lucky if he's playing in the Canadian Football League next year. But I highly doubt any team would want to draft someone with this much baggage. It'd be unfathomable. Ray Rice is nothing compared to this guy.

There is only one thing the Big 12 conference can do to try and remedy this situation. Baker Mayfield must be suspended for the Big 12 championship game this Saturday. That's the only fair conclusion I can come to. When is Mayfield going to realize he's always going to have the cameras on him? How are we suppose to explain to our children that slapping another man on the ass is a sign of respect and love? These are not the kind of conversations we should have to have with kids because of Baker Mayfield's immaturity.
We'll see if the Big 12 will do the right thing. I doubt it. Mayfield is on the cover of this week's Sports Illustrated, and they probably don't want to take away from the glamour. But if they're serious about cutting down on this inexcusable behavior, the conference will finally learn and make a statement.
EDITOR'S NOTE: This is a completely satirical piece and in no way do I agree with a single thing I just wrote. I just found it hilarious to write after all the faux outrage last week over Mayfield grabbing his crotch against Kansas. I wrote a lengthy piece last week defending Mayfield and wished Riley never suspended his quarterback for the start of their game against West Virginia. Regardless, this was fun to write and I hope most of you made is this far, instead of clicking out because you thought I was being serious!