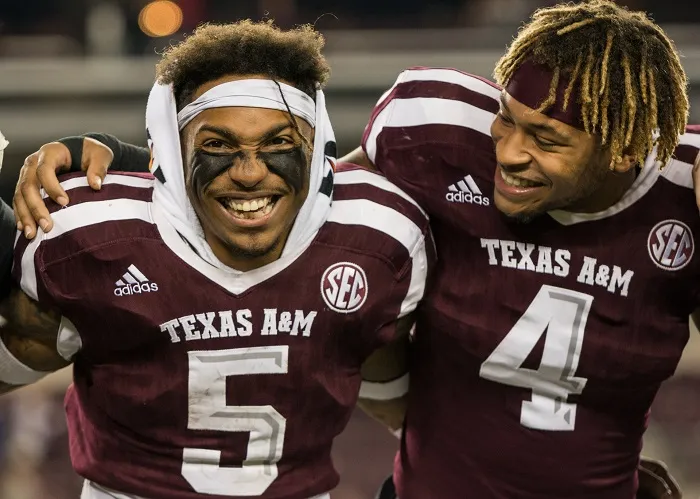 As we get ready for bowl announcements in a few days, it appears as if Texas A&M may be avoiding Texas and Texas Tech. Or is it the reverse? Who's scared of who? Well, that depends who exactly you ask and what their affiliation is. But ever since A&M left the Big 12 over five years ago, the debate has raged as we get to bowl season.
History
This story was propped up once again on Thursday morning when Chris Level reported the following:
been told that the SEC/A&M won't allow/don't prefer matchups versus UT or TT.

— Chris Level (@ChrisLevel) November 30, 2017
Now, if we go back to 2014, HornsDigest reported: "SEC officials have indicated to bowls with SEC and Big 12 tie-ins that the SEC won't support a Texas vs Texas A&M postseason matchup. In short, A&M has too much to lose from a potential loss."
Of course, HornsDigest may be biased, but at the time it made sense. Kevin Sumlin was setting the world on fire with his recruiting prowess and he didn't see any advantage in giving Texas a reason to stop his momentum.
Well in 2014, Texas went to the Texas Bowl and got smoked by Arkansas 31-7, whereas Texas A&M went to the Liberty Bowl and handled West Virginia 45-37. So maybe avoiding the Aggies that postseason worked out for the Longhorns.
Fast forward to just a couple of weeks ago when it appeared as if Texas A&M and Texas were both headed towards similar records. But then, it was Brian Davis of the Austin American-Statesman, who covers Texas, saying the Longhorns were looking to avoid A&M.
I've been told that Texas officials will frown on playing A&M. They don't want to rekindle the rivalry that way. https://t.co/cvcD1jhifu

— Brian Davis (@BDavisAAS) November 19, 2017
Once again, this made complete sense at the time. Texas had the new coach in Tom Herman who was making strides on the recruiting trail, just like most new coaches do who preach a new direction and optimism around a program. According to Rivals, Texas has the 6th ranked class for 2018, while A&M is barely cracking the top 20. So even though Texas was having far from an outstanding year, the downside was far greater than the potential upside for the Longhorns.
With Chris Level's report on Wednesday, A&M's program is in a state of flux without a head coach, as they just fired Kevin Sumlin over the weekend and could be awaiting the arrival of Jimbo Fisher. But with the program in transition, playing in a bowl game and getting crushed by an in-state rival makes no sense.
Granted, A&M might lose any bowl game they play in by a wide margin, but losing the Liberty Bowl to Kansas State or Iowa State won't draw nearly as much recognition as it would against Texas or Texas Tech.
So each side is protecting its turf based on what is going on within each individual program.
Texas Tech factor
Notice that Texas Tech says screw it, we will play A&M whenever. And why not? Tech is the little brother to Texas and Texas A&M. They have little to lose and everything to gain every time they step on the field against both teams. If they lose, well hell, they are supposed to lose to the two powerhouses in the Lone Star State. But if they win, it's a recruiting boost for the Red Raiders and a source of pride for months and possibly  years to come for the program and fan base.
Of course, it's about money
Also, with more and more chatter in recent months that Texas and Texas A&M will hopefully meet up again, the governor is now involved.
Texas Gov. Greg Abbott: "My next goal as governor is to reunite the Texas-Texas A&M rivalry. Hook 'em Horns."

— Brian Davis (@BDavisAAS) October 25, 2017
So if we are approaching a potential meeting between Texas and Texas A&M, why would either program want to put the money in the pockets of corporate executives from AutoZone, Zaxby's or Academy Sports + Outdoors? Once again, money is driving the ship here, which is understandable. If Texas and Texas A&M scheduled a home-and-home series in a few years, the ticket prices would be astronomical and the local economies would get massive boosts those weekends.
So it makes sense to save the much-anticipated rematch for a time when the benefits are far greater, monetarily, to the teams and universities.
Regardless…
Let's just hope the politicians, university leaders and athletic departments can sort this all out so these three teams can all get back to playing each other as soon as possible, because, ya know…