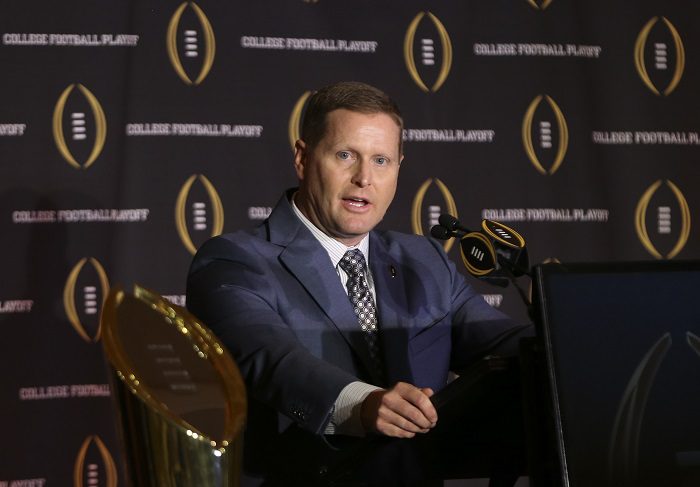 The sixth and FINAL College Football Playoff rankings of the 2017 season were released and here's what they looked like:
1. Clemson (12-1)
2. Oklahoma (12-1)
3. Georgia (12-1)
4. Alabama (11-1)
5. Ohio State (11-2)
6. Wisconsin (12-1)
7. Auburn (10-3)
8. USC (11-2)
9. Penn State (10-2)
10. Miami (10-2)
15. TCU (10-3)
19. Oklahoma State (9-3)
Boomer Sooner
Oklahoma has punched its ticket to the College Football Playoff for the second time in three seasons. I still think OU has the best resume in the country and should be #1, but whatever, it is what it is. Frankly, I'm a little surprised it's not, Georgia, Alabama, Auburn and Oklahoma (this is a joke, incase you're a little dense).  But with Mayfield running the show and this defense starting to play pretty well in recent weeks, and even defensive coordinator Mike Stoops admitted after the Big 12 title game that this team won't reach it's goals because of the offense, saying, "My message, we're either going to get there or we're not, and it's going to be because of us [our defense]."
He's right.
TCU's unfair tumble
Outside of Auburn, no team fell further than TCU. That's just not right. Two of the team's three losses are to Oklahoma, the #2 team in the country. Sure, neither were close games, but does that suddenly make them worse than Miami, Washington and Stanford? Miami was humiliated by Clemson, Washington didn't reach their conference title game and Stanford finished the season with four losses. But of course, the disrespect for TCU continues, which possibly kept them out of a NY6 bowl game. What a shame. Maybe one day Gary Patterson's team will finally get the respect it deserves. That'd be nice, huh?
Big 12 championship game needed
Keep the Big 12 title game. More often than not, this will remain a positive for the Big 12 conference, as it will give a team a quality win to end the season, with the entire nation watching. Some years it could be two one-loss teams battling for a playoff spot. Maybe some years there will be a spoiler game like Saturday, but then it's up to the favorite to win the game. Between the atmosphere at Jerry World on Saturday, combined with the potential benefits for this conference, which the committee is looking for a reason to disrespect, the Big 12 needs this game. Oh, and the extra financial gain isn't too shabby either. Keep it!
The committee is still full of … it.
Where do we start?
In 2014, Baylor and TCU didn't play a Championship Game, a.k.a. have a BS 13th data point, and that's why they were kept out. Now, it's two-straight years a one-loss team without a conference championship title or appearance has made the College Football Playoff. I never thought I'd be defending Ohio State, but I have to here. I firmly believe that if Ohio State was 12-1 and did not play Oklahoma in Week 2, even with their loss to Iowa, they would have made the College Football Playoff this year. Meantime, the committee had been telling us how much they value these big non-conference games. But if I'm any team that believes it is consistently in the College Football Playoff discussion, I'm done scheduling these games. Ohio State was trailing OU by four points entering the fourth quarter. It wasn't nearly as a big a blowout as the final score indicated.
Conference championships have to still be worth something, but now for a second-straight year we've devalued them in a situation where it was not obvious to do so. That's very disappointing.
USC?
To piggyback off that same topic, if I'm USC, I would drop the Notre Dame series. Take a one-loss USC as Pac-12 champion and they would have been right in the discussion for the fourth spot in the College Football Playoff as well. So if Ohio State scheduled Toledo instead of Oklahoma and USC scheduled Utah State instead of Notre Dame, it would've been Ohio State and USC battling for the final playoff spot, with Alabama in the distance.
Biggest problem with Alabama
The Crimson Tide were rewarded for not playing. This is different than what happened last season when Ohio State was #2 heading into conference championship weekend. Alabama was #5 and moved up to #4. Ohio State was #2 and then fell, but stayed in the Playoff. These are two very different things. First off, I was consistent last year arguing for Penn State over Ohio State. BUT at least there was some justification with Ohio State #2 at the time. But this is simply wrong. It's an Alabama team that only played 9 Power 5 games, compared to 11 for Ohio State. And its best win was, what? LSU? Who got bitched around by Troy? Get outta here.