Oklahoma Sooners
Protective order filed against Oklahoma RB Rodney Anderson accuses him of rape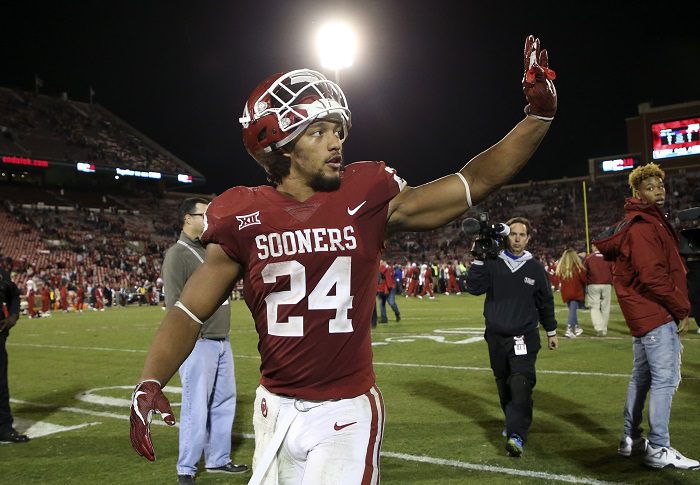 It's the last thing the Oklahoma football program needs right now. Details have now emerged regarding a protective order has been requested against Oklahoma running back Rodney Anderson in Cleveland County.
The protective order filed against a star running back for the University of Oklahoma accuses him of rape.
The victim said she was drinking at a bar on Thursday, November 16th, when she met several males including Anderson. She claims to have shared drinks and two bars and then his friends insisted Anderson take her home.
The victim said she only remembered kissing him and vomiting. After talking with a friend this past weekend, the victim claims to then have remembered more details of that night.
In the protective order, she said she is "scared for my safety" because "this happened in my apartment."
Anderson burst onto the scene in the second half of the season for the Sooners. He finished the season with a team-best 960 rushing yards and 11 touchdowns. He proved to be a capable receiver as well with 283 receiving yards and five touchdowns. In the last six weeks of the regular season, Anderson averaged 173.5 yards per game.
UPDATE:
Derek Chance, an attorney for Anderson released the following statement on the allegations:
"Mr. Anderson first learned of (the woman's) request for a civil protective order late yesterday evening. Mr. Anderson is shocked and disturbed by (the woman's) claims. The allegations are patently false. Mr. Anderson did not, nor would he ever, force himself on any woman.
There are undoubtedly true victims of sexual assault, for whom Mr. Anderson carries a tremendous amount of compassion. However, there are those accused of sexual assault which they unequivocally did not commit- as is the case for Mr. Anderson. It is incumbent on our community to reserve judgment and to treat this allegation on its own merit. We are confident that when authorities have all of the information surrounding this circumstance, Mr. Anderson will be completely exonerated of any wrongdoing, and he looks forward to the conclusion of this investigation so he can focus on his obligations as a student-athlete."
Anderson is scheduled to appear in court Dec. 18 for a hearing.
The Sooners finished second in the College Football Playoff rankings and will play No. 3 Georgia on New Year's Day in the College Football Playoff semifinal in the Rose Bowl.