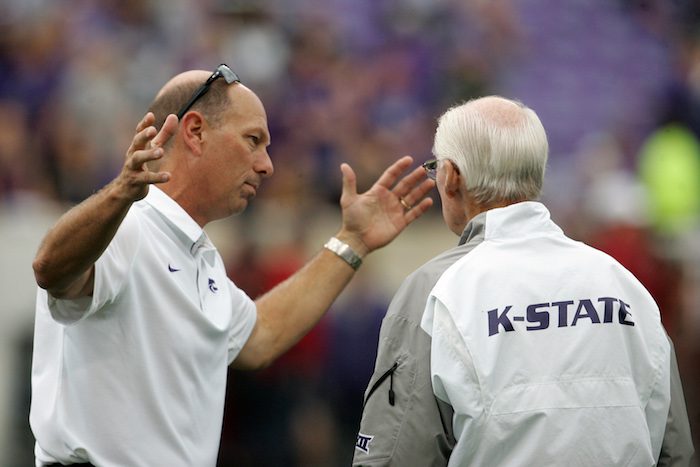 It's time to see what Sean Snyder's got. For years, his father, and Kansas State head coach Bill Snyder, has made it very clear, he wants his son to become the next head coach of the Wildcats. But there's one more step for Sean to prove himself as the next head coach in Manhattan.

Bill Snyder has said on several occasions that Sean, "virtually runs the program." Prior to this season, Bill said, "I feel very good about the people that are on our staff and in our program. They have had successful careers and I want them to continue. I hope that takes place when the time comes."
Well, with the departure of offensive coordinator Dana Dimel heading to become the next head coach at UTEP, now would be the time for Snyder to show just how good the people on his staff are. But especially one in particular, Sean Snyder. It's time to hand the reins of offensive coordinator over to Sean, despite the fact that yes, he's never consistently called plays.
But if he were to succeed in this position, it would go a long way for the part of the fan base who is leery of Snyder getting promoted to head coach without the experience beyond Special Teams Coordinator (and assistant head coach).
There is a sense of family in Manhattan that 99% of D1 programs don't have. Understandably, Bill Snyder doesn't want to blow up what he's built over the past 30 years (minus the brief Ron Prince era). He, once again, justifiably, wants it to be a seamless transition by having folks involved that know the program the best. Hence why Bill thinks Sean is the man to lead the program.

I have questioned whether or not Sean Snyder is really the right guy to become the next head coach of the Kansas State Wildcats. I'm not a fan of nepotism, unless it seems well deserved. In this case, I have yet to see that. Had Sean Snyder gone off and run his own program elsewhere and had some success, I'd be much more OK with it. But that hasn't been the case. Additionally, it's nearly impossible to quantify how much Sean has really "run the program" over the last several years. Some blamed the early season's struggles, which included a lack of discipline and uncharacteristic mistakes, on Sean Snyder, who was apparently in charge of the program this season as his father battled his health issues stemming from a cancer diagnosis late last year.
Was that fair? Was it right? I'm not sure. Ultimately, it is Bill Snyder's program, so it's hard to pick and choose when we want to credit, or blame, Sean.
As the search begins for a new offensive coordinator, going outside the program doesn't make a ton of sense. Sure, someone like Graham Harrell, the former Texas Tech QB, and current OC at North Texas (11th nationally in total offense in 2017), might be a great fit. But with the future of the program uncertain, would it make sense for Harrell to head to Manhattan, if it's possible someone else is running the program in a year or two? I'm not sure.
On staff, the obvious options are Andre Coleman and Collin Klein. Coleman has been the wide receivers coach and passing game coordinator. He's assisted with play calling, but has never done it on a full-time basis. Klein, the quarterbacks coach, helped with play calling at Northern Iowa and this past season at K-State, but at 28 years old, he may be viewed as too green of an option to take it over by himself.
Before the season, Snyder told the Kansas City Star he was passed up for a few jobs early in his career by his father. So the fact that Bill thinks Sean should run the program is flattering to the son, who said, "Considering the fact he has tried multiple times over the years to find someone else to hire besides me, it's a big honor. I truly appreciate the way dad has made me work over the years. If he would have given me anything I think the outcome would have been different."
I absolutely respect that. But it's time for Bill to give Sean one more challenge before officially handing over the reins.