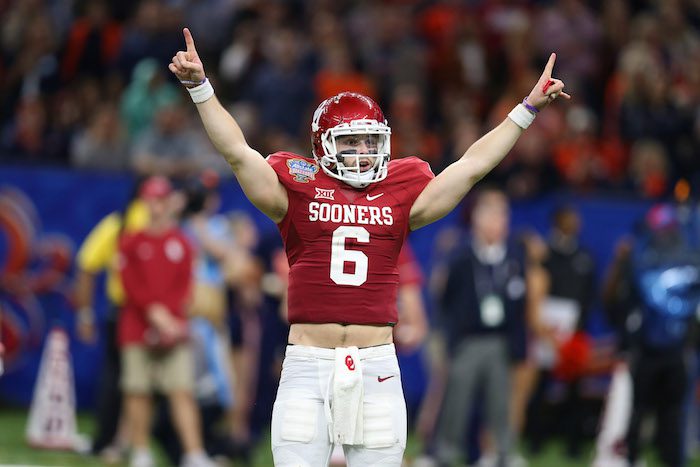 As was widely expected on Saturday night in New York City, Oklahoma Sooners quarterback Baker Mayfield won the Heisman Trophy in impressive fashion.

Mayfield finished his season completing 71% of his passes for 4,340 passing yards, along with 41 touchdowns to five interceptions. Mayfield had come close before, finishing fourth in the Heisman race two years ago, and third last season.
Thanks to Baker Mayfield, the Sooners now have six Heisman Trophy winners, which is tied with USC for the second-most Heismans ever (Notre Dame and Ohio State each have seven winners).
The other Oklahoma Heisman Trophy winners are: Billy Vessels (1952), Steve Owens (1969), Billy Sims (1978), Jason White (2003) and Sam Bradford (2008). Mayfield is also the first winner from the Big 12 since Baylor quarterback Robert Griffin III in 2011.
Some questioned whether or not Mayfield was "worthy" of the Heisman Trophy because of some character issues. That was always way overblown, especially since his fellow finalists Saquon Barkley and Lamar Jackson didn't have seasons comparable to Mayfield (along with previous winners such as Jameis Winston, who was under investigation for rape when he won).
Mayfield finished second in the country in passing yards, second in passing touchdowns, first in passing yards per completion, first in points responsible for, and first in passing efficiency.
It caps off a big week of awards for Mayfield who also won the Davey O'Brien Trophy for the best quarterback in the country and the Maxwell Award for the best player in the country.