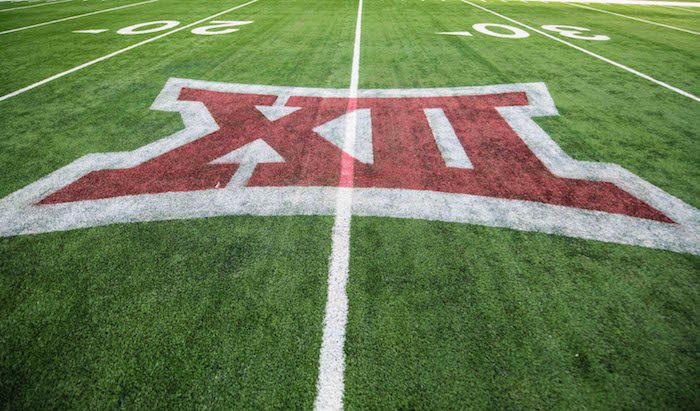 As we hit the lull between the regular season ending and bowl season getting underway in just over a week, why not go ahead and rank the bowl games for the Big 12 conference based on criteria such as match ups, intrigue, storylines, opponents and more. With eight Big 12 teams in bowl games, we will go in reverse order from eight to one.
Also, for a complete list of Big 12 bowl games with locations, kick off times, and TV information, here you go. 
8. Heart of Dallas Bowl: West Virginia vs. Utah
It's the day after Christmas, both teams' fan bases need to travel hundreds of miles to see their respective teams and both teams struggled to end the season. Utah got off to a 4-0 start and stumbled to a 2-6 finish. Meantime, West Virginia lost star QB Will Grier in its second-to-last game against Texas and then lost both games to Texas and Oklahoma. Chris Chugunov is a nice player, but I'm not spending my Christmas in a Days Inn in DFW to watch him play in person. I'm fine catching this one from my couch.
7. Birmingham Bowl: Texas Tech vs. South Florida
The worst part about this game is the location. Memo to folks in Lubbock, Birmingham isn't a destination that should be high on your list of places to visit anytime soon. The match up is kind of interesting, though. Charlie Strong gets a crack at another Big 12 team. Plus, with the way Tech ended its season and the return of Kliff Kingsbury in 2018, bowl games can go a long way to giving a team momentum heading into the offseason. USF's only two losses came to Houston (who Tech beat early in the season) and UCF in the AAC regular-season finale. Also, both teams can put points on the board.
6. Texas Bowl: Texas vs. Missouri
Missouri has one of the best offenses in the country led by offensive coordinator, former Oklahoma OC, and new UCF head coach, Josh Heupel. It appears as if Heupel won't be involved in the Texas Bowl, which takes away one of the better storylines for this game, but his offense will still be utilized. So that means we'll get the Texas defense against another high-powered offense. The Longhorns defense saved this team from a potentially disastrous season. Plus, with the way the season ended against Texas Tech, does Tom Herman have his guys motivated for this game? Also note, the Longhorns are losing a slew of players to the NFL and to transfer. How many actually play in this game remains to be seen.
5. Liberty Bowl: Iowa State vs. Memphis
Hey, Iowa State's going bowling again and it's the last time to watch players like Joel Lanning and Allen Lazard, that's reason enough for Cyclones fans to pack their bags and head south. Also, watching this Iowa State defense against Mike Norvell's offense is going to be pretty fun. Memphis lost two games this season, both to UCF. This will be a great test for Iowa State and is a game the Big 12 would desperately like to win for its own bragging purposes. A loss wouldn't be catastrophic, but if the Big 12 loses the Birmingham Bowl and Liberty Bowl to AAC teams, the Big 12 haters will be out in full force. Additionally, Memphis has a solid music scene and is a generally underrated city, IMHO.
4. Camping World Bowl: Oklahoma State vs. Virginia Tech
It's another great offense vs. great defense kind of game. But unlike the Texas Bowl, it's the Big 12 with the great offense and the opponent with the top defense. Plus, Big 12 vs. ACC always means a little something more is on the line, especially with the absurd amount of love the ACC received from the committee this year with Clemson and Miami. It'll be a nice chance for Oklahoma State, which disappointed this season with three losses all at home, to end the careers of Mason Rudolph and James Washington on as high a note as possible. No, it's not the College Football Playoff that many of us predicted, but it is what it is, and the final opportunity for fans to see some of the most successful players to ever come through Stillwater.
3. Cactus Bowl: Kansas State vs. UCLA
Kansas State's passing defense was incredibly underwhelming this season. Now they have to go up against UCLA QB Josh Rosen, who will likely be playing his last college game in front of a ton of NFL scouts. Rosen is a possible top 5 pick in next spring's draft. That's reason itself for many of us Big 12 fans who didn't stay up for many Pac-12-after dark games. Rosen knows what is on the line and will look to take advantage of K-State's struggling pass defense. How do the Wildcats respond? Plus it's a chance for K-State fans to watch Skylar Thompson, who solidified himself as the heir apparent to Jesse Ertz at quarterback with his great finish to the season. Unfortunately both these teams underachieved based on preseason expectations, but the storylines are pretty darn intriguing.
2. Alamo Bowl: TCU vs. Stanford
I have no idea what the over/under is in this game, but it's probably pretty safe to go with the under. This will be an old-school backyard brawl between two solid defenses, while also getting a look at a Heisman finalist in Stanford running back Bryce Love. Love and the Stanford offensive line against the TCU run defense, which was the best in the Big 12 by a wide margin, is reason enough to tune in to this game. Also, similar to the KState/UCLA game, many of us don't stay up to watch Stanford games which seem to either kick off at 10:30 ET/9:30 CT on Saturday, or Friday nights when most folks aren't in college football mode.
1. Rose Bowl: Oklahoma vs. Georgia
Was there ever a doubt? For just the second time in the College Football Playoff era, the Oklahoma Sooners are carrying the water for the Big 12 conference. The Big 12 has yet to win a College Football Playoff game, and there is no better time than this season for this team, behind Heisman winning quarterback Baker Mayfield.  The match up is a good one for Oklahoma, going up against a true freshman QB in Jake Fromm and a Georgia defense that is good, but hasn't seen nearly the kind of offense that the Sooners bring to the table. In many ways, the Big 12 desperately needs this game from a credibility standpoint. For all the College Football Playoff rankings, the Sooners were notoriously disrespected. If they lose, many will justify it and it will only continue through to the 2018 season. There is more on the line here than just a trip to the National Championship game. Every Big 12 fan, yes even you Texas fans, should be pulling for the Sooners. It will benefit the entire conference.