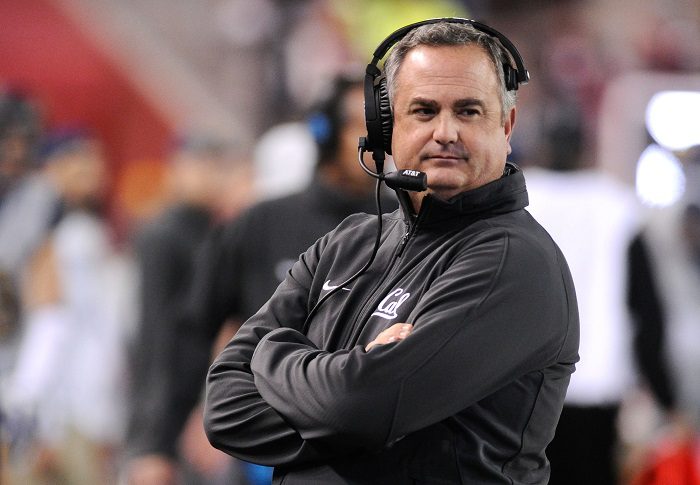 SMU has found its replacement for Chad Morris and he's TCU offensive analyst Sonny Dykes.
Morris left last week to take the head coaching job at Arkansas, vacated with the firing of Bret Bielema.
Dykes was last a head coach in 2016 at Cal, but was fired after going 19-30 in four season, including a 10-26 record in Pac-12 play. Gary Patterson hired Dykes prior to this season as an offensive analyst.
But before his stint at Louisiana Tech, Dykes had success in his three seasons at Louisiana Tech, the Bulldogs went 22-15 and won the WAC in 2011.
According to SI's Bruce Feldman, SMU wanted someone with strong ties to Texas, and SMU couldn't have done much better than Dykes, whose ties to Texas and the Big 12 run deep. He's the son of Texas Tech's all-time winningest coach Spike Dykes, is a Texas Tech alumnus himself and was an assistant at Texas Tech himself from 2000-06. When it comes to knowing the Texas and Dallas-Fort Worth high schools, SMU wasn't going to get much better (within its price range) than Sonny Dykes, who has spent much of his life in and recruiting the Lone Star State. Solid hire by SMU.
Plus, you heard it here first: if Kliff Kingsbury struggles in 2018 and Dykes continues what Chad Morris built at SMU, maybe another Dykes will be coaching in Lubbock in 2019… just sayin'.