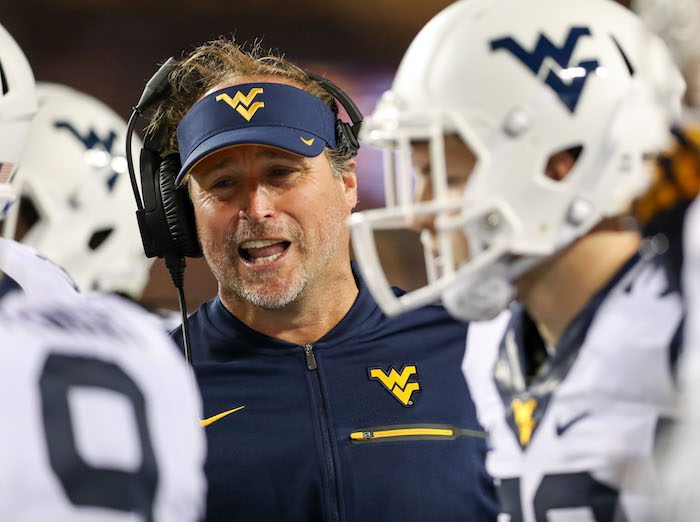 As the football season is slowly winding down, Christmas is just right around the corner. I am sure everyone in your family is constantly asking you what you want for Christmas. So, you start jotting down ideas or things that you would like but this isn't that type of list. This list for the hardcore college football fans who know their team better than they know some people in their own family. Yeah, this is that list.
What does every hardcore fan want for their team? Recruits baby!
They want that five-star guy who can elevate their program or the three-star gem who becomes an All-American. Every program will have guys leave due to graduation or transfers which leave holes on the depth chart. This is a list of four positional needs in order of importance. So, West Virginia fans, this is what your team needs heading into 2018. Now before I begin, I am not breaking down film of these guys. Until they sign on the dotted line, there is no need to assume they are automatically going to sign with their current team that they are committed to. We will do a full class breakdown of each team on the final signing day in February.
1. Defensive line
Current situation: The Mountaineers had the worst run defense in the Big 12 this season, yes, worse than the Kansas Jayhawks! There was a lot of youth on the line with guys like Lamonte McDougle, Reese Donahue and Adam Shuler II seeing playing time, but the unit needs help and more bodies to compete at a Big 12 level.
Currently committed (247Sports)
4 Star DE Dante Stills (Fairmont, WV) (6'4'', 265) (#6 DE)
3 Star DE TJ Banks (North Versailles, PA) (6'5'', 260) (#30 ATH)
3 Star DE Alex Williams (Pickerington, OH) (6'7'', 250) (#32 DE)
3 Star DT James Gmiter (Bethel Park, PA) (6'3'', 310) (#71 DT)
3 Star DT Tyrese Allen (Paintsville, KY) (6'3'', 290) (#84 DT)
3 Star DE Tavis Lee (Martinsburg, WV) (6'3'', 225) (#69 DE)
Current targets with interest
3 Star DE James Miller (Seffner, FL) (6'1'', 225) (#49 DE)
My take: Clearly, the Mountaineers realize they need help on the defensive line as well! That's a good start. Dante Stills is the prize possession for this class as he joins his brother, Darius, who just finished his true freshman season. Stills has offers from all over the country, including Florida, Ohio State and Oklahoma. He should see the field right away, along with plenty of the other commits. Defensive coordinator Tony Gibson desperately needs help on the line.
2. Defensive back
Current situation: Three key players from the secondary are graduating in Elijah Battle, Kyzir White and Mike Daniels Jr. The pass defense was better than the run defense, but not a whole lot. West Virginia had the third worst pass defense efficiency in the Big 12, ahead of only Baylor and Kansas.
Currently committed (247Sports)
4 Star S Kwantel Raines (Aliquippa, PA) (6'3'', 200) (#17 S)
3 Star CB Joshua Norwood (Senatobia, MS) (5'10'', 175) (#3 JUCO CB)
3 Star CB Jayce Rogers (Valdosta, GA) (5'8'', 165) (#90 CB)
3 Star S Charlie Benton (El Dorado, KS) (6'4'', 215) (#4 JUCO S)
Current targets with interest
4 Star CB Jeremy Webb (Brooklyn, NY) (6'3'', 195) (#2 JUCO CB)
My take: If this team can land Webb, that would be three JUCO players ready to jump in immediately and help this West Virginia secondary, which desperately needs it. But, Norwood and Benton are definitely a very good starting point. Also, as a 4-star recruit, Raines, who attends Darrelle Revis' alma mater, would love to duplicate that kind of success in Morgantown. There is some talent coming back with Dravon Askew-Henry and Hakeem Bailey. But in the Big 12 conference, one can never have enough defensive backs.
3. Offensive line
Current situation: Kyle Bosch is the only key player gone from this unit, but it did seem to struggle at times. Will Grier can use all the protection he can get, and hopefully WVU can reignite the running game to its 2016 form.
Currently committed (247Sports)
3 Star OT Oyenmwen Uzebu (Alpharetta, GA) (6'6'', 305) (#43 OT)
3 Star OG Blaine Scott (Portsmouth, OH) (6'4'', 310) (#24 OG)
3 Star OG Briason Mays (Bolivar, TN) (6'4'', 290) (#36 OG)
Current targets with interest
3 Star OG Reuben Lewis (Coffeyville, KS) (6'4'', 310) (#3 JUCO OG)
3 Star OT Chase Brown (Scranton, PA) (6'5'', 315) (#9 JUCO OT)
My take: It's a solid group, but the three coming in from high school don't seem likely to make an immediate impact. If the Mountaineers can flip Brown, who is currently committed to Pitt, he's a JUCO that could slide into the offensive line right away. He's considered a hard commit at this point, so it seems unlikely. It's not a great haul, but hopefully the players returning such as Yodny Cajuste, Josh Sills, Matt Jones, etc. can continue their development.
4. Wide Receiver
Current Situation: It's not really a need. Only Ka'Raun White is leaving, but Gary Jennings, David Sills, and Ricky Rogers are all going to be seniors next year. And in the Big 12 a team can never have enough wide receivers.
Currently committed (247Sports)
3 Star WR Dillon Spalding (Lorton, VA) (6'1'', 216) (#107 WR)
3 Star WR Sam James (Richmond Hill, GA) (6'2'', 160) (#127 WR)
3 Star WR Bryce Wheaton (Holly Springs, NC) (6'3'', 191) (#136 WR)
3 Star WR Randy Fields (Baltimore, MD) (6'3'', 185) (#174 WR)
Current targets with interest
4 Star WR Joshua Moore (Yoakum, TX) (6'1'', 170) (#17 WR)
3 Star WR Laen Jordan (Bradenton, FL) (6'5'', 210) (#88 WR)
3 Star WR Kory Taylor (Hillard, OH) (6'5'', 200) (#97 WR)
My take: Once again, bringing in the four wide receivers currently committed is a solid haul and will allow them all to grow for a year and get stronger, while Jennings and Sills carry the WR corps. But adding a 4-star like Moore would be a great get, but word is he is cooling on WVU. But Taylor is warming up to the Mountaineers, and at 6'5'', he would be the tallest of the group, which is never a bad thing.